Look 586 RSP (frame and fork) review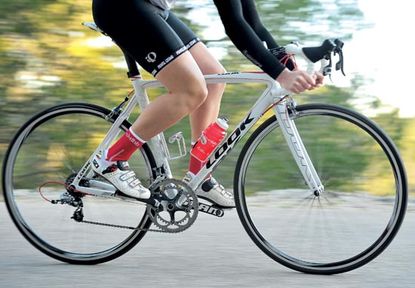 If I had to pick out one criticism it would be the SRAM S30 wheels not being good enough for this frame. They were great when rolling on the flat, but left me wanting something lighter on the climbs, and more nimble in the sprints. It's a minor gripe though, and seeing as these are mainly sold as frames in the UK, you'll be able to choose your own spec.
Reasons to buy
+

Feels light

+

Lively ride

+

Stiff
Reasons to avoid
-

Ride might be too stiff for some
Look bikes have long been popular with us. The 585 won our Race Bike of the Year title in 2005 and the frames have been getting better ever since.
The 586 RSP has moved on considerably from that 585, and features more sculpted tubes and no lugs - Look dropped that manufacturing technique back in 2009 and moved over to one-piece construction.
Using a mould to produce a monocoque frame is nothing new, but Look brought in a process that set it apart from the rest, and won it a prestigious design award.
It developed technology to apply different levels of pressure to specific parts of the frame during the curing process. The pressure forces the resin into the carbon itself, a process that Look says is crucial to the ride characteristic.
Look was (obviously) the first to use this technique and in its purpose-built factory in Tunisia, it believes it is still the only one doing this.
Lighter than lugs
A one-piece frame will also save weight over a lugged frame - with no overlapping where the tube enters the lug - although Look isn't chasing the title of lightest bike. This frame has a listed weight of 1kg, with an extra 350g for the forks.
Not that weight was an issue, as the bike felt light and lively. Look's goal of making its bikes ever more stiff, but without compromising the ride, seems to have been achieved. Response-wise it's hard to know what else anyone could want. Although I've ridden more comfortable bikes, I can only think of one or two that were also this stiff.
It wasn't just the rear end either. The own-brand stem, coupled with the overbuilt forks meant there was no give at the front of the bike either.
Thank you for reading 5 articles this month* Join now for unlimited access
Enjoy your first month for just £1 / $1 / €1
*Read 5 free articles per month without a subscription
Join now for unlimited access
Try first month for just £1 / $1 / €1