NeilPryde Nazaré SL road bike review
The Nazaré is the aero frame from the Scottish-based bike division of the Hong Kong brand that started out making carbon-fibre windsurfing equipment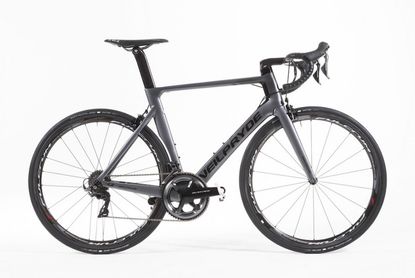 (Image credit: Cycling Studio)
The Nazaré SL Dura-Ace is a well designed, good-looking, fast bike with a low weight and top spec that will attract the discerning rider who doesn't follow the herd. It may not have the most aggressive geometry or highest level of component integration but for many that will go in its favour: it has all-round appeal with the aero advantage.
Reasons to buy
+

Lightweight

+

Aerodynamic

+

Great handling

+

Easy to work on
Reasons to avoid
-

High-ish front end

-

Underpowered braking
NeilPryde started out making windsurfing components, so although the NeilPryde Nazaré is intended to cheat the wind rather than harness it, designing an aerodynamic bike represents a return to its roots of sorts.
Frame
The regular Nazaré has a frame weight of 1,100g whereas NeilPryde clams 940g for the Nazaré SL in a size L, the one we tested.
>>> The best aero road bikes tested
The SL uses C6.9 Toray UD high-modulus carbon-fibre, which is 18 per cent stiffer for the same weight than the C6.7 used for the standard Nazaré – meaning less material can be used for the SL. However, as well as low weight, the Nazaré SL offers a low coefficient of drag – all the tubes have teardrop profiles to make it as aerodynamic as possible.
There are dropped seatstays to reduce frontal area and the rear wheel is shrouded by an oversized BB86 shell and seat tube cut-out. In addition, NeilPryde specifies a one-piece NP Aeroblade bar and stem. The stem, which has a lower rise than most non-integrated models, requires its own teardrop-shaped spacers which cannot be stacked above it: if you want to lower your bar height you have to cut the steerer. On our test model the rear underside of the bottom spacer did not quite clear the top tube and took a patch of lacquer off. NeilPryde said this was most likely a paint thickness issue and with the test bike now returned, is investigating further.
The internal cable routing of the NeilPryde Nazaré is relatively traditional for an aero bike: the front end is not as clean as that of some disc/Di2 aero bikes that route cables and hoses completely internally, such as the Giant Propel Advanced Disc, but it's certainly easier to work on.
Specification
This is the top-spec NeilPryde Nazaré SL – NeilPryde does not offer an electronic version, though it does sell the Nazaré as a frameset that is Di2 ready with the battery mount in the seatpost. However, the latest mechanical Dura-Ace is phenomenal: lightning fast with super accurate shifting from both front and rear mechs.
The Dura-Ace direct mount brakes are great in theory, offering extra power thanks to each half of the caliper having its own pivot point rather than a single bolt, but paired with the Fulcrum Quattro CFs, which have carbon braking surfaces they're slightly underpowered. The Fulcrums themselves are a good all-round option for the Nazaré SL. With a rim depth of 40mm rim there are more aerodynamic wheels out there, but they handle well and are stiff and lightweight.
NeilPryde Nazaré SL ride
An aero bike will rarely be as laterally stiff as a climbing bike due to the shape of its tubes, and this is the case with the NeilPryde Nazaré SL. There's a small amount of lateral flex that is not unwelcome – a good-quality carbon frame such as this one feels springy and lively.
For an aero bike we expected more aggressive geometry: compared to its equivalent-sized Canyon Aeroad the stack is high. And the 73°-square frame is classic geometry, perhaps at odds with modern riders who are often looking for steeper seat angles and a longer reach.
Handling was fast and direct: the wheelbase at 985mm is short, making the Nazaré very manoeuvrable with a great ride feel. And at 7.15kg (15.7lb) it's very light for an aero bike and flies up the hills.
As for comfort, we didn't find it harsh despite the aero seatpost, though it is better at soaking up road buzz than flexing for bigger hits, which do tend to make it kick up a little.
The Nazaré SL is undoubtedly fast: clearly we didn't wind tunnel test it but empirical evidence seemed to suggest that it was a good half to one mile-per-hour faster than a round-tubed, heavier bike around a lumpy hour-long training loop.
Value
At just under £5K we're in superbike territory and the NeilPryde Nazaré SL with Dura-Ace 9100 is ballpark rather than a bargain. The Canyon Aeroad CF SLX 9.0, which is also equipped with mechanical Dura-Ace, is £300 cheaper. However, it's important to bear in mind that Canyon can generally undercut most brands making the NeilPryde, which is something different and arguably more boutiquey, worth the extra outlay.
Thank you for reading 10 articles this month* Join now for unlimited access
Enjoy your first month for just £1 / $1 / €1
*Read 5 free articles per month without a subscription
Join now for unlimited access
Try first month for just £1 / $1 / €1
Simon Smythe is a hugely experienced cycling tech writer, who has been writing for Cycling Weekly since 2003. Until recently he was our senior tech writer. In his cycling career Simon has mostly focused on time trialling with a national medal, a few open wins and his club's 30-mile record in his palmares. These days he spends most of his time testing road bikes, or on a tandem doing the school run with his younger son.