Ritte Ace review
US brand Ritte has added the Ace to the top of its road frame line up. After riding over 300 miles here is our full test report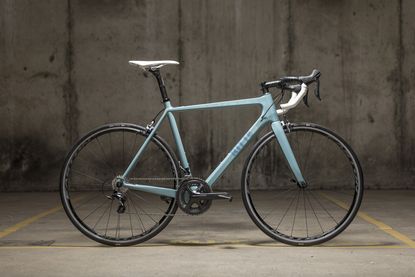 A quality road race bike for riders that like the out of the ordinary.
Reasons to buy
+

Great look

+

Comfortable ride

+

Stiff

+

Six different size options

+
Reasons to avoid
-

There are better climbing options

-

Quirky look may not appeal to some

-
You can trust Cycling Weekly. Our team of experts put in hard miles testing cycling tech and will always share honest, unbiased advice to help you choose. Find out more about how we test.
California based Ritte takes its name from the maverick Flandrian Henri "Ritte" Van Lerberghe.
Van Lerberghe's legacy was established in 1919 when he won the Tour of Flanders despite his rather unusual approach to racing. He turned up without a bike, attacked almost immediately from the gun, took a substantial break at a local watering hole and then needed to be coerced back onto his bike to ride to victory. Adopting this ethos Ritte has positioned itself as "an unusual bike company" that makes bikes for "unusual people."
This brings me to the Ace. The Ace takes over from the popular Vlaanderan as Ritte's top of the range racing steed. It retains some of the features of the Vlaanderan and leaves others behind.
Check out what is faster going skywards: an aero road bike or a lightweight road bike?
Frame
Spencer Canon, Ritte's Creative Director, explained that the Ace's design began in clay to help him achieve his goal "to allow as much volume as possible at high-flex areas, but visually avoid a bulky appearance".
The Ace's combination of straight and curved lines creates an indubitably unique appearance. A prime example of its striking contours is the asymmetric seat tube, the non-driveside is flat whereas the driveside is rounded to accommodate the front derailleur.
The frame is made from a combination of Torayca's T700 and T1000 carbon to provide a stiff and light monocoque frame. Although retaining the Vlaanderan's slightly longer than standard wheelbase the Ace does away with the integrated seatpost and uses a standard seatpost.
As is standard for a frame costing almost £2,000 all cables are internally routed and the frameset is Di2 compatible. Further, confirming the Ace's versatility, using wider tyres is not a problem as it comfortably fitted 25s and the 28s I tested.
>>> Top 10 road bike innovations
There are six frame sizes available and a choice of three striking colours. As you can see the frame I rode had a light blue colour scheme, but you could choose gloss white or matte black. Later this year Ritte shall be launching a semi-custom paint program of 12 available colours and three designs.
The large frame I rode had the following geometry: 565mm top tube, 155mm head tube, 559mm stack, 394mm reach, 995.7mm wheelbase, and parallel 73.5 degree head and seat angles.
>>>Top 10 game-changing road bikes
Specification
Currently the Ace is only available as a frameset meaning you are free to have the bike built as you desire. The test bike came with a good quality specification that performed well, namely Shimano Ultegra mechanical groupset; Easton bars, stem and wheels; and, Onza Preda 23mm tyres.
Weight
Ritte claims the frame comes in at 980g with the fork at 340g. The full bike with the Shimano Ultegra mechanical set up I tested came in on the Cycling Weekly scales of truth (without pedals) at 7.62kg.
The Ride
The Ace is primarily a race bike, but to fully put it through its paces I rode in a variety of circumstances, from commuting to both hard club runs and races. I can confirm the Ace performed admirably on all fronts.
Coming from California the Ace is designed to handle well on steep and twisty descents. Although not California the North Downs Ridge does proffer some steep descents and strenuous climbs.
The bike descended well without any noticeable speed wobbles. Likewise, it allowed me to corner at speed with confidence, even allowing for subtle adjustments to my line when required. When going up rather than down the Ace held its own as you'd expect with a bike weighing only 7.62 kg, although I have ridden bikes of a similar price point with a little more "zip" when heading skywards.
When sprinting out of corners, for road signs or to close a gap, it felt as if there was good power transfer without any noticeable flex in the frame.
Fortunately, my initial fears of a harsh ride due to the Ace's claimed stiffness were unfounded. The only time I noticed any real hard feedback from the road was when riding across sections of particularly poor road surfaces on country lanes. In short, the Ace was surprisingly comfortable.
Value
The £2,000 price point for carbon framesets is very competitive. It is fair to say that the Ace can comfortably hold its own and that it is a good foundation on which to build a high quality race bike. If buying the Ace as a complete bike I personally would make a few specification upgrades to match a £2,000 frameset.
Watch how weight can affect your speed when climbing
Final Thoughts
With its striking colour schemes and distinctive frame profiles, Ritte has gained a reputation for looking a little bit out of the ordinary. For a significant number of cyclists looking different to the rest of the crowd is rather appealing.
However, to suggest aesthetics are all that the Ace brings to the table would be hugely misleading. It is a very good all round race frameset. It is comfortable and proficient enough to be used on longer rides that include a range of terrain. Further, it is no slouch if you want to go fast. The Ace responds well if you are hammering on the pedals for a sustained period or sprinting for victory.
The set up tested performed commendably but if you like to put your own stamp on a bike there is room to enhance the overall package by making suitable upgrades. In summary, the Ace holds almost all the cards.
For more details visit the Silverfish UK website.
Thank you for reading 20 articles this month* Join now for unlimited access
Enjoy your first month for just £1 / $1 / €1
*Read 5 free articles per month without a subscription
Join now for unlimited access
Try first month for just £1 / $1 / €1