Specialized Ruby Elite review
Designed for harsh roads and long days in the saddle, the Specialized Ruby Elite brings suspension to the road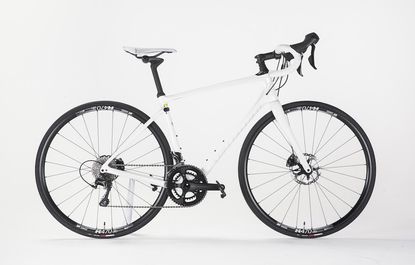 This is an incredibly comfortable and well-put together ride. Despite not being a lightweight climber, the Ruby Expert is ideal for the hills and mountains, giving you more self-assurance than possibly ever before – once you've dialled in to the ride. So does suspension really have a place on a road bike? In a word, yes – on the right bike. The Ruby isn't going to be everyone's cup of tea, but the ease of braking and shifting gear really takes your riding confidence to the next level, allowing you take optimal riding lines, arguably making this quirky looking endurance bike exceptionally fast for you.
Reasons to buy
+

Great handling

+

Hydraulic braking

+

Component specification

+

Comfortable

+

Innovative

+

Semi all-terrain

+
Reasons to avoid
-

Expensive

-

Not pure race bike

-

Lack of road feedback maybe disconcerting for some

-
You can trust Cycling Weekly. Our team of experts put in hard miles testing cycling tech and will always share honest, unbiased advice to help you choose. Find out more about how we test.
When Specialized re-launched the Ruby in September 2016, it did so at the same time as its Roubaix. Both come with the headline grabbing and highly unconventional front suspension.
It was hard not to draw parallels between the frames as a 'his &her' race duo, but in fact, whilst they may share springy similarities, once on board the Ruby, it's clear that it has a much different remit, one that focuses less on race and more on comfort.
>>> Specialized bikes: everything you need to know
The Frame
This is the fourth generation of the Ruby, and while it adheres to its traditional values of a women's specific endurance bike, the insertion of a front suspension was the cue Specialized needed to give the bike a total remodel. The result is an endurance bike, with significant built-in compliance.
>>> Endurance Bike of the Year 2016
There's no denying that the front-end Future Shock spring, with three different spring tensions (soft, medium and hard) available, gets the majority of attention.
Positioned above the head tube, it suspends the rider over the bike, delivering what Specialized believes to be all the benefits of a compliant ride, without a hit on handling or efficiency.
This also enables the tyre to remain in contact with the road over bumps and lumps, giving the rider more confidence on less than smooth road surfaces as well as cornering and descending.
Specialized has done its homework with the Fact 10R Carbon frame design, working with Formula 1 specialists McLaren, with bike fit data from Retul (a Specialized owned company) and Specialized Body Geometry for around 35,000 female bike fittings.
This, according to Specialized, led to a frame with a shorter reach and higher stack, when compared to, say, the Amira race bike that Lizzy Deignan rides and won the 2016 World Championships on, allowing it to focus solely on smoothness, speed and comfort of the ride.
This geometry ticks all the endurance bike boxes, but will require a re-work of your current bike fit positions if converting from a race machine, with a Ruby-specific bike fit recommended in order to get the right size for you.
At the rear, a 65mm drop in the previous seat clamp position and the repositioning of the rubber vibration-damping Zerts from chainstay to CG-R seatpost gives, according to Specialized, the Ruby an increase in rearward compliance, when compared to the older version.
Add to this the 12x142mm thru-axle element and you start to understand why this bike is more than an average off-the-peg endurance bike.
It really has been engineered to contain all the characteristics for its intended use – a more or less go-anywhere bike for women spending several hours in the saddle.
Specification
Teaming the frame with majority Shimano Ultegra and its hydraulic braking system perfectly complements the Ruby Expert.
>>> Disc brakes: everything you need to know
The Praxis Works 50/34t compact chainset and 11-32t cassette plays to the 'go anywhere' concept, and, with Ultegra's exceptional track record, will ensure you're not mechanically let down while out there.
The alloy Hover Expert bars have a small 125mm drop and shallow 75mm reach, making them ideal for smaller hands and are partnered with alloy Pro SL stem.
A choice of either a 400mm or 350mm CG-R FACT Carbon seat tube is a helpful addition when determining what size frame is needed.
Specialized has also future-proofed the Ruby using the now industry standard 12x142mm bolt thru-axle, meaning that if you do want to upgrade or change the Specialized exclusive DT Swiss R470 Disc, there should be several options on the market, or a Hope adaptor option.
Watch: Cycling Weekly Tech of Month
Ride
There's no doubt that the first ride on the Ruby will feel alien.
The Future Shock suspension spring kicks into action and it feels like your front end is about to wash out from under you. It's disconcerting to say the least.
However, the initial counterintuitive sensation is soon forgotten if you stop analysing everything and just simply ride.
It's a bizarre concept, but the Ruby really just does it all for you. Once you've got your head around this, you'll soon be pointing and shooting the bike at pretty much anything you can find to ride it on.
I've hit cobbles, cinder trails and even small sections of off-road trails and the Ruby just cruises over everything I've thrown at it, and a testament to the Specialized Turbo Pro Tyres it comes shod in.
The front suspension preloads your weight over the front wheel in corners, which with its calm and steady footing, encourages you to go in hotter than you would have previously felt comfortable doing.
Along with smoothing out all bar the roughest of road imperfections, you'll soon discover yourself taking the fastest line, not the cleanest, making this non-race bike actually pretty swift at times.
Without a detailed scientific experiment, it's hard to tell if the front suspension gives a penalty on the climbs, but my gut says it does.
However, the pros of hydraulic disc braking, allowing you to feel more in control of the bike when descending, and confidence the feel of the ride gives, I'll take a slight wattage sap any day.
Value
The Ruby Expert is right in the middle of the whole Ruby Range, with a whopping price difference of £6,400 between top and bottom options.
At £3,800 it's certainly a considered purchase, but if you are in the market for an endurance bike, then it really is just everything you ever need.
The cheaper Ruby Comp and Elite carry many of the technical attributes, but with cable pull disc brakes, they lose a significant amount of the confidence-inspiring ride.
Thank you for reading 20 articles this month* Join now for unlimited access
Enjoy your first month for just £1 / $1 / €1
*Read 5 free articles per month without a subscription
Join now for unlimited access
Try first month for just £1 / $1 / €1