Fizik Aliante VS Kium saddle review
Aimed at riders more at ease with a more relaxed, upright position; the Fizik Aliante VS Kium saddle delivers a large dose of comfort perfect for longer rides.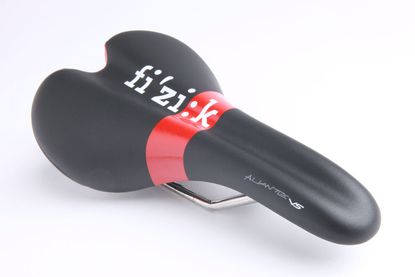 Not the lightest of saddles on the market but if you suffer from a lack of flexibility the Fizik Aliante VS Kium saddle might just be the one for you. The padding provides proper all day comfort and although not everyone will get on with the VS groove it certainly helps to increase your ride enjoyment.
Reasons to buy
+

Padding is exceptionally comfortable

+

Simple shape for set up

+

Lots of options

+

Compatible with Fizik accessories

+
Reasons to avoid
-

Heavier than some similar saddles

-

Rounded shape might not suit every rider

-
The Fizik Aliante VS Kium saddle is for Bulls, not my words, Fizik's. The Italian company names its saddle ranges after creatures renowned for varying degrees of flexibility, so we have the aforementioned Bull, the Chameleon and the Snake. So, if like me, you have a more limited range of flexibility in your spine and can't remember the last time you could touch your toes – Fizik say you are like a bull and this is the saddle for you.
>>> Buyer's guide to road bike saddles
If in doubt as to which is your saddle's spirit animal any good Fizik dealer should be able to help you choose the correct saddle. The VS in the name refers to those models in the range that have a 7mm deep central groove running along the length of the saddle. Developed to reduce pereneal pressure without impacting on the structure and strength of the carbon reinforced base.
The Fizik Aliante VS Kium version has Kium rails, a patented alloy material that Fizik claim is lighter than titanium but with similar dampening properties. Aimed at riders who tend to ride quite upright and with the majority of their body weight pushing through the saddle, the Aliante is not short of padding. The PU foam padding felt almost sofa like in its comfort on longer rides and compared to some, managed to maintain that support with little compression. A bonus of this level of comfort was the padding made the Fizik Aliante VS Kium great for riding hard in the drops.
>>> Saddle height: how to get it right, and why it's so important (video)
The VS channel seems to work well and I felt no perineal discomfort or numbness whilst riding. What I did feel however, was the rounded profile of the saddle caused the channel edges to feel a little more pronounced than some – fortunately the softer padding makes this less of an comfort issue, just that you are aware of your position.
Watch: buyer's guide to road bike saddles
The more rounded shape meant that, despite the claimed 142mm width (similar to most brands medium width saddles), my sitbones dropped to the outside on the downward pedal stroke causing a little hip rolling.
>>> Review: Fizik Aliante VSX Kium saddle
The Fizik Aliante VS Kium is quite a heavy saddle and might not appeal to the weight obsessed in this guise. The top end R1 Braided version takes the weight down to 185 grams but bumps the price up to £189.99.
The final thing to note is all Fizik saddles have a neat clip system on the back of the saddle compatible with an array of proprietary bags and lights designed to keep your bike neat.
For more details visit Extra UK.
Thank you for reading 10 articles this month* Join now for unlimited access
Enjoy your first month for just £1 / $1 / €1
*Read 5 free articles per month without a subscription
Join now for unlimited access
Try first month for just £1 / $1 / €1
James Bracey's career has seen him move from geography teacher, to MBR writer, to Cycling Weekly's senior tech writer and video presenter. He possesses an in-depth knowledge of bicycle mechanics, as well as bike fit and coaching qualifications. Bracey enjoys all manner of cycling, from road to gravel and mountain biking.