Shokz OpenFit 'air conduction' headphones review - an excellent wireless option for situational awareness
The Shokz OpenFit share a lot of similarlities with their 'monoform' cousins - but bring the full freedom of separate earbuds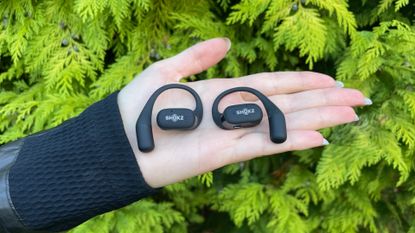 (Image credit: Charlotte Broughton)
The Shokz OpenFit are a super comfy wireless bluetooth set of earphones. The sound quality is great, and cars and other vehicles can still be heard from way off. These earphones are therefore excellent for helping you to be aware of your surroundings while also being able to enjoy some music, a phone call, an audiobook or a podcast. Different modes can also be selected on the Shokz app to help heighten your listening experience. Another great aspect is the battery life: claimed to be up to 7 hours this is also really impressive. The controls can be a little temperamental, but overall the OpenFit earphones are great for workouts and everyday usage.
Reasons to buy
+

Great battery life

+

Very comfortable

+

Can hear other road users from a long distance away

+

Good sound quality

+

Charging case is really useful and a good size

+

Compatible Shokz app is easy to use

+

Different settings that can be changed on the app
Reasons to avoid
-

Touch controls can be a little fiddly
You can trust Cycling Weekly. Our team of experts put in hard miles testing cycling tech and will always share honest, unbiased advice to help you choose. Find out more about how we test.
Trying to find a solid pair of earphones that are both comfortable, produce a high sound quality and also allow you to hear the environment around you has proven somewhat tricky for me. I was also skeptical about ditching the wired variety and going for the wireless earbud style - especially given who clumsy and forgetful I can be; often misplacing gloves and socks, let alone an item as small as earphones.
Therefore, I was equally excited and nervous to try the Shokz OpenFit air conduction earphones while out riding on my bike,
Shokz' bone conduction headphones such as the Shokz OpenRun and Shokz OpenRun Pro have impressed us at Cycling Weekly, but how does Shokz' latest release stack up against the best headphones for cycling? Read on to find out. And oh, if you were wondering, no I didn't end up losing them. Not once.
Shokz OpenFit: construction
Upon unboxing, from the off I really liked the minimalist style of these earbuds. The charging case was also very simple in design, which I found very appealing. After opening the case, the features which stood out most to me were just how soft the earphones were.
Additionally, their size is good balance, too. The design means they aren't big and bulky: instead, the OpenFit are rather small and streamline when worn.
I didn't have any irritation from the coating of the headphones - which can sometimes occur for me - and just generally I found them to be incredibly comfortable. The slightly heavier end-of-the-ear hook also states 'L' and 'R', to ensure you don't use the wrong one for the wrong ear.
Shokz claims that the "dolphin arc ear hook design with a built-in 0.7mm ultra-fine flexible memory wire provides an ergonomic fit that can gently adapt to your natural ear shape" - the idea being that no matter your ear shape, you will find the earphones comfortable.
They are also water resistant which is very useful for using these when riding or exercising - especially if you are a particularly sweaty individual…
Shokz OpenFit: setting up and the ride
The Shokz OpenFit earphones are very easy to set up - it's certainly an intuitive design.
I pretty much unboxed them, opened the case and connected them via bluetooth to my phone. Unlike some wireless headphones or earbuds, which take ages to set up and pair to your devices, it was just so simple and quick.
So not only is the design simple and straightforward, but so is setting them up. I also connected them to my MacBook with the same amount of ease.
The Shokz app was also easy to download and pair the earbuds to. The app was also very user friendly, with a clear display telling me the charge of both buds and the case.
Once kitted up, I found the earphones easy to pop on with my helmet - which was a relief, as I was slightly worried they may impede on my helmet straps. But in my experience they are helmet compatible and they didn't get in the way of any straps, which would've been a sensory nightmare.
Initially, I was nervous the OpenFit wouldn't stay in place while out riding, but I had no issues with this. In fact they stayed in place very well. Similarly, using them during a run I found them to be very secure on both ears, even with the up and down movement of running. Super impressive.
What I liked the most whilst using these was how easy it was to hear the environment around me - without sacrificing the sound quality. I could very easily hear cars approaching from a fair distance off which helped me to stay aware.
I also really liked the choices of different settings I could select from on the Shokz app. This feature was really useful when it came to making the most out of the material I was listening to. I listened to most of my music with the Bass Boost setting. They weren't as bassy as headphones but, for earbuds, I was really impressed.
After a good few hours of use, I didn't have any earache or soreness - which I have found can sometimes occur from other designs. The Shokz OpenFit confirmed themselves to be a seriously comfortable pair of earbuds.
However, what I did find slightly annoying was the touch control. I have to admit, I didn't find it the most responsive at times, whereas other times while just adjusting them a slight knock would switch my music off.
This did annoy me at first, but I think the controls are just very sensitive. Therefore be careful when it comes to adjusting or fiddling with the earbuds.
Then after my ride when it came to charging, they sadly don't provide wireless charging from the case. But all I needed to do was pop them in the case and plug the USB-C cable in, et voilà! The charging was also fast, taking only 5 minutes to give an hour of charge.
Shokz OpenFit: value and conclusion
Coming in at $179.95 / £179.00 RRP I feel that they are a really reasonable price given the excellent quality both in design and sound quality.
Especially when compared to the RRP of the Oladance open ear headphones we reviewed earlier this year which came in at $199.98 / £199.99 and only attained 2.5 stars out of a possible 5.
Then when compared to more popular wireless options such as the Apple AirPods Pro 2 with an RRP of $249.00 / £229.00, it's clear to see that the Shokz offer good value compared to competitors. However, the AirPods do have a smaller case due to the shape of the product, but it may be an important difference for some.
Overall, I feel these are a really great option for cyclists who want to be able to listen to their music or podcast with clarity and great sound quality. Especially for those who want to be able to select different modes to make the most out of whatever they are listening to.
They are particularly good when it comes to being aware of the outer world while in your own little world. It was almost freakish how much I could hear while still enjoying my music. All in all, a great option at a very reasonable price.
Thank you for reading 20 articles this month* Join now for unlimited access
Enjoy your first month for just £1 / $1 / €1
*Read 5 free articles per month without a subscription
Join now for unlimited access
Try first month for just £1 / $1 / €1