Mark Cavendish's Highroad time trial bike review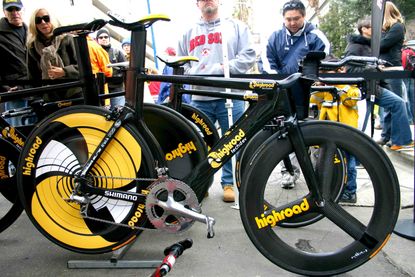 Mark Cavendish finished just five seconds down on Fabian Cancellara in Saturday's short prologue at the Tour of California. We took a sneak peek at the Columbia team pits to check out the new Highroad TT bike.
Cavendish put much of Saturday's success down to his Highroad branded time trial bike.
>>> The best time trial bikes and triathlon bikes: a buyer's guide
"It's unbelievable, it's 100 per cent power transmission. I went training in my 53, I normally push 53x11, and I came back from the training lap and said I need a 55."
Columbia Team boss Bob Stapleton wouldn't say who was making the bikes, but it's impossible to miss the striking resemblance to last year's Giant TT frames.
"This is a bike that was developed with outside engineering," Stapleton said. "I can't tell you who manufactures it, I'm legally restricted from telling you that, but that is a different bike from what we rode last year."
The team has put considerable effort in to the bike, enlisting the help of experts from Formula One and other industries to maximise the aerodynamics and the way the carbon is manipulated.
Stapleton also denied that the alloy section below the tri bars was an illegal faring. "It's totally UCI compliant, it's also available to be a fluid reservoir and it meets all UCI rules, unlike some other TT bikes that are out on the course right now. So if those rules are enforced, our bikes will pass and maybe some others won't.
"Every team noticed at the Worlds that the UCI regulations would be strictly enforced, and everyone got a letter in January, and you can see some tension about that even in this race."
The bottom of the tri bars' alloy section bolts to the front of the fork, which, according to Adam Hanson gives it significantly greater rigidity and therefore improved handling.
"One of the other things I like about it is that it's a really nice bike to ride," Stapleton continued. "It's comfortable, it's stable, and the guys can stay in their position and produce maximum power for a long time. It's also stable in the wind, it's just a really a nice riding bike."
Thank you for reading 5 articles this month* Join now for unlimited access
Enjoy your first month for just £1 / $1 / €1
*Read 5 free articles per month without a subscription
Join now for unlimited access
Try first month for just £1 / $1 / €1