Continental Grand Prix 5000 clincher tyres review
The Continental Grand Prix 5000 is the newest incarnation of the most popular tyre in cycling - here's what we thought...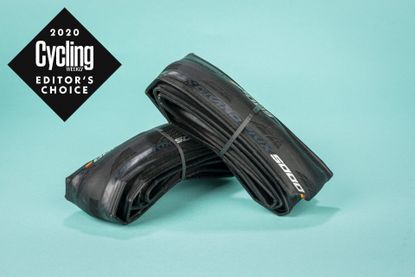 The market leader was never going to go downhill in its newest guise - and with the Continental Grand Prix 5000, the brand has made the best better. It's embraced the tubeless technology which roadies are gradually coming round to, but the result isn't necessarily faster which will contradict expectations. Across both guises, it's not the fastest, supplest tyre out there, but it is resilient and we've yet to experience a flat, so if you're seeking a compromise between speed and peace of mind, the Continental Grand Prix is still where it's at.
Reasons to buy
+

Puncture resistant

+

Fast

+

Grippy
Reasons to avoid
-

A bit tough to fit to some rims

-

Pricey
You can trust Cycling Weekly. Our team of experts put in hard miles testing cycling tech and will always share honest, unbiased advice to help you choose. Find out more about how we test.
The Continental Grand Prix 5000 clincher tyres were selected for an Editor's Choice award in 2020. This year's list contains 78 items which scored a 9 or 10/10 with our tech team - this gear is the best of the best, and has received the Cycling Weekly stamp of approval.
The GP5000 is not by any means a new product for 2020 - but these tyres are used by testers and brands the world over as a control tyre - they're fast, supple and resilient. If you're a road rider after an all-rounder clincher, this is it - so we couldn't leave them out of our list this year.
Continental's Grand Prix is an all-season all-rounder - it's one of those rare creations that manages to be a Jack of all trades whilst still masterful enough across puncture resistance, grip and rolling resistance.
Buy now: Continental GP5000 tyres at Wiggle for £36.99
A great deal of this straddling of specialities comes from its BlackChili Compound which, after 12 years, was improved for the GP 5000 with emphasis on finding the sweet spot between grip and low rolling resistance. You want the tyre to deform to the bumps, but not to form a jigsaw with the road.
Thread per inch (TPI) is important when it comes to suppleness too. A high number will make for a construction which provides a smooth, fast ride. Continental claim 330 TPI on its clincher. However, when making comparisons, be aware that this comes from 3 folded pieces of ply, at 110/60 TPI each.
Another evolution focused on the all important goal of not-stacking-it, is 'Lazer Grip'. Where in the past the tread pattern was CNC-ed into the tyre, it's now laser printed onto the shoulder, and Continental says that this offers improved cornering.
>>> Buy now: Continental GP 5000 clincher tyres at ProBikeKit for £39.99
>>> Buy now: Continental GP 5000 tubeless tyres at Merlin Cycles for £56.95
Tread pattern is considered by many as a sugar pill, designed to instill confidence whilst letting compound do the real work. However, Continental's research at its Korbach HQ still supports the approach.
After a season of testing on UK roads in Surrey and Kent, I found the tyres rolled well. I could push into the corners with confidence even on wet and greasy days, though they were tougher than a thoroughbred race tyre.
Of course, the GP 5000 is an 'all-round' tyre. You do have the benefit of the newly improved Vectran Breaker layer, the polymer which forms a multi-strand thread and acts as a blockade against foreign objects such as thorns, glass or flint. This is said to be improved by 20 per cent in the new GP 5000.
What you lose in marginal gain on smoothness and a slight weight increase, you get back in not standing beside the road fixing punctures and I had zero flats whilst using both sets of tyres on the rutted roads in Surrey and Kent.
More cushion and comfort
As well as working on grip and rolling resistance, Continental has had its ears open to the ever louder conversation around comfort.
For the first time ever, it has embedded what it called 'Active Comfort Technology'. This sits below the Vectran Breaker, and apparently without affecting rolling resistance, dampens buzz and vibration.
Such a claim is always going to be pretty subjective - but fitting the tyres to a bike I consider to be 'uncomfortable' and a bit clattery, I'd say the ride quality was improved by a fraction which is always a welcome advancement.
Aerodynamics and rolling resistance
We don't have the means to test aerodynamics and rolling resistance at the Cycling Weekly office. But, we do have friends who do.
Experts at Aero-coach compared the GP 5000 clincher (23mm), with the outgoing GP 4000 (23mm), and the GP TT - the clincher designed for all out speed, without the extra puncture protection.
The Aero-coach study goes into a great deal of detail. In short, with both elements considered, the GP 5000 clincher comes out top - 4.3watts improved over the 4000 at 45kph.
Fitting the Continental Grand Prix 5000 tyres
A tyre can skim over tarmac like a knife to butter, but it'll leave you with bloody thumbs and a lot of rage if you can't fit it by the roadside.
I fitted the clinchers to a pair of Prime Carbon RR38 disc wheels, and unfortunately the process was accompanied by thumb skimming and swearing.
However, this was also the case when removing the Schwalbe One's fitted to the same rim and the rubber felt supple enough to go onto a friendly rim much more quickly.
The tubeless version...
GP 5000 tubeless
25mm to 32mm, 650b and 700c
300g to 370g
TPI 3 ply 180
£70
The first test for the GP 5000s was the tubeless variety, on smooth roads in Tenerife. They felt fast and rolled well, though even run at 80psi I'd say they are notably more 'solid' than a true race tyre. This is Conti's first tubeless tyre, and the bead is pretty tough and thick – to ensure a tight seal – but this means they're not the supplest in the business. This feeling continued on UK roads, where compliance becomes even more crucial.
The aerodynamics of the tubeless model didn't come up trumps, either, when AeroCoach compared a GP 5000 25mm clincher with a 23mm clincher, and a 25mm tubeless.
Wider tyres were shown to be faster, but unexpectedly the clincher was 1.2w faster at 45kph when compared to the tubeless of the same width. Aero-coach's Xavier Disley puts down to the thickness of the casing.
Fitting tubeless tyres is something that puts a lot of people off. The brand says the tubeless version is compatible with all tubleless ready rims, and so we selected the Cero AR24 wheels.
Once the correct valves for the wheels in question were located, the process took around 30 minutes. Again, it was tyre-lever-snappingly tough to get the rubber onto the rim, but I've found this to be the case with a range of tyres on the same wheel.
Continental suggest you use its own sealant, but since we didn't have any, we used the pink stuff you can find readily available elsewhere.
The tyre bedded in well eventually, and after several re-loads of the booster pump, held pressure without leaking.
Thank you for reading 20 articles this month* Join now for unlimited access
Enjoy your first month for just £1 / $1 / €1
*Read 5 free articles per month without a subscription
Join now for unlimited access
Try first month for just £1 / $1 / €1