Zefal Z Adventure bags, ridden and rated over 232-miles of gravel
We put the company's bikepacking luggage to the test in a variety of conditions over a 232-mile loop in Norfolk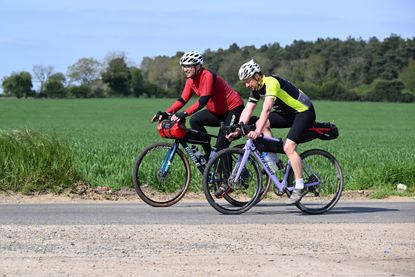 (Image credit: Andy Jones / Future)
Get The Leadout Newsletter
The latest race content, interviews, features, reviews and expert buying guides, direct to your inbox!
Thank you for signing up to The Pick. You will receive a verification email shortly.
There was a problem. Please refresh the page and try again.
The Rebellion Way is 232-miles (373km) of road and trail in a loop around the edges of Norfolk, and one which I found myself embarking upon earlier this summer with my brother and Cycling Weekly colleague Steve.
Norfolk is flat (though maybe not as flat as you might assume) and it is certainly cyclist-friendly. Nevertheless, riding such a distance means you're going to need to carry stuff.
Steve, being a bit of an ultra-distance headbanger, would probably have been prepared to dash the whole 232 miles off in one go with a rucksack, but that didn't hold much appeal with yours truly. We agreed on a three-day schedule, which seemed reasonable enough – we just needed some dedicated luggage to put any talk of rucksacks to bed.
Thankfully, we procured some items from Chicken Cycle Kit in the form of Zefal's range of 'Adventure' bags.
We weren't camping, and I figured the 17-liter Zefal Z Adventure R17 seatpack, paired with the 10-liter F10 handlebar bag and the Z Adventure C2 2.5-liter frame pack would offer ample packing space. Instead of the usual top-tube pack, I added Zefal's Adventure pouch – an upright cylindrical drawstring bag for easy access to bits and bobs.
Happily for the purposes of the test – not so happily for the chilly and saturated cyclists who endured it – Norfolk's heavens opened on day three, giving us and the various bag closures all it had.
Here's how the bikepacking trip went.
Zefal Z Adventure R17 seatpack - $72.00 / £78.99
The R17 is the biggest of three seatpacks in Zefal's Z Adventure range – the smaller sizes being 11 and 5 liters. I was umming and ahhing over whether to plump for the R11 myself, but the R17's roll-top closure means it will reduce down to 8 liters, covering all the bases. The roll-top clicks home with buckle either side, while the bag itself mounts to the seat with two straps around the saddle rails, which click home with a buckle clip. There's also a larger velcro-closing one around the seatpost.
The top features stash-meshing and the whole shebang is billed as waterproof.
In practice, there was a lot of the Z17's capacity that I didn't use – probably around five or so liters spare, which undoubtedly made it a little more wieldy than it would have been fully loaded.
Mounting it to the bike was a little fiddly – having a second person to hold it would have made it easier – but nevertheless didn't take long. There's no cartridge system, so you will probably need to mount and re-mount it regularly, but the procedure does get easier as you learn which part of your arm or leg best support it as you carry it out. The straps went on nice and tight to the seat and even out of the saddle, any side-to-side movement didn't feel excessive.
I could find no obvious complaints, but I would say that the mesh netting on top of the bag was of limited use. It doesn't stretch far, I managed - just - to fit a waterproof jacket underneath it, but I felt like I was pushing it to its limits. Elsewhere, the light loop wasn't brilliant either, and my rear light fell off on a bumpy trail, never to be seen again.
However, our wet third day of riding tested the item's waterproofing claims as far as they would go and they remained true, with none of the contents suffering any dampness.
Zefal F10 bar bag $48.49 / £49.99
This substantial bar bag, fashioned in an eye-catching red and black, features a removable cartridge, which is easily taken out when need be without having to unstrap the whole thing from the bike.
The cylindrical red 'cartridge', which is made of a thick and very durable-feeling PU 210D material, features a roll-top buckle-clip closure.
The black holder itself is secured to the bike by way of two straps around the bars and one around the head tube – all of which can be adjusted so they accommodate your own personal cockpit set-up. It wraps around the red cartridge, with wide velcro strips top and bottom help to secure it, as well as a pair of buckle clips. All together, it means the cartridge is not going anywhere but equally, it's very easy to remove when you need to.
Its 10 liters holds a fair bit of kit, and I found it to be a key part of the luggage set-up for the Rebellion Way ride.
It was well-sized in that it didn't interfere with my hands when riding the hoods at all, and even though I didn't quite use all of its capacity, the Zefal F10 swallowed up some fairly bulky items of clothing. What's more, when the rain gods did their best it was not found wanting – everything inside remained dry as a bone.
Zefal Adventure Pouch $29.32 / £23.99
The Adventure Pouch is a one-liter cylindrical-shaped bag with a drawstring closure. It is designed to mount on the side of the stem and steerer, attaching via velcro straps around the steerer and the handlebar, and tethered by a smaller one around the top of the down tube or underneath the fork crown.
It will fit a bottle snugly, but I used it to carry the smaller items you might usually put in a bento box – energy gels, multi-tool, phone, energy bars, etc.
Like the other items in this test, it was well made, but I did find my intentions to use it in place of a top tube pack were misguided.
Some items – gels and phone for example – were easily plucked out of the pouch when needed. But anything smaller required a fiddly level of delving that I would rather have avoided.
The drawstring closure also meant it was far from rainproof when the heavens opened, though none of the items suffered unduly.
In fairness to Zefal, it shows the Adventure Pouch holding a bottle in its marketing, and suggests using it for "mid-ride refreshments" – jobs which it does perfectly capably.
Zefal Adventure C2 frame bag - $38.88 £41.99
The C2 frame bag is a fairly understated kind of item – uninspiring even – but one look and it just screams 'waterproof'. Heat-sealed 600D polyester finish with sealed zips gain it an IXP4 waterproof rating that we were extremely glad of during Norfolk's various deluges.
The C2 has two siblings – the C3 at 3.3 liters and the C4 at 4.2 liters.
The C2 is the baby of the family at 2.5. Compact, but useful for smaller items – I used it for tubes and tools and the odd bar. It probably would have also taken a light gilet or waterproof if I'd had one with me.
It fits to the bike using a pair of fairly unobtrusive velcro straps around the top tube, and another around the top of the downtube. Once on, I pretty much forgot it was there. It didn't move around or obstruct my legs in any way.
The only thing I would change next time around would be to use the C4, as the C2's 2.5 liters were eaten up quite quickly.
Thank you for reading 20 articles this month* Join now for unlimited access
Enjoy your first month for just £1 / $1 / €1
*Read 5 free articles per month without a subscription
Join now for unlimited access
Try first month for just £1 / $1 / €1
Get The Leadout Newsletter
The latest race content, interviews, features, reviews and expert buying guides, direct to your inbox!
After cutting his teeth on local and national newspapers, James began at Cycling Weekly as a sub-editor in 2000 when the current office was literally all fields.
Eventually becoming chief sub-editor, in 2016 he switched to the job of full-time writer, and covers news, racing and features.
A lifelong cyclist and cycling fan, James's racing days (and most of his fitness) are now behind him. But he still rides regularly, both on the road and on the gravelly stuff.