The Wirral with Tony Bell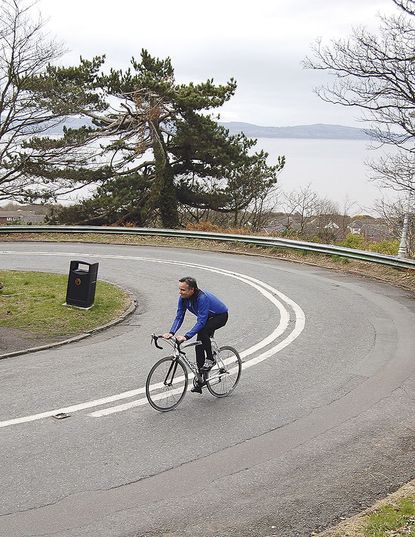 YOUR GUIDE: Tony Bell
DISTANCE: 43 miles (70km)
MAIN CLIMB: Victoria Drive
TOTAL CLIMB: 300m
ACHTUNG!: A bit of an urban odyssey in places, so watch the traffic. Oh, and watch out for Tony Bell too.
In Liverpool they're still living the dream. The city that is the birthplace of the Beatles, and a whole music and cultural revolution, has never quite got over it. There's an artistic pride in the place, a feeling that everybody is part of something special, and in 2008 Liverpool will be the European capital of culture. But on the other side of the Mersey, in the land of the 'plastic Scousers', as they call them in Liverpool, they've not been slow in producing celebrities either.
Glenda Jackson, Cynthia Lennon, Daniel Craig, Elvis Costello, Freddie Starr, Lily Savage, Chris Boardman and Ian Botham are all from the Wirral. And so is our very own wit and raconteur, the man responsible for bringing you the lighter side of cycling in the back pages of this magazine, the Bard of Birkenhead himself, Tony Bell.
First, though, a shock. We're all familiar with Tony's off-beat 'look what's happened to me now' way of seeing the world with characters like Bobby Clamp, Bell's support of lost cycling causes, and with his own colourful past, but Tony Bell the serious journalist? You better believe it.
In his day job, Bell has fearlessly reported on race riots, dug into gangland contracts, drugs wars and environmental and social issues in and around Merseyside for broadsheets like the Independent and Observer, as well as working on features for local papers that have seen him, among other things, take the other side of the mike to see what it's like to be a stand-up comic.
But that's his serious side, and although it's a timely reminder that he has one, it's not what we'd come for. We wanted Tony to show us the Wirral by bike, and tell us a bit about the cycling career that he says he has "made a living out of re telling how crap I was".
He should know the area well, as it was homesickness for it that stopped his cycling career from going any further than it did. "I'd got a place in a club in Paris and I went there in early January 1980, but I was back home by the 20th. I missed my girlfriend, that was my first ex-wife," he explains dryly, and adds, "It's a funny old place, but I suppose that's why I like it."
The Wirral sticks out between two rivers, the Mersey and the Dee, giving it an island feel. It's an interesting place, a mix of industry and open country, wealth and hard times and fortunes that have been made and lost. It's got a fair slice of cycling history, too.
SUSTRANS USER
We set off in New Brighton, from one of the many car parks that gives access to a stretch of the Sustrans cycle route. "New Brighton was created by local businessmen to rival Blackpool, they even built a bigger tower than Blackpool's," Bell explains. "There was a time when business boomed, but it didn't last and they had to pull the tower down.
"There was also a bike track, where they held the World Championships in 1922. The amateur sprint was won by a Brit, Tiny Johnson, who won a three-up final by attacking from the gun."
New Brighton seafront is a dual-carriageway with handily placed roundabouts that make it a perfect criterium circuit. Bell had his last victory here: "It is also where Tom Simpson rode his last race in Britain. Although those two things didn't happen on the same day," Bell stresses.
The Sustrans route heads south past some impressive dunes, and around the back of Wallasey, but here Bell leaves the track and joins the A563 to ride through Hoylake, home of another cycling legend, Chris Boardman. Then it's past the Marine Lake in West Kirby and up a beautiful hairpin climb that Bell says even locals don't know about. The views out over the wide Dee estuary and towards the hills of North Wales are more Mediterranean than Merseyside.
A bridleway links the route with the road again and Bell forges on through Heswall, down past Parkgate and Neston before joining the busy A540 to Two Mills and one of the real jewels in the ride, the Eureka Cafe.
RETRO HEAVEN
It's like stepping back in time. A row of bikes bristle outside. "Nothing like what you get at weekends, and even that is nothing like what there was in the 70s and before," says Bell, showing us the black and white evidence that decorates the walls inside.
How many cafes have a Dauphiné Libéré leader's yellow jersey on the wall? It's courtesy of another cafe regular, Chris Boardman, and among the banter of 20 or so Wednesday afternoon customers is Chris's father, Keith, and current local hero Steve Cummings, fresh from his Commonwealth triumphs. It was Steve's lucky day, as he was about to benefit from a bit of advice from Tony. We didn't hear what was said, but it certainly gave Cummings a good laugh.
Cheesy beans on toast, a bacon bin-lid and plenty of strong tea, and we are on the road again, across to Ledsham, skirting Ellesmere Port, past the ducks swimming noisily on Raby Hall lake, and on to Bebington, where ex-TI Raleigh rider and time trialling legend Dave Lloyd had his bike shop.
After Bebington the ride goes through built-up areas, as it filters through Tranmere and on to Birkenhead, not only the family home to the Bell clan, but also the birthplace of the doyen of cycling commentators, Phil Liggett.
HARD TIMES
Birkenhead is like a once elegant lady who's fallen on hard times — there's still a proud beauty about her Edwardian centre, but the ghost of thwarted ambition hangs in the air, and the scars of urban neglect are never far away.
"Birkenhead thrived once because of shipbuilding. It was the first place anywhere to have trams, and the square looks strange because they built it, then laid the streets out in a grid pattern, expecting to build more in the same style around it," Bell explains. "But the shipbuilding died, the money dried up and the heart fell out of the place. After that they let anyone build anything."
We pick up the Sustrans route again at the famous 'Ferry Across the Mersey' terminal, but stop for a quick look across the river at the Liver Building and the unforgettable Liverpool skyline.
The route runs alongside the Mersey, past Perch Rock, a Napoleonic fort built at the river's mouth to defend the area. Left at the top and it's back to the car park in New Brighton.
With Liverpool still in sight behind us, I ask Bell if the 'plastic Scouser' tag indicates that Liverpudlians look down at their cousins across the Mersey. "Yeah, but the funny thing is that they can't wait to get out and come here. The first thing anyone from Liverpool does when they make a go of something is buy a house over here," he says.
WHICH WAY?
From New Brighton follow Sustrans route south-west until A551. Turn right (TR) to Moreton. TR r-about A553 to Meols. TR in Meols and turn left (TL) along seafront. Join A540 after Hoylake. TR at West Kirby leisure centre and join B5141 after Marine Lake.
TL Caldy onto Victoria Drive. TR bridleway on drive to rejoin B5140. TR r-bout A540. TR B5134 to Parkgate and Neston. TR on A540 to Two Mills (Eureka Cafe on right just after traffic lights). TL on unclassified to Ledsham and follow signs to Willaston.
TR on B5133 and TL on unclassified. TR on B5151 to Bromborough and Bebington. Carry on through Higher Bebington to Birkenhead town centre. TL on A5139 across the docks and follow the signs to the ferry terminal, where the Sustrans route will take you back to New Brighton.
TONY BELL: THE FACTS
* A freelance journalist living in Chester
* Once managed a sex shop
* Held the mountains and points jerseys in the Mi-Aout Bretagne
* Holds a degree in politics
* Has his own website: www.tony-bell.co.uk.
(This article originally appeared in the April 20, 2006, issue of CW)
Thank you for reading 10 articles this month* Join now for unlimited access
Enjoy your first month for just £1 / $1 / €1
*Read 5 free articles per month without a subscription
Join now for unlimited access
Try first month for just £1 / $1 / €1
Founded in 1891, Cycling Weekly and its team of expert journalists brings cyclists in-depth reviews, extensive coverage of both professional and domestic racing, as well as fitness advice and 'brew a cuppa and put your feet up' features. Cycling Weekly serves its audience across a range of platforms, from good old-fashioned print to online journalism, and video.