Lancs, Yorks and Cumbria with Matt Cronshaw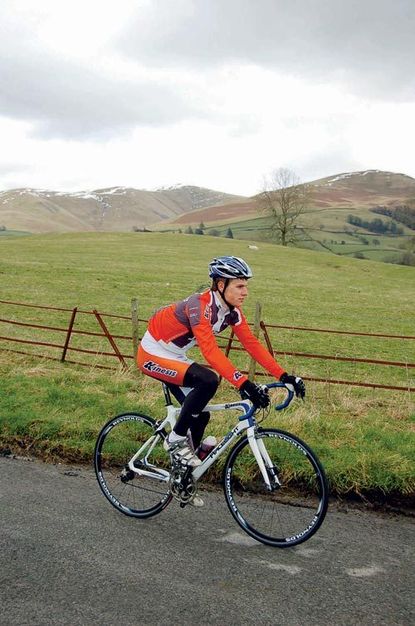 Get The Leadout Newsletter
The latest race content, interviews, features, reviews and expert buying guides, direct to your inbox!
Thank you for signing up to The Pick. You will receive a verification email shortly.
There was a problem. Please refresh the page and try again.
DISTANCE 61 miles (98km)
MAIN CLIMBDeepdale
TOTAL CLIMB1,200 metres
ACHTUNG!Take care crossing the A65
Premier Calendar leader Russell Downing doesn't scatter compliments about. He's clocked up a lot of battle hours and seen a lot of good riders, but he says that Matt Cronshaw and his young Kinesis team were the revelations of the recent Girvan race.
Third and fifth place on two of the toughest stages brought Cronshaw 14th place overall and singled him out as one of the most promising young road riders in the country.
For many, though, Cronshaw only underlined at the Girvan what they already knew. Third place in last year's Elite National Circuit Race Championships, for a rider who but for a couple of days would have been a junior in 2007, already marked him out as someone to watch. A number of teams had him in their sights at the end of the year, but there is no doubt in 19-year-old Cronshaw's mind that he's in the right one now.
"At Kinesis, we don't have a leader like a Dean or a Russell Downing, which I think is good for a young rider like me. Don't get me wrong, it's good to learn how to work for someone else when it's time to do that in your career, but Chris Truett, the team manager, is teaching us all to win. I think that is what a young rider should try to learn first before settling down to work for others," he says.
Unsung hero
Truett is one of the unsung heroes of British road racing. Kinesis have developed a lot of good riders over the last couple of years, only to have them snapped up by bigger teams.
It's frustrating for Truett, but the riders he's worked with realise the good he's done them.
"We really respect Chris. He manages the team while running his own company, and people don't realise how much of his own money he puts into it. He's also brought a good atmosphere to the team. We all go into races as joint leaders, then we work for whoever is going best. We were really pleased to get second place team at the Girvan, ahead of teams like Pinarello and PCA," Cronshaw says.
Today's ride features regularly in Cronshaw's training, but he admits he's spoilt for choice.
"I've got the Trough of Bowland to the south, sometimes I go into the Lakes, and then there are rides like this into the Dales. I love racing, the unpredictability of it. I love not knowing what's coming up next. But I also love getting away from everything in training too. I enjoy being outside with my own thoughts."
Cronshaw explains he got into cycling "by being given a frame by one of my dad's mates. I built it up, had a go at the local hill climbs and joined the Lune RCC. Dad didn't do bike racing, but he rides his bike a lot now and he was a very good runner. He's done two hours 40 for a marathon, and my sister was an England fell runner," he says proudly.
The route skirts the Lune Valley as it goes through Kirkby Lonsdale and over the climb that was on the stage to Kendal in last year's Tour of Britain.
Cronshaw gets another reminder of his first cycling club in Dent, when we meet a cheery group of cycling 'seniors' from the Lancaster CTC. Among them is Ron Atkinson, a Lune RCC member, who regales us with his experiences on these northern roads when he raced on them in the 1956 Circuit of Britain, a predecessor of our national tour.
It's a nice moment — the meeting of a seventy-something and a teenager who have a
common bond and an understanding of exactly what each other is about. Bikes change, races change, training changes, but pain, dedication and effort are always the same. Atkinson and his pals wish Cronshaw a cheery goodbye as he rattles over the cobblestones in the centre of Dent while they, showing the wisdom of their years, head into a pub.
Classic future
Cronshaw looks good riding over the rough surface, and cobbles feature large in his future plans.
"I suppose the Tour de France is the ultimate thing, but I like the Classics like Milan-San Remo and especially Paris-Roubaix. Riding those is where I'd like to see myself in a few years," he says.
"I know I'll have to live abroad to do that. Ben Greenwood lives close to me and he's told me I should race abroad as soon as I can, because one big win there can get you a pro contract. Ben has been a big influence on me. If I hadn't known him I wouldn't have thought it realistic to become a pro rider."
Out of Dent comes the climb of Deepdale, alongside the slopes of Whernside, famous for being part of the Three Peaks cyclo-cross. Then it's the descent of Kingsdale, the Greta Valley, and across the Lune again to return to Carnforth.
Cronshaw is pleased that he's back early enough to put some time into his day job at a local school. "It's a good one for me. It's interesting but not tiring so I can concentrate on training," he tells me before we say goodbye.
It's a comment typical of this thoughtful and determined rider. He's not looking for a free ride anywhere, but he is determined to see how far he can go in cycling.
He could well be a thorn in the side of the Downings and co before this year is out. And who knows, we could see him battling through the Forest of Arenberg rather than the Forest of Bowland before too long.
PREMIER TRAINING SECRETS
"I work four days a week, so in the winter I build my training around the three days I have off — Friday, Saturday and Sunday — doing long rides. The rest of the time I ride to work, about 10 miles, then do longer rides back. It's been a cold, wet winter up north, but it hasn't put me off," says Cronshaw, summing up the groundwork he's put in for the 2008 racing season.
Once racing starts, his training changes: "It depends on my goals. I change my Friday off to a midweek day, so I can get a long ride in between races. The rest of the time I do some quicker stuff. If I've got one and a half hours to train, I just go and do as many hills as I can.
"Once a week my dad forces me onto the turbo trainer. I do 2x20mins at my threshold heart rate, about 185 beats per minute. I can feel the lactic acid building all through each one, but they teach me to ride through it.
"I probably never make a 20-minute effort like that in a race, but it's knowing I can do it that's important."
YOUR GUIDE: MATT CRONSHAW
* Age 19, single but with a girlfriend studying at Chester University. Lives in Carnforth, Lancashire
* Works as a classroom assistant in a local school. Would like to work in product design after he's seen how far he can go as a cyclist
* Only in his third full year of racing, has won a stage in the junior Tour of Wales as well as taking the national elite circuit race bronze medal
* Says his ambition this year is to win the British under-23 road title
WHICH WAY?
From Carnforth take the unclassified road that heads north-east and under the M6 to Berwick. Turn right (TR) to Green Bank and turn left (TL) on unclassified and follow signs to Burton-in-Kendal. TR on A6070 and 1st TR on unclassified to Hutton Roof towards Kirkby Lonsdale. TR on A65 and TL in Kirkby Lonsdale on B6254. TR after Old Hutton on unclassified.
TR on A684 to Sedbergh. TR in Sedbergh on unclassified to Dent and continue over Deepdale to cross the A65 at Westhouse. TR on A687 in Burton-in-Lonsdale. TL on A683 to Hornby and TR on unclassified. TL on B6254 and back to Carnforth.
Thank you for reading 20 articles this month* Join now for unlimited access
Enjoy your first month for just £1 / $1 / €1
*Read 5 free articles per month without a subscription
Join now for unlimited access
Try first month for just £1 / $1 / €1