In search of the hardest 100km in Britain
Simon Warren kicks off a quest to try and find the toughest ton, and CW needs your help to make him suffer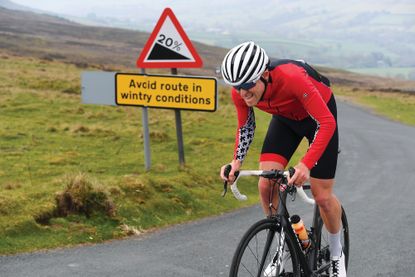 The evening before I set off on this ride I watched the documentary, Free Solo. It follows Alex Honnold's utterly remarkable, astonishing and unbelievable free solo climb (that's without aids or protection) of the 3,000 foot El Capitan rock face in Yosemite, California.
As the titles rolled I looked at my palms and they were dripping with sweat from just sitting on the sofa, it is that intense.
I was moved to look in the mirror and ask, "Am I pushing myself far enough? Am I making use of the gifts I have been given?" If you do the same and look into the depths of the eyes staring back at you, the answer is likely to be NO.
>>> How to master riding long climbs
Now, I'm not suggesting we all take up free soloing, which frankly is only for the insanely gifted, or complete idiots, but that what we do need to do sometimes is push our boundaries. Take ourselves out of our comfort zone in whatever we choose to do in life, whether it be gaining knowledge, breaking records or maybe riding as many steep hills as hard as we can in one 100km ride.
Some weeks previous, I'd set out to devise the UK's toughest 100-kilometre loop and instinctively chose the infamous North York Moors as my canvas. The climbs may not be the longest but they are all viciously steep and with such an abundance of challenges in close proximity to each other it seemed the perfect location for such a challenge.
Now of course if I really wanted the hardest 100-kilometre ride I could simply rep Rosedale Chimney until I'd completed the distance, which if you're interested, would be 38 times with an attitude gain of 6,216m. This, though, would be mind numbing, so I decided to create some rules — four of them, in fact — to act as a framework for the task.
First, the start and finish must be in the same place, preferably somewhere with a cafe or shop to refuel at the end. Next, there are to be no U-turns, and no dead ends, it must be one continuous loop. Third, no uphill segment can ridden more than once..And finally, the distance cannot go over 100km, not even by a single metre.
Mapping it out
This may seem restrictive, but it's these parameters that make plotting the route a challenge in itself, and as much a part of the fun as riding it. As I've visited the North York Moors on many occasions I knew exactly which climbs I wanted to include right away: Caper, Blakey, Sleights and, of course, the one and only Rosedale.
It ended up taking a good couple of hours to figure out the best start/finish point and which order to include them, but once all permutations had been tested I was left with a course measuring 99.99 kilometres and climbing 2,621 metres, many of which would be set on 25 per cent and even 33 per cent gradients.
I woke early with the same determination in my mind that I fell asleep with after watching Alex climb, and I knew I had to ride this route with a purpose, I had to leave it all on the road. Rolling away from Hutton-le-Hole and clicking straight into the big ring I was focused and although it would be stupid to attack every climb as if chasing the KOM, I was going to ride them at a pace that would be uncomfortable.
My target time was four hours, which I knew was unlikely but this would be the carrot for me to chase the whole way round.
First on the smorgasbord of delights was the climb of Blakey Bank and it was about two thirds into its formidable 25 per cent slopes that reality dawned. Yes, this was going to hurt. Photographer Andy was positioned at the top, and I'd normally give him a hello, but not today, I was breathing hard, I passed him, reached the summit, engaged the big ring again and pushed on.
Once on top of Farndale Moor there is nothing between you and the sky and the views in every direction are breathtaking. This is the 'easiest' part of the route and I was in the zone, romping along the undulating tops at 50kph, driving the bike onto the next target, Heygate Bank.
After the exhilarating descent down into Rosedale Abbey, you turn left and it's not long before you hit more 25 per cent gradients. You are really tested round a vicious left-hand bend but it doesn't last too long, and the slope ebbs away a little on the push to the famous stone cross at the top. Once past this marker you undulate in the wilds of Hamer Moor, the air filled with nothing but the chatter of grouse.
Out of the picture
The ride had been perfect so far, but then a problem arose. The day before I had delivered a map to Andy with the route marked on and photo points marked, but he'd left it at home.
To replace this I lent him my phone so he could follow the route on my Strava account, so we were sorted, or so I thought.
Dropping down into Egton Bridge there was a truck unloading and blocking the road. I doubled back, angry that I'd had to lower my pace, told Andy it was almost ready to move and that I'd press on and meet him in Grosmont a little further up the road.
Now, that was slightly unprofessional on my behalf. I should have waited with him so we could roll on together, but I had the bit between my teeth. I simply could not stop, and yes, you guessed it, I didn't see Andy again for over two and a half hours!
There is no need to go into too much detail but he went one way in Grosmont, I went the other and we never crossed paths until I reached the final climb just five kilometres from home. I waited at various points, and the longer I was alone the more my drive started to fade, I'd lost the spark I had earlier on, but still there were awesome roads to ride so I just went from hill to hill, village to village hoping I would see him at one of them.
The next climb on the agenda was Sleights Moor, a road covered in 33 per cent signs, all of them exaggerating the actual pitch of the slope, which for the record is a mere 25 per cent at its worst.
Ramping up from the heart of Grosmont, across the tracks of the heritage rail line you take the first right turn out of the village and keep heading upwards until once more you are in the splendid isolation of the Moors. The legs were certainly feeling the climbs now but I wasn't going to back off, I was still going to attack each one with the same vigour as the first, to hell with it.
After a short and rapid stretch on the busy A169 I headed to one of my favourite climbs, Lousy Hill Lane. Although the parcours of the ride is dominated by the stars, the likes of Rosedale Chimney and Caper Hill, it's the bit-part actors, the extra small hills that really make it the serious challenge it is.
You are mentally prepared for the effort needed to tackle the famous climbs but not the smaller ones, and they come with a relentless regularity from the halfway point all the way to the end.
Apart from the lack of photos on the back of the route, the main consequence of losing Andy was that I'd left my food and drink in his car, and my phone of course. I had one gel and one bottle, which I now had to assume would have to last me four hours, at pace. I ate the gel right away (always eat before you're hungry) and then set about rationing my mix of orange juice and water, sip by sip.
Camera caper
Rolling back through Grosmont, no sign of Andy, into Egton Bridge, no sign of Andy, then it was time to head to Caper Hill. Ask any local which is the toughest climb in the Moors and they will tell you Caper Hill.
Rosedale gets all the headlines because of its 33 per cent middle section and although I still rate it higher, today Caper Hill put me to the sword. It didn't help that I had chosen to keep the standard 39/53 chainset on even though I had a 30 granny sprocket it was still a grind.
When I visualise Caper Hill in my nightmares I always picture the second half, the direct ramp of unrelenting vertical gradient cutting across the hillside without any use of deviation to lessen its impact. This is the defining feature of the road, but the lower section is equally tough to ride and has one of the steepest cattle grids in the country, which requires a serious effort to cross at any speed.
With this beast tucked away I was back on the top of Glaisdale Moor, with sore legs, and some serious looking clouds gathering overhead. There are very few times on our congested island you can really be alone but it is very likely you will be up here. Crossing the barren moorland under leaden skies, with not a single other human anywhere to be seen, no food, little water, NO PHONE! This almost started to feel like an adventure.
With the prospect of Rosedale Chimney getting ever closer my mind was focused on that and not on what lay before it which today caught me a little off-guard. The climb out of Street up New Way is the longest of the whole route with multiple steep ramps and a tail end that just drags and drags.
To make matters worse I was now hungry, I was almost round, but the engine was running on fumes and not firing as strongly as it had a few hours earlier. I drained the last dregs from my bottle and began the descent into Rosedale Abbey safe in the knowledge that there was a shop there where I could finally get more supplies. It was shut. Andy must be here though, he must be.
There was no sign of him in the village so I hit the climb where about 100 metres in I passed a horse and rider coming the opposite way. "Nearly there!" she laughed. "Oh no I'm not!" I wheezed.
She knew exactly what I was heading towards, everyone does round here, and they all laugh at the prospect of riding up it and that is why Rosedale Chimney is so absurdly wonderful.
I was just getting stuck into the steeper gradient when up ahead, parked in the grass, a black car, could it be... it was! Andy stepped out. AT LAST, WATER! I drained half a bottle, sucked up a gel, and after we briefly tried to work out what went wrong I carried on upwards. My 39/30 gear was just about right today at the end of this route, any bigger and I think I may have ground to a halt though.
Turn of the century
With some fresh energy surging through the body I forced the gear over the evil 33 per cent slope, then made light work of the remaining climbing and ate up the final kilometres before sprinting to finish back in Hutton-le-Hole.
I had set myself the challenge of cracking this ride in four hours but thanks to all the getting lost and waiting around I'd missed that target. Still, it was an awesome route, I'd ridden hard and felt utterly fulfilled after a fantastic morning on two wheels in the most glorious of settings.
The Cycling Weekly 100-kilometre challenge
Right, we now have a challenge for you. Our route came out at 2,621 metres of elevation over the 100km with multiple 20-30 per cent ramps, s can you find a tougher one? Send your suggestions to cycling@ti-media.com and we will pick the two toughest to come and ride with you.
The rules
1. Must be a loop starting and finishing in the same place.
2. No U-turns or dead ends.
3. No hill segment can be ridden more than once.
4. The distance cannot go over 100km.
Thank you for reading 20 articles this month* Join now for unlimited access
Enjoy your first month for just £1 / $1 / €1
*Read 5 free articles per month without a subscription
Join now for unlimited access
Try first month for just £1 / $1 / €1