Sportives vs Reliability Trials
The divergent paths taken by two London clubs' early-season events embody a broader shift from the DIY ethic of reliability riding to the lick, feature-packed world of today's sportives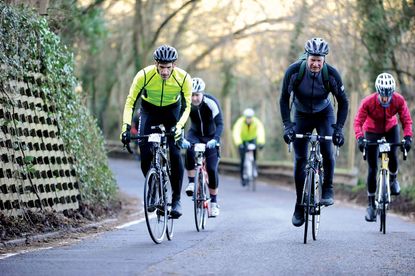 There are two annual organised rides two weeks apart in February that are promoted by two old South London cycling clubs over almost identical courses starting from adjacent Kent villages.
One of them costs £5 to enter, which you pay when you turn up at Knockholt village hall. For your fiver, you receive an Audax-style route card and a friendly word of warning.
You state how long it will take you to complete your chosen distance (68K or 100K), and then you wait for your start — riders are set off at intervals in small groups according to estimated completion time for the course. This ride prides itself on its old-school, no-frills ethos.
The other ride used to be just like that, but in 2006 it re-branded itself. Now it's the biggest and best winter sportive, takes over a school in Biggin Hill for its HQ, has 1,500 riders who pay £30 each and who enjoy electronic chip timing, marshals at every turn, masseurs and a hot meal afterwards.
If you haven't guessed by now, the first is the Old Portlians reliability trial and the second is the Hell of the Ashdown sportive, formerly the Catford CC reliability trial.
So what happened? Is it that the Catford has simply sold out, gone soft and taken the MAMIL's shilling? Or is it that the Old Ports and the other traditional clubs that organise reliability trials are stuck in the past and failing to attract a new type of cyclist who wants a challenging ride but expects facilities to be up to a certain standard, doesn't want to risk getting lost, isn't interested in the reliability or navigational side of cycling and is happy to pay more? Will these other clubs eventually follow the Catford's lead?
Reliably informed
Sydenham Wheeler and cycling writer turned frame-builder Richard Hallett has ridden the Kent-based reliabilities — his club also runs one — all his cycling life. "The Catford was always the best," he says, "because it attracted all the top roadmen in the South-East.
"Anything could break – a pedal, spokes, a crank could fall off"
One year there was a bunch that had Sean Yates in it and three current or former national champions." Hallett describes a whittling-down process that resulted in just one rider being left with Yates, who, at that point, decided to "wick up the pace", looked back and the rider was gone.
It sounds like road racing, and it virtually was. Reliabilities were regarded as the foreplay before riders plunged into the season proper, where racers could size each other up, indulge in a bit of shadow boxing and get in some hard, competitive miles.
What's more, the 'reliability' aspect, quaint though it now seems, was a much bigger deal than it is now. "Until the 1990s, when they became more reliable, it was a challenge for your bike not to fall apart," says Hallett. "Anything could break — a pedal, spokes, a crank could fall off, you could have 20 punctures. Old tubs seemed to hoover flints up," he says.
"There was no such thing as a tyre that didn't puncture at the merest hint of a flint." Hallett explains how in the days before clinchers were made to fit racing frames, reliability trial riders would resort to heavy tubs such as the Wolber Renforcé. "They were obviously crap," Hallett says.
They had canvas inside them as if they were made from some sort of satchel. Whatever puncture-resistance they had was expected to come from the thickness of the tread." Hallett laughs when he remembers the Wolber Invulnerable 84, which had a steel mesh belt inside it rather like chain-mail.
"Cycling was more fun in those days," he concludes, as he returns from what he calls "a nostalgic trip in the wild hinterlands of 1980s cycling when it was the preserve of just a few eccentric people and plumbers." Plumbers? "Yes — it was the sport of the semi-skilled worker," he says, but you had to be quite wealthy to do it, so it could only be done by those members of the working class who could afford a grand for a bike — 10 grand in today's money."
Why would the Catford turn their backs on all this?
Catford CC president and Hell of the Ashdown assistant organiser Steve Airey takes up the story. "In 2006, the old Catford reliability only attracted 80 riders, and Rik Vandieren, the then president, felt it had run its course.
So to attract more riders and possibly new club members, Mike Morgan and Rik came up with the sportive idea. Rik came up with the name 'The Hell of the Ashdown' obviously after the Paris-Roubaix Hell of the North nickname; Mike with his internet and graphics skills sorted the website and created the graphics with the devil and trident.
"That first year, we got 350 riders; the next year saw 700 riders. In 2009, entries were capped at 1,000 and sold out within 24 hours but because of the weather forecast there were fewer starters and even fewer finishers," says Airey. "I marshalled at the bottom of Ide Hill, the snow started at 10am and went on until I finished at 3pm."
Route re-think
It's an incredible rags-to-riches story, but as Airey explains, it took more than a gimmicky name and flame job for the website. With increased numbers of riders, the route had to be rethought. Vandieren ran the first HOTA over the same route as the old reliability trial, but when Bryan Stout took over as organiser, he realised the sheer number of riders meant it would have to come off the main roads. Stout says: "I took over from Rik and introduced the route, which with minor changes is the one used today. This incorporated as many of the stiff southern climbs that could be crammed into 100K as possible.
But it also introduced riders to interesting villages, scenic views from hilltops and seldom-used lanes and byways of Kent — and also parts of Surrey and Sussex they might not have been through before."
Stout might have moved the riders away from murderous motorists and into a more bucolic setting, but with bucolic comes a whole new set of challenges. Airey says: "In 2010, the Toys Hill residents were concerned about the speed of descending riders, and there had been a previous accident where a cyclist went up the driveway by the green into a parked car and had to be airlifted — not on our event, I might add — and they were moving to ban us from the area.
About eight of us from the club committee had a meeting with them, allayed their fears and put in extra precautions such as the chevron arrows on the green and the cones across that driveway to highlight that the road bends to the left [as it descends steeply]. Since then, they have been our biggest fans, fought our corner in the local press and even marshalled at the event themselves!"
But that's not the end of it. Airey continues:"Cudham Lane residents put in a complaint to Kent Highways this year that meant [organiser] John Palfrey had to attend a few meetings with them, produce our risk assessments and proof of liability insurance before they would allow us to run the event."
And even when local residents and the Highways Agency are satisfied, the HOTA team regularly has to deal with complaints from the participants themselves. This year, early starters were faced with black ice on the descents of Hogstrough and Toys Hill and some fell off. The nearest marshals communicated this back to the HQ as soon as they were aware of it and starters were warned, some choosing to delay their starts.
However, Airey and Palfrey had to deal with disgruntled riders on the event's Facebook page for the following few days. Former organiser Stout, who used to scare participants by dressing up as the devil during his tenure, is still playing devil's advocate: "The merest hint of ice and snow now causes entrants to demand that the event be cancelled," says Stout. "It was always accepted that tackling these conditions was part of the 'reliability' aspect."
Tough riders
Stout's comment, although tongue-in-cheek — highlights the big difference in attitude between reliability trial riders and the sportivistes, who pay £30 and expect to be informed about every potential patch of ice on 100km of road.
Have the Catford bitten off more than they can chew? Wouldn't it be easier to have stuck with 80 tough racing men turning up to a village hall on the day, as neighbours the Old Portlians and the Sydenham have? As reliability expert Hallett says, the Catford has always been a forward-thinking club. Airey simply says: "I think mostly as a club we like to put on an event that we would want to ride. There is a passion in the club to put something back into the sport."
Dedication
Catford CC dedicate the 2014 event to entrant Kevin Lane, who was killed while out training the week before.
Preparing the route
Catford CC president and assistant organiser Steve Airey has been in charge of the Hell of the Ashdown route, signage and marshals since 2011. He says: "The route has been tweaked a bit since 2011; we have changed crossings of busy roads to crossroads with a better line of sight of oncoming traffic.
We also opted to cut out Baileys Hill and bring the riders up Ide Hill so they have a safer left turn into the feed control — there were too many riders taking chances cutting across traffic when it was a right turn in. My job also entails coming up with last-minute diversions for roadworks or blocked roads.
"I take the Friday and Monday off work and go out with Tony Beaumont to put out the signs we had planned from the risk assessment. On the Friday, we usually get as far as Ashdown Forest but this year we got so wet we gave up at Forest Row.
On the Saturday, Peter Hayes and I go out and put up the remainder; from this year, we leave the Cudham Lane to Hogstrough ones [at the beginning of the route] until Sunday morning, as they always get pulled down.
"Sunday, I go ahead of the ride to do a final route check, and hand out marshals' bibs and flags. This year I phoned back to warn about the ice and put up extra signs at Hogstrough and forewarned the marshals there. Once back at HQ, Peter Hayes and I go around behind the ride to remove all the signs.
"Organising marshals is probably the hardest part," says Airey. "Trying to cajole 58 people to marshal the route and hold them to it. For the last three years, we've got the appointed charity to try and provide 30 volunteers to ease the burden on the club."
Where does all the money go?
Sportives are often accused of profiteering. So where does all the money go? "Last year we made about £19,000 profit," says Catford CC president Steve Airey. "We usually give half of it to the nominated charity but last year we rounded it up to £10K to give to [children's hospice] Demelza.
Before Jeff Banks stepped in to sponsor the under-23 development team, it was used to pay the lads' race fees and we bought a team van for them too. Now, whatever is left over goes towards our events that make a loss, like the hill-climb. That was especially expensive last year because we had to pay to have the road closed."
Sportive signage
How many signs does it take to waymark a 100km sportive?
Large 'cycle event' signs x 5
Medium 'cycle event' signs x 21
Small 'cycle event' signs x 8
Caution cyclists x 9
Cyclists dismount x 6
Care rough road x 2
Stop crossroads x 1
Ice diversion x 1
Care cycle crossing x 1
Slow on bend x 1
Fluorescent yellow cycle route arrows x 22
Catford Cycling Club chevron arrows x 32
Fluorescent orange arrows 100
Cyclists prepare to stop x 5
Circa 400 cable-ties and 100 screws
Thank you for reading 5 articles this month* Join now for unlimited access
Enjoy your first month for just £1 / $1 / €1
*Read 5 free articles per month without a subscription
Join now for unlimited access
Try first month for just £1 / $1 / €1