Etape Loch Ness
The scottish highlands may not have the ideal weather for a 67-mile sportive ride, but it did provide a picture perfect, spectacular setting and challenging route for the inaugural Etape Loch Ness to take place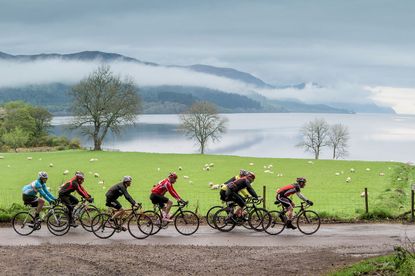 (Image credit: Tim Winterburn)
Wrestling with tyre levers and inner tubes as rain drips off the end of your nose is an unwelcome task on any ride, but when you're attempting to avoid the clutches of the sweeper van and the humiliation of a black cross through your event number, it's even more dreadful.
So imagine my despair when I found myself standing at the side of the road, wrestling with tyre levers and inner tubes as rain dripped off the end of my nose, watching helplessly as the sweeper closed slowly upon me and a very official-looking man (he had a clipboard) stepped out clutching a thick black marker pen. I was officially the last person. But, being only 10 miles in to the 67-mile route, there was no way I was throwing in the towel. I had ground to make up and I was going to have to work hard.
Staggering start
There was a virtual frenzy when the entry opened for the inaugural Etape Loch Ness sportive, with the 1,000 places selling out in less than five hours. An extra 250 places were then made available and were snapped up in a blisteringly quick 13 minutes.
A pretty amazing feat for an event in its first year, but then it is centred around the stunning Loch Ness whose beautiful scenery and fascinating history will always draw people to the area. Or maybe it's all the talk of a certain mystery monster going by the name of Nessie… who knows.
Having 1,250 riders starting out on a sportive could have been carnage, but a mixture of staggered start times (96 riders every two minutes) and the fact that the organisers had secured a double-lane road closure for the majority of the route, made for a relaxed and smooth start. The Etape Loch Ness was organised by Caledonian Concepts, an events company already adept at putting on marathons and duathlons, and its experience was reflected throughout the day; no stone had been left unturned when it came to planning and logistics.
Highlands and highways
From Inverness, on the banks of the River Ness, the route made straight for the A82, the closure of which appeared to be regarded by locals as a legendary achievement, as it's ordinarily a busy road that's not pleasant to cycle on, by all accounts. Even with the traffic-free hush that was bestowed on the event, it still took us a while to venture
out from the left side and make full use of all the road space.
While I have been referring to the event as a sportive, I did overhear a few people calling it a race. Even the mechanic that checked my bike over referred to it as being 'race ready'.
Now, I'm pretty sure that sportives and races are two separate entities and never the twain shall meet (unless it's a very unfortunate accident). But given the closed roads, I suppose they can call it what they want… so, I was part of a race or a racing sportive, or something like that.
Having already passed riders stopping to change tubes, it should have come as no surprise when I felt those ominous 'bumps' that signify a puncture. Just as I thought it couldn't get any worse, a second puncture put me out of the 'race' before I'd even finished warming up.
Oh, the humiliation. I had to ride the remaining 57 miles with the black mark of shame through my event number, and while I had been officially de-evented, I chose to carry on and fight the good fight.
Fairytale landscape
There is no denying that Loch Ness is a beautiful expanse of water, flanked as it is by the rolling Highlands. You would be forgiven for thinking that Walt Disney had worked his magic on it.
No fairytale landscape is complete without a castle, and even in its ruinous state, Urquhart Castle remains an impressive fortress on the Loch at Drumnadrochit. The clouds hugged the mountain tops in the distance, enhancing the surrounding landscape, and made me feel like I was riding towards the top of the world.
As I skidded out of the first feed-station near Invermoriston, trying — but failing — to catch up with some (any!) other riders, I crossed the historic Caledonian Canal into Fort Augustus, and there it was — the monster! At over 380m (1,246ft) high, this was a beast. The monster goes by the name of Glendoe summit and is 4.8 miles long. It gave us the chance to compete for King and Queen of the Mountain.
There was no breaking us in gently, as the hill immediately ramped up and at its toughest reached a 12 per cent gradient. While that may not sound excessive, when you have to keep pushing up for nearly five miles, in my book, that's epic.
Finally, other riders! I was back in the group, mainly because a few riders had dismounted and were enjoying a slow walk. Whether walking or pedalling, we all enjoyed the local support that had come out to cheer us on.
Wiping the sweat from my eyes, the summit was finally in sight and so too were the stunning views over the loch, out to the snow-capped mountain ranges that dominated the landscape, even in early May. And with a bagpiper filling the air with traditional Scottish sounds, there really was nowhere better to be; it was a joy to take a moment off the saddle and enjoy the picture-postcard views.
The main chunk of climbing was now behind us and we enjoyed some pedal-free miles. We still had to take on a few more uphill stretches through the village of Foyers on the east side of the loch, before venturing through Dores and hitting the last few miles of the event.
Jack the (helpful) lad
There was a genuinely friendly atmosphere from both participants and locals who were out in force cheering us on. The staff were equally friendly and helpful, and I have to say a huge thank you to Jack who helped me with my punctures.
Crossing the finish line (thankfully not last), I was happy to take my medal, which of course featured Nessie. I didn't catch a glimpse of him even though I kept looking out on the rippling water with anticipation. Maybe I'll just have to come back next year.
Sportive sound bites
Jasper McWhinney, Switzerland
"I'm originally from Scotland, so it was the perfect opportunity to return. It's a great time to head to the Highlands with all the blossom out and the lambs bouncing around the fields, and having the opportunity to cycle around Loch Ness traffic free is a great privilege.
The craic at the event was really good and I think the organisation was spot-on. I did my bit for Macmillan Cancer, and loved that they were cheering us on near the top of the big climb. That Eye of the Tiger moment helped a lot."
Paul Watts, Hampshire
"There aren't many events where local people come out and cheer you on; it was really inspiring. The last 10 miles were really hard for me, as I burnt myself out going for the King of the Mountain stage. It was a really enjoyable event."
Sarah-Louise Grigor, Inverness
"What a great event. I like supporting inaugural events, especially when they are local. The organisation was really slick and I enjoyed taking on the Queen of the Mountain climb."
François Faller, France
"I travelled all the way from the Pyrenees and it was definitely worth it. The organisation was great. Everything was well signed, but most impressive was the amount of spectators cheering us on. It was amazing! The thing I'll remember most was the bagpiper on top of the hill-climb and, needless to say, the amazing scenery."
Thank you for reading 20 articles this month* Join now for unlimited access
Enjoy your first month for just £1 / $1 / €1
*Read 5 free articles per month without a subscription
Join now for unlimited access
Try first month for just £1 / $1 / €1