How to replace a chainring (video)
Our mechanic Al Vines shows you how to replace a chainring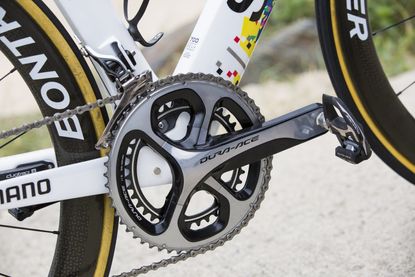 Here, we'll be explaining how to replace a chainring, in this case the inner one, as it tends to be the one that wears first. Happily, it's a piece of cake to do and doesn't require many tools or much know how.
How to replace a chainring: What you'll need:
Allen Keys/Torx Keys
Chainring Nut Wrench
Loctite Blue 243
Paper towels
Before you get stuck in, there are a couple things that are best checked. Firstly, make sure your replacement chainring has the right number of holes (usually four), and check the bolt circle diameter (BCD) of these holes.
You'll also want to check the number of teeth in case you want to change up your gear ratios and make things a little harder (or easier) for yourself.
To replace a chainring, you don't necessarily have to remove the chainset, but the job is easier to do off of the bike. We go through the process in this video on how to change a pressfit bottom bracket.
Once the chainset is off of the bike, the next step is to crank open the bolts and lift the inner chainring out of position and give everything a good old clean. Sadly, if you leave stuff grubby there's every chance it'll be the source of some frustrating creaking noise in the future.
With everything spic and span, it's time to reassemble your chainset around your new inner ring. Start by making sure it's orientated correctly and the right way up – a little tab should sit by the crank arm and the writing should face towards the bike.
Secondly, drop some Loctite on each bolt which will help stop them from slipping and then tighten them into place, connecting the inner and the outer ring.
If you've changed the number of teeth you'll probably need to change your chain to make it's the right length.
Finally, you just need to attach the chainset back onto the bike and get out riding.
Thank you for reading 10 articles this month* Join now for unlimited access
Enjoy your first month for just £1 / $1 / €1
*Read 5 free articles per month without a subscription
Join now for unlimited access
Try first month for just £1 / $1 / €1