Post-training meals: Slow-cooked lamb shoulder (video)
This is a perfect post ride meal that will spur you on home during your long weekend rides.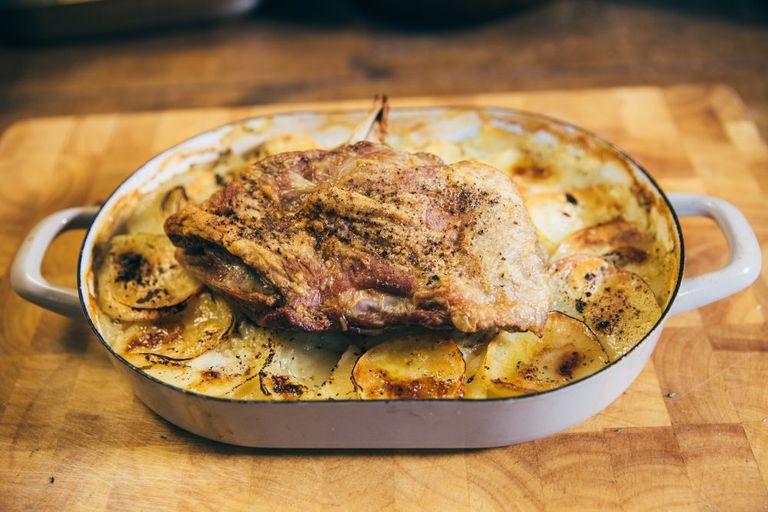 Cooking up some food after a long ride is sometimes the last thing you want to do, but replenishing depleted energy and protein stores are a must after a few hard hours in the saddle.
>>> How to make your own recovery and energy drinks
This best thing about this meal is that you can prepare and put it in the oven before you hit the road, and then by the time you come home you have a fully cooked meal ready to eat that hits all your nutritional needs in one go.
Performance Chef Alan Murchinson, has put this recipe together and focused on all the necessary dietary requirements needed after a long ride.
>>> Post-Training Meals: Post-Training Meals: Thai Style Coconut Broth With Shrimps & Salmon
"This dish is great comfort food and a good source of complex carbohydrates from the potato and protein from the lamb," Murchinson explained. "I tend to only have lamb as a treat type meal or after a long day in the saddle as its pretty high in fat."
Ingredients (Serves 6)
1 large lamb shoulder
10 large waxy potatoes
3 large white onions, sliced
1 tbsp chopped rosemary
600ml chicken stock
75g butter
Variety of green vegetables
Method
Start by pre-heating your oven to 130-140ºC
Peel and evenly slice the potatoes and the onions.
In a roasting/baking tin layer up the potato and onion alternately. A layer of onions, season with salt and pepper, then a layer of sliced potatoes, season and repeat to finish off with sliced potato.
Dice up the butter and sprinkle over the top of the potato.
Infuse the rosemary in the chicken stock and pour over the potato mix.
Place the well seasoned lamb shoulder on top of the potato and place into the oven to cook for 3.5-4 hours, before allowing to rest for 30 minutes.
Cook your green vegetables whilst the lamb is resting