What's in a pro cyclist's feed bag? (video)
Find out what is inside a World Tour rider's feed bag from LottoNL-Jumbo's soigneur Dries Bos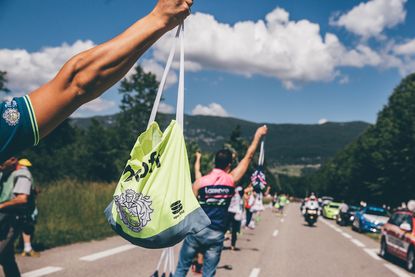 Road cyclists are on the bike for many hours during a race, grinding up climbs descending into valleys and sprinting for the finish line. But staying fully fuelled from start to finish is crucial and isn't possible without a little extra help along the way.
You may well have seen on race profiles and maps a knife and fork icon dispersed in between sprint and climb classification markers. This signals where the feed zone is on that stage, and where soigneurs hold out feed bags (or musettes).
>>> What do pro cyclists eat before, during and after a Monument?
But just what is inside one of this iconic pieces of kit to fuel a rider to the finish, we spoke to Lotto NL Jumbo's soigneur Dries Bos to find out just what types of food and drink the team provide their riders with during a traditional road stage of a race.
The feed zone is also prime territory for fans and souvenir hunters to pick up surplus water bottles as well as the musettes themselves, that have discarded to the side of the road from riders. But as Dries mentions this can get a little crazy in some situations.
Thank you for reading 20 articles this month* Join now for unlimited access
Enjoy your first month for just £1 / $1 / €1
*Read 5 free articles per month without a subscription
Join now for unlimited access
Try first month for just £1 / $1 / €1