Pro bike: Wout Poels' Pinarello Dogma F10 (video)
We take a closer look at Team Sky rider Wout Poels' 2017 Pinarello Dogma F10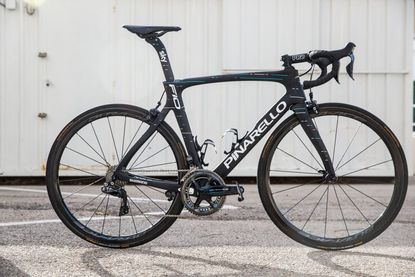 (Image credit: Daniel Gould)
For the 2017 season, Team Sky will be riding the new Pinarello Dogma F10.
In terms of design, it's very similar to the Pinarello Dogma F8 – the bike that carried Team Sky to multiple victories in 2016.
However, for 2017 the Italian brand has made a few, key changes to the bike's frame, hoping to make it stiffer, more aerodynamic and to reduce its weight.
>>> Pinarello threatened with legal action over design of new Dogma F10
To begin with, Pinarello has beefed up the right hand side of the bottom bracket. Supposedly, this helps increase stiffness as well as the balance of the bike, making it easier for the riders to put the power down.
The downtube is now concave, too. This was re-worked with an eye to improving the aerodynamics of the bike.
For the duration of 2017, Wout Poels will be using Shimano's Dura-Ace Di2 groupset.
This includes the innovative new E-link junction box which sits in the down tube, used for switching between shifting modes.
Not only is it more aerodynamic than when it was at the front of the bike, it's also more accessible.
>>> Pinarello sells majority stake in company to Louis Vuitton group
Likewise, Shimano is also taking care of the wheelset, with the bike rolling on the Dura-Ace model wheels. Meanwhile, Continental will take care of the rubber.
Hidden away in the drive side crank is Sky's not-so-secret weapon, a Stages power meter.
2017 marks the fourth consecutive season that the team has paired with the company to monitor their rides output during training and races.
The bike comes with all the trimmings you'd expect from a pro's super bike, including internal cable routing.
Lastly, it's a great looking bike. The colour scheme is typical of the Team Sky/Pinarello partnership – subtle and a little muted.
Those white stripes across the frame are guaranteed to match well with the team's new Castelli kit.
Thank you for reading 10 articles this month* Join now for unlimited access
Enjoy your first month for just £1 / $1 / €1
*Read 5 free articles per month without a subscription
Join now for unlimited access
Try first month for just £1 / $1 / €1