Pinarello sells majority stake in company to Louis Vuitton group
Fausto Pinarello will continue as CEO after the buyout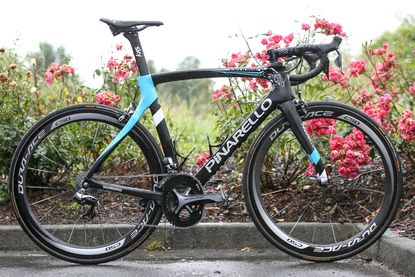 Historic Italian bike manufacturer, and Team Sky's supplier, Pinarello is now in the hands of the Louis Vuitton group. The Treviso-based company announced the new majority owner today.
Pinarello supplied bikes to the cycling peloton over the last years and since 2010, to British WorldTour outfit Sky. Bradley Wiggins and Chris Froome won a total of four editions of the Tour de France on bikes with the Pinarello 'P' on the headtubes.
The company also supplied Movistar up to the end of 2013, the year Nairo Quintana took second place at the Tour.
"We are thrilled to partner with Pinarello, which over nearly seven decades has established itself as the premium road cycling brand in the world," said Andrea Ottaviano, Managing Partner of L Catterton Europe. "We look forward to supporting Pinarello's continued success."
The Pinarello deal took root in January 2016 when The Louis Vuitton LVMH group partnered with Catterton, a consumer-focused private equity firm, and Groupe Arnault to form L Catterton.
Fausto Pinarello stays the CEO and maintains a minority stake in the company that his father Giovanni Pinarello founded in 1952. Giovanni, who raced professionally and won the Giro d'Italia's famous black jersey (for last place), died in 2014.
With the deal, Fausto Pinarello says that he plans to further expand his brand globally. The statement said that the company reported €52 million in revenues during 2015/2016 fiscal year – 90% coming from outside Italy's borders.
"L Catterton's unparalleled experience in building leading brands and deep understanding of the global consumer market make them the ideal partner for Pinarello," Pinarello said. "We will write a new page of the company story.
"It is still the story of our company which will continue to be led by the same team that made Pinarello the unique company it is now. With L Catterton's Pinarello will see new growth perspectives; we will not forget our roots and continue our path, creating innovative and high quality products."
Reportedly, Pinarello had been thinking of the company's path given that his children were not interested in taking over the family business.
The Pinarello deal comes amid rumours that the Louis Vuitton L Catterton group is aiming to buy British cycling clothing company Rapha.
Rapha clothed team Sky from 2013 through 2016. In 2017, Castelli will dress the British super-team.
Thank you for reading 5 articles this month* Join now for unlimited access
Enjoy your first month for just £1 / $1 / €1
*Read 5 free articles per month without a subscription
Join now for unlimited access
Try first month for just £1 / $1 / €1