Pro bikes: Richie Porte's BMC Teammachine SLR01 (video)
We take a closer look at Richie Porte's BMC Teammachine SLR01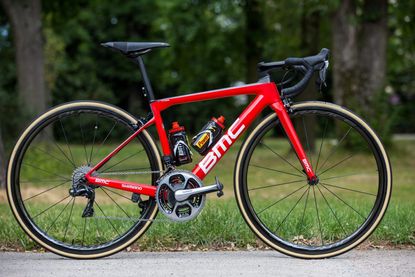 Richie Porte's attempts to dethrone Chris Froome at this year's Tour de France ended in disaster when he crashed hard while descending the Mont du Chat.
However, the bike he'd been riding was the stunning BMC Teammachine SLR01, the new model that the company released just prior to the race.
BMC was the first to pioneer the boxy frame and dropped seat stays that we see on so many modern bikes nowadays.
The new Teammachine is no different, and Porte's size 49 frame has the the same dropped stays, but now it has an integrated front end, direct mount brakes and an integrated seat clamp that sits flush to the top tube.
Porte's drivechain is much the same as the other WorldTour pro bikes we've seen from the Tour de France.
He's running Shimano Dura-Ace 9150 all over except for his 53/39 chainrings, which are the Dura-Ace 9000 series to accommodate the SRM power meter which is yet to be updated.
The Vittoria tan side-wall Corsa Speed tubular tyres look especially smart and give a real classic look, especially when paired with the bright red paint job.
Just like his drive chain, Porte is running Shimano Dura-Ace wheels, which he changed the profile of to match the profile of different stages .
Thank you for reading 20 articles this month* Join now for unlimited access
Enjoy your first month for just £1 / $1 / €1
*Read 5 free articles per month without a subscription
Join now for unlimited access
Try first month for just £1 / $1 / €1