Three cyclists hospitalised after collision with 18-wheel lorry - but driver won't be charged (video)
The driver of the 18-wheel lorry will not be charged because the race was unsanctioned.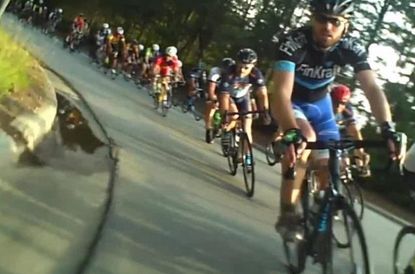 Three riders were last week hospitalised after an 18-wheel lorry collided with riders in an oncoming peloton in a local American race.
With just a few laps remaining of a race in Charlotte, North Carolina, on May 30, a large tractor-trailer drove in the opposite direction to the race, which was only separated from the road by a series of cones.
Three riders crashed into the trailer behind the truck and one, Mark Hoffman, fractured two ribs and two vertebrae. The other two reportedly suffered minor injuries.
After investigating, though, local police have said that the driver will not be charged because it was an unsanctioned race and the organisers had not sought permission to race on the industrial site.
The cyclists claimed to the police that the roads were marked with orange comes to prevent oncoming traffic from entering into the race lane; they said that the truck entered the race lane and they were thus not able to stop in time to avoid crashing.
The driver of the vehicle said that the majority of orange cones were in the traffic lane and that he was already slowing down in anticipation of a left turn up ahead when the cyclists hit the trailer.
Mr Hoffman doesn't have any health insurance so friends set up a GoFundMe page (opens in new tab) to cover the costs of his medical bills.
At the time of writing, it had raised more than $20,000.
Thank you for reading 5 articles this month* Join now for unlimited access
Enjoy your first month for just £1 / $1 / €1
*Read 5 free articles per month without a subscription
Join now for unlimited access
Try first month for just £1 / $1 / €1