Watch: Cyclist riding on wrong side of the road narrowly escapes head-on collision in scary video
Incident took place on rural B-road in Scotland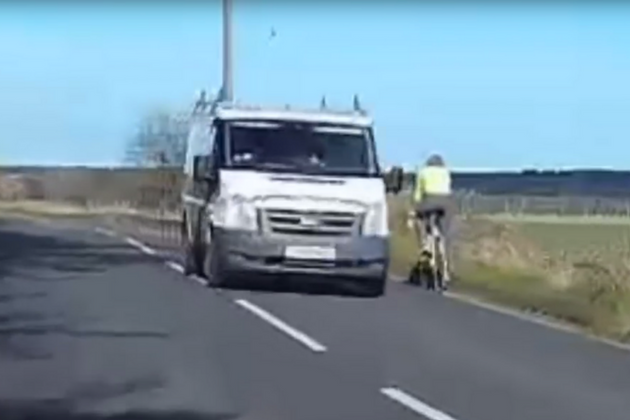 (Image credit: YouTube/DashcamDundee)
A cyclist in Scotland had a lucky escape after a van driver had to swerve to narrowly avoid a head-on collision as she rode along the wrong side of the road.
The near-miss, which occurred on the B495 south of the town of Tayport in Fife, was captured on the dashcam of a motorist travelling in the same direction as the cyclist.
The footage shows the cyclist travelling the wrong way along the road, with a white Ford Transit van forced to take last-minute avoiding action to prevent a head-on collision.
>>> Watch: Cyclist stopped by police officer over disagreement on road positioning (video)
Local councillor Tim Brett told the Evening Telegraph that he hoped the police had been contacted about the incident.
"The B945 is a very busy road, as the main road into St Andrews, so there's a lot of traffic," Brett said.
"The speed limit has been reduced on roads in the area, particularly around Drumoig, to 40mph and 50mph in some stretches.
"I hope the police were contacted because that is totally irresponsible of the individual — who knows why they were doing it?"
>>> Watch: Four cyclists sent flying in head-on crash in California (video)
The cyclist's actions were also criticised by Duncan Dollimore, Cycling UK's senior road safety officer.
"While it is unclear how the woman cycling found herself in such a position, in her own interest and that of the other road users, she should not have been cycling on the wrong side of the road," Dollimore said.
"Her actions put not just herself at risk, but also — as the footage shows — others.
"Cycling UK encourages all road users — whether driving or cycling — to behave sensibly and most importantly safely on our roads without taking risks like this."