1989 Tour de France: Final results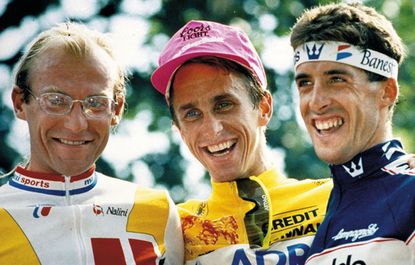 1. Greg LeMond (USA) ADR 87-38-35
2. Laurent Fignon (Fra) Super-U at 8secs
3. Pedro Delgado (Spa) Reynolds at 3-34
4. Gert-Jan Theunisse (Ned) PDM at 7-30
5. Marino Lejarreta (Spa) Paternina at 9-39
6 Charly Mottet (Fra) RMO at 10-6
7 Steven Rooks (Ned) PDM at 11-10
8 Raul Alcala (Mex) PDM at 14-21
9 Sean Kelly (Ire) PDM at 18-25
10 Robert Millar (GB) Z-Peugeot at 18-46
11 Gianni Bugno (Ita) Chateau d'Ax at 24-12
12 Eric Caritoux (Fra) RMO at 28-14
13 Pascal Simon (Fra) Super-U at 28-28
14 Bruno Cornillet (Fra) Z-Peugeot at 28-31
15 Steve Bauer (Can) Helvetia-La Suisse at 31-16
16 Alvaro Pino (Spa) BH at 31-17
17 Miguel Indurain (Spa) Reynolds at 31-21
18 Jérome Simon (Fra) Super-U at 34-10
19 Luis Herrera (Col) Café de Colombia at 36-15
20 Alberto Camargo (Col) Café de Colombia at 37-13
POINTS

1. Sean Kelly (Ire) PDM 277pts
2. Etienne De Wilde (Bel) Histor-Sigma 194pts
3. Steven Rooks (Ned) PDM 163pts
4. Giovanni Fidanza (Ita) Chateau d'Ax 133pts
5. Gert-Jan Theunisse (Ned) PDM 133pts
MOUNTAINS

1. Gert-Jan Theunisse (Ned) PDM 441 pts
2. Pedro Delgado (Spa) Reynolds 311pts
3. Steven Rooks (Ned) PDM 257pts
4. Robert Millar (GB) Z-Peugeot 241pts
5. Laurent Fignon (Fra) Super-U 219pts
TEAMS

1. PDM 263-19-48
2. Reynolds at 1-19
3. Z-Peugeot at 44-22
4. Super-U at 51-26
5. RMO at 1-12-19
COMBINE

1. Steven Rooks (Ned) PDM 15pts
2. Laurent Fignon (Fra) Super-U 20pts
3. Sean Kelly (Ire) PDM 22pts
ADR CARRY OFF £185,700
Thanks to Greg LeMond's win, his ADR team came out top money-earners in the Tour de France.
LeMond's £150,000 first prize brought the squad's winnings to £185,700.
PDM, with mountains winner Gert-Jan Theunisse, Sean Kelly winning the points and Catch sprint and Steven Rooks the combine competitions plus first place in the team section earned them £129,000. Fignon's Super-U team took home £112,700.
WHERE THE PRIZE MONEY WENT

1 ADR £185,700
2 PDM £129,000
3 Super-U £112,700
4 Reynolds £74,500
5 RMO £31,000
6 Histor-Sigma £30,300
7 Z-Peugeot £28,570
8= Superconfex £27,300
8= Paternina £27,300
10 Helvetia-La Suisse £23,600
11 Chateau d'Ax £22,600
12 BH £20,600
13 TVM £18,000
14 Carrera £16,175
15 Toshiba £14,190
16 Panasonic £13,470
17 Domex £11,000
18 Café de Colombia £5,500
19 Fagor £5,300
20 7-Eleven £4,900
21 Hitachi £4,175
22 Kelme £420
All of the anti-doping controls taken in the Tour de France were negative. The tests were under the control of Scotland's Gerry Mcdaid who, in his capacity as UCI medical inspector, supervised 87 controls.
FIGNON BLAMES SADDLE BOIL FOR DEFEAT
"For the first time in my career, I have cried," said Laurent Fignon after his defeat by LeMond. "Whether it was for eight, 10, 20 or 30 seconds it is all the same. I have lost the yellow jersey."
He claimed that he had suffered with a saddle injury, a boil. "For two nights I had a lot of trouble sleeping. If the race had gone on until Monday, I believe I would have abandoned. My legs were going well, but that was not enough. Nevertheless I still had hope. But Greg did a super time trial. He is a big champion," Fignon said.
"Eight seconds for 3,500 kilometres is not much, but that is the law of sport," said Fignon's team manager Cyrille Guimard. "With his problem we had to modify his preparation for the final time trial. Instead of doing 40 or 50 kilometres in the morning, he only rode 25, and all of that out of the saddle. In the race, Laurent had a crab-like position. He could not sit straight. That was very visible on the pavé of the Champs Elysées," Guimard added.
"I rode as hard as I could. To lose a big Tour on the last stage is a situation that happened to me in 1984 in the Tour of Italy against Moser. I have nothing against LeMond. Sport is made of victories and defeats. I will continue. Life does not stop here," Fignon said.
"Laurent has had to face difficult situations before. He has always come back. In a few weeks he will again be among the best in the peloton" Guimard added.
CELEBRATIONS
Greg LeMond celebrated his Tour win at the Moulin Rouge nightclub in Paris. He arrived there at 10pm on Sunday following his win after a long series of press interviews. The yellow jersey passed the evening in the company of his father Robert, his wife Kathy and his ADR team mates.
The Tour de France success of LeMond has encouraged his American sponsor Coors Light to increase their interest in cycle racing. This season, Coors Light have co-sponsored the Belgian ADR team in order to get LeMond in their colours when he races in America.
He was contracted to ride six American races this season, but next year Coors say they are going to have an American-based team that will ride the continental circuit as well.
All the American media made LeMond front page news and television programmes were interrupted to announce his victory. The ABC channel which showed the Tour broke into the transmission of the British Open golf tournament to give the news. The New York Times, USA Today and Wachington Post gave him front page coverage with American golfer Mark Calcavecchia, winner of the Open.
Thank you for reading 10 articles this month* Join now for unlimited access
Enjoy your first month for just £1 / $1 / €1
*Read 5 free articles per month without a subscription
Join now for unlimited access
Try first month for just £1 / $1 / €1
Keith Bingham joined the Cycling Weekly team in the summer of 1971, and retired in 2011. During his time, he covered numerous Tours de France, Milk Races and everything in-between. He was well known for his long-running 'Bikewatch' column, and played a pivotal role in fighting for the future of once at-threat cycling venues such as Hog Hill and Herne Hill Velodrome.