Watch: Dutch rider Laurine van Riessen's amazing crash escape on Rio track (video)
Laurine van Riessen rides up the vertical hoarding at the track side to avoid a crash during the women's keirin in the Rio Olympics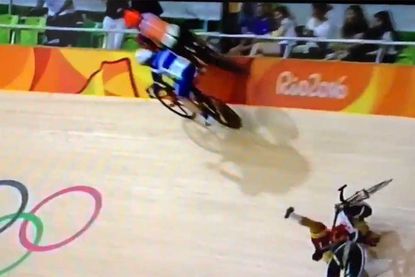 MOZES! Van Riessen vliegt echt bijna de baan uit... dan ben je je leven dus echt niet zeker... pfff. pic.twitter.com/2iusWzBka1
— Mark Rijk (@MarkRijk) August 13, 2016
Laurine van Riessen peformed an amazing piece of riding during the women's keirin at the Rio 2016 Olympic Games on Saturday, avoiding a crash to ride up the barrier beyond the top of the track.
Van Riessen was taking part in heat two of the keirin when Spain's Tania Calvo and France's Virginie Cueff appeared to touch wheels. Calvo was sent crashing heavily onto the track surface, causing Cueff to swerve into van Riessen.
>>> Rio 2016 Olympic Games: Latest news, reports and info
Van Riessen was left with no option other than riding straight off the track surface, and up the hoardings attached to the track-side railings. She had enough momentum to pull off this 'wall of death' feat and remain upright in an amazing piece of riding.
Although van Riessen missed out on qualifying in her heat, she finished fourth and went through to the repechage, winning her heat to go through to the second round.
British rider Becky James won her heat to progress to the second round later on Saturday.
Van Riessen's riding attracted many positive comments on social media from other riders.
Thank you for reading 5 articles this month* Join now for unlimited access
Enjoy your first month for just £1 / $1 / €1
*Read 5 free articles per month without a subscription
Join now for unlimited access
Try first month for just £1 / $1 / €1