The Cotswolds' best climbs
In association with BMW Series 2 Gran Tourer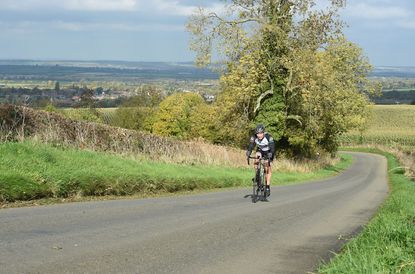 The Cotswolds are a hill-climber's paradise, replete with rolling ascents that drop down into gorgeous little villages before rearing up with gradients approaching 30 per cent.
The climbs are generally less than 10 minutes in length, but thanks to the variety of hills, it's up to you whether you spend that time spinning up a gentle rise or chewing your stem on a one-in-three slope.
Here's our guide to the best hills to seek out on a cycling trip to the Cotswolds.
Dover's Hill, Weston-sub-Edge
Length: 1.7km
Average gradient: 8.1 per cent
This climb has been the venue for the national hill climb championships a remarkable seven times since 1965, most recently in 2010. With a near 10 per cent average gradient and a steepest section of 14 per cent, it's a veritable corridor of pain as it rises through the narrow cutting before emerging out into one of the prettiest views in England.
Strava KoM: 5:04
Strava QoM: 6:55
Saintbury Hill, Saintbury, near Broadway
Length: 2.5km
Average gradient: 7.3 per cent
A generally longer, gentler brother to the nearby Dover's Hill, but don't let the average gradient of 7.3 per cent fool you; a ramp of 18 per cent comes after 800m as the road bends left before another kick of 12 per cent at the mile mark. The road gently eases off over the summit with a series of cruel false flats; this one is seriously tough.
Strava KoM: 7:43
Strava QoM: 9:15
Weston Hill, Bath
Length: 1.5km
Average gradient: 10 per cent
Anyone who has been to Bath will vouch for the severity of the climbs in and around it; it's as if the vast weight of grandiose Regency architecture has sunk down and stretched the very fabric of space-time around it. Climbing out of the suburb of Weston, the ascent up Lansdown Lane is a solid 10 per cent average for one dead straight mile through the houses.
Strava KoM: 5:25
Strava QoM: 7:17
Cleeve Hill (Bushcombe Lane)
Length: 1.3km
Average gradient: 12 per cent.
Do not underestimate Cleeve Hill. Deep in the shadow of the Cotswolds' highest point, this climb out of Woodmancote is diabolically hard. Its gradients, averaging 12 per cent but more like 25 per cent (and steeper) for significant sections, are the sort to leave you struggling to stay upright.
Strava KoM: 5:11
Strava QoM: 8:14
Snowshill, Broadway
Length: 3.0km
Average gradient: 4.8 per cent
Like the gripping yarn of an Agatha Christie novel, Snowshill starts off gently before getting gradually more serious. The road gets ever more intense as you keep climbing until the final grand revelation: the achingly pretty village of Snowshill and the nearby lavender fields stretching up into the sky.
Strava KoM: 7:09
Strava QoM: 8:26
Edgehill, near Kineton
Length: 0.8km
Average gradient: 10.8 per cent
Edgehill is a brute. Extremely short, although it might not feel like it, and extremely sharp, it is the sort of climb that has you out of the saddle, heaving at the handlebars and gasping for breath right from the start. There's no secret, just a steady gradient of 11 per cent for half a mile on roads that are a long way from smooth.
Strava KoM: 2:39
Strava QoM: 3:01
Lady Elizabeth Hill, Upper Tysoe, near Shipston-on-Stour.
Length: 3.0km
Average gradient: 3.3 per cent
The most beautiful hidden gem in the Cotswolds. The road from Upper Tysoe to Epwell is a gentle, rolling ascent that still offers a stern test with a steep kick of 11 per cent in the middle. However it's the euphoric descent that makes this climb so appealing; with none of the brake-gripping nervousness of steeper hills, you can glide along and soak up the truly sumptuous view.
Strava KoM: 6:15
Strava QoM: 8:21
The Cotswolds' toughest climbs demand the very best personal performance – just like BMW. The BMW 2 Series Gran Tourer commands a range of powerful yet efficient engines thanks to BMW EfficientDynamics. It's the only premium compact car to offer up to seven seats, offering generous space, versatility and flexibility.
To win your own luxury family weekend away in the Cotswolds with the use of a BMW 2 Series Gran Tourer for the duration, click here.

We've mapped out the locations for you here:
Thank you for reading 20 articles this month* Join now for unlimited access
Enjoy your first month for just £1 / $1 / €1
*Read 5 free articles per month without a subscription
Join now for unlimited access
Try first month for just £1 / $1 / €1