Cero AR30 EVO wheels review
The Cero AR30 Evo wheels are designed to be the perfect upgrade wheel and we have no doubt that they will be more aerodynamic, stiffer and more comfortable than any stock wheelset that comes with your new bike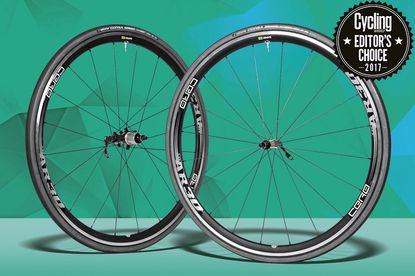 At a sniff under £500, the Cero AR30 Evo wheels are designed to be the perfect upgrade wheel.
We have no doubt that they will be more aerodynamic, stiffer and more comfortable than any stock wheelset that comes with your new bike, and as a result they've landed themselves a spot on the Cycling Weekly Editor's Choice 2017 list.
At a claimed 1,433g the Cero AR30 Evo wheels are relatively lightweight, especially for the price, and that helps the Evos remain nimble and easy to push up the hills despite the extra rim depth.
The considerable thought Cero has put into this wheelset is immediately apparent. For example, class-leading Sapim CX Ray straight-pull spokes (20 radial front, 20 two cross rear) with Cero's own hub and cassette body design that now features an anti-bite guard to stop the cassette digging into the body.
You'll also get a 'modern' rim design that features 22mm external and 17.4mm internal widths. Although this isn't as wide as, say, Specialized has gone with its wheels (20mm), it does represent a marked increase on the days of 14/15mm internals.
It means the tyre will sit wider, and it really does look rather large compared with the Fulcrum Racing Zeros I've recently tested; 25c looks like 28c. This, Cero says, will help increase aerodynamics in terms of the way the tyre sits as the leading edge of the 30mm-deep aluminium rim, and having more width to the tyres also aids comfort and confidence.
Bolted onto the Pinarello Dogma F10, which with the ultra-stiff frame usually shows up flex in wheelsets, they performed admirably. Little to no brake rub was registered and sitting at 30mm deep they've been usable on all types of ride.
This depth didn't catch any sidewind, and the aluminium braking surface as expected performed as it should, giving confident braking over carbon alternatives at twice the price.
After hard use a small buckle did appear in the rear wheel but it was easily rectified by a tweak of a few spokes, but this hasn't returned and the wheelset remains strong without fault.
All in all, the Cero AR30 EVO are a great set of wheels for under £500, and we have no doubt they'd bring any stock bike to life as a perfect upgrade option.
Thank you for reading 20 articles this month* Join now for unlimited access
Enjoy your first month for just £1 / $1 / €1
*Read 5 free articles per month without a subscription
Join now for unlimited access
Try first month for just £1 / $1 / €1