Hunt Race Aero Wide wheels review
Strong, light and stiff all at a sub £400 price tag make the Hunt Race Aero Wide wheels some of the best hoops we've ever tested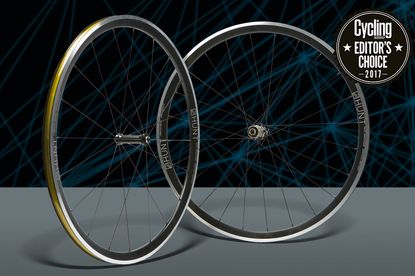 Strong, light, stiff tubeless wheels at a sub-400 quid price tag? Surely these are all claims that are too good to be true?
Well, with the Hunt Race Aero Wide wheels the answer is no, these are genuinely every bit as good as the marketing spiel suggests. For this reason they're on the Cycling Weekly Editor's Choice.
Yes, really. These wheels certainly live up to the hyperbole (and more) when out on the road.
As you would expect from all wheels in this day and age (ok, except tubs), the Hunt Race Aero Wide wheels are tubeless-ready. With too many wheels, this can mean you simply get all the parts slung in a box, but thankfully Hunt has set these wheels up ready to go, with two layers of tubeless rim tape already fitted.
As with all tubeless systems, setup was relatively straightforward even if getting the tyres onto the rim did prove a little tough. Once in place, the rims provide an excellent seal with minimal air leakage (ours generally lost 10psi per night), a common problem with tubeless tyres. And of course you can also run them with normal clinchers too.
As the name suggests, the Hunt Race Aero Wide wheels are slightly wider than some of Hunt's other wheels, with an internal rim width of 19mm and an external width of 24mm - not quite in Zipp or Enve territory, but not far off.
What that means in practice is that the wheels are designed to work best in conjunction with wider tyres. We have to admit that we used them with a set of 23mm tyres, but even these sat like a pair of 25mm tyres when mounted on the rim, meaning improved comfort and grip, and lower rolling resistance, and we're sure that 25mm or 28mm tyres would make things even better.
Indeed Hunt says that these rims will work with anything up to 34mm tyres if you want to fit them with cyclocross tyres.
Despite the name, the Hunt Race Aero Wide wheels aren't designed to be especially aerodynamic. The rim is only 31mm deep and, on feel at least, doesn't really seem to offer a huge amount of aero gain. However, we feel this is more than made up by the wheels other qualities.
For the price, the weight is very reasonable, with the 690g front wheel and 880g rear wheel giving a total weight of 1570g. This is 100-200g less than most other tubeless wheelsets that you'd find between £300 and £600.
This is combined with impressive stiffness and robustness. Hunt HQ is in the heart of Sussex and it's clear that these wheels have been built to perform on the dodgy local lanes. They stood up to a battering over the course of a number of months of testing, remaining straight and true.
I also didn't experience any brake rub, no matter how close I ran the brake pads and how much I threw the bike from side to side when engaging full gas sprint mode. This lateral stiffness combined with the low weight also makes them excellent in the hills, giving sharp acceleration when needed.
All in all, these are a seriously impressive pair of wheels from a brand that will surely be troubling the big boys very soon. For less than £400, the Hunt Race Aero Wide wheel offer exceptional performance and value for money. They're light, stiff, well-made, and tubeless ready, and frankly I really can't find fault in them.
Thank you for reading 20 articles this month* Join now for unlimited access
Enjoy your first month for just £1 / $1 / €1
*Read 5 free articles per month without a subscription
Join now for unlimited access
Try first month for just £1 / $1 / €1