Rapha Shadow jersey review
Rapha has pulled out all the stops to come up with what we think is the best wet-weather jersey in the business – if you're racing in the rain, this is the one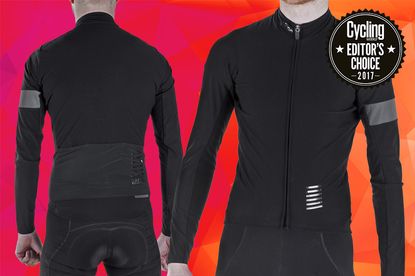 Not named after the 1990s Gladiator, the Rapha Shadow is in fact the ultimate in foul weather kit. With windproofing and water repellency unmatched by competitor garments, it was only right that the Shadow jersey landed a spot on our Cycling Weekly Editor's Choice list for 2017.
When first launched, the Shadow was only available in a short -sleeved version, but Rapha has subsequently updated the range and added a long-sleeve option, a women's version and additional reflective details.
The long sleeves reaffirm this jersey as a real wet-weather buster, and the added reflectivity represents an improvement over the original, but we still feel it could got a littler further in increasing visibility.
We also welcome the improved fit over previous versions, and at 6ft 1in and 70kg, out tester tried both a medium and a small and found the latter to fit very well.
Superb performance
Having tested it in a variety of conditions we can report that the Shadow performs superbly. The fabric is thinner and lighter than that used in the Castelli Gabba, but impressively offers comparable windproofing while the water repellency is super, if not the best we have seen on garments of this type.
Breathability of the fabric is also very good and we found that at around 7ºC with a base layer and arm warmers we were comfortable when riding hard. If we were doing an event such as the Fred Whitton in May, where there's often a chance of rain, this would without question be our clothing of choice.
It's worth noting that the Rapha Shadow doesn't have a low-cut tail to protect against road spray. This is because it is designed to be worn with the Rapha Pro Team Shadow shorts that are made from the same material. This could be an issue for those not wanting to also purchase the shorts.
Raising the bar
Despite these niggles, Rapha has raised the bar in this kind of garment. It may be very expensive at £240, but we can expect this kind of fabric technology to trickle down into more affordable products which can only be a good thing. If we were racing in wet weather, this would be our go-to kit. We rode the Quebrantahuesos Grand Fondo in wet conditions and were fortunate enough to use the Shadow kit. It was a life saver.
It might seem prohibitively expensive, but with performance like this we feel it's justified. Rapha has raised the bar in terms of what to expect from this kind of garment.
Thank you for reading 20 articles this month* Join now for unlimited access
Enjoy your first month for just £1 / $1 / €1
*Read 5 free articles per month without a subscription
Join now for unlimited access
Try first month for just £1 / $1 / €1