17 mind-hacks to give your riding a boost in 2017
Get your mojo working with our top tips for boosting morale and heightening focus. Words by: Dr Josephine Perry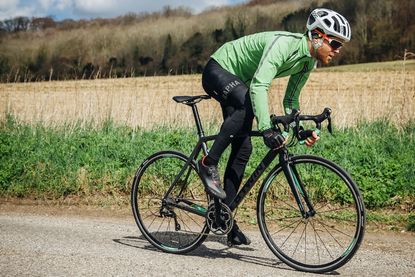 (Image credit: chris catchpole)
Getting ready for the coming season means preparing mentally as well as physically. At its most effective, this involves implementing lots of seemingly small steps that together have a significant overall effect.
>>> Nine ways to prepare for your best ever sportive or racing season
Allow me to explain, with a little unexpected help from a schoolkid…
Recently I was asked to speak at a school's career day, where my rather clumsy attempts to define sports psychology were eclipsed by an attendee who summed it up in four words: life hacks for athletes.
He meant 'hack' in the modern sense — a problem-solving solution — and he had a great point.
Sports psychology offers hundreds of small interventions, which, if used in the right way at the right time, can make us much more successful.
Elite cyclists and their support teams use many of these 'hacks' — here we share 17 of them to help you get more comfortable, confident and successful on the bike in 2017.
1. Set season goals
Set the right goals at the beginning of the year. Make your target something that is tangible, achievable and that you can control.
Matt Bottrill, coach and UK 50-mile TT record holder (1-34:43), does this with all his athletes.
"You need a positive goal, one which helps you focus on what you want, not what you don't have. This should be your driving force. Every time you train and it hurts, think of how good it will feel to achieve your goal. And aim high — goals need to be realistic but always aim to push past them."
2. Set event goals
Get focused on success, pick a goal for each event — and stick to it. It can be so easy to get carried away, but changing the goalposts often leads to disaster.
If your season goal is finishing one of the big sportives, then Andrew Halliday, director of operations at La Fuga Cycle Tours suggests you keep your head on the big picture so as to avoid getting carried away and overcooking it.
>>> 12 of the best upcoming cycling sportives to ride
"Too often we see eager riders investing too much effort too early in the race or event. In the big European events, it is arguably more important to keep something in reserve for that last big effort close to the finish line."
If you are in a race team, then your focus needs to be on your role, as Barney Storey of Podium Ambition Pro Cycling explains:
"As a sports director, I try to get each rider to focus on their specific role for the race.
"There is a lot of psychological pressure on riders regarding what other people will think if they read results and see a person finishing several minutes behind.
"But if that rider has carried out a major role during the race, you are content that they've done their job."
3. Get specific
Once you've set goals and feel happy with them, you need to get specific and limit distractions.
Dame Sarah Storey has 14 Paralympic gold medals and attributes much of her success to the way she matches her sessions to her racing:
"By always relating the training to an aspect of racing, I get more out of the session, whether that's long, high tempo miles to give me breakaway form, or an easy ride so I know I'll be in great shape."
The same applies to food. Performance chef Alan Murchison recommends matching eating to training:
"Every meal should have a purpose, whether that's to aid recovery and repair, a lighter meal for lighter days training or a high-calorie meal to fuel your next session."
4. Understand why you are doing every session
Even if you have a coach, you still need to understand why you are doing each session, which makes it easier to push through the tough bits.
>>> Why getting a cycling coach is like getting (unhappily) married
Alex Dowsett of Movistar is convinced of this:
"You have to believe in the training you're doing, so I regularly ask my coach why I might be doing a particular session, what it'll do for me in terms of performance and how that'll help my racing. If I know the purpose, it makes it more important in my mind".
5. Talk to yourself
According to the old saying, talking to yourself might be considered a sign of madness.
However it is actually one of the most well researched and potentially effective ways of improving your sporting success.
You don't have to talk out loud, but having positive 'head chatter' while you are training and racing can make a big difference — like having a coach riding alongside you and reminding you of the training you've put in or the skills you've learnt.
Research with ultra-marathon runners found that those who used self-talk finished their race significantly faster than those who didn't.
Bottrill is a fan. "When I get on the start line, I always say to myself, "Forget the rest, this is my time; if anybody in this race has prepared like I have, then they deserve to win!"
6. Create a mantra
Another form of 'head chatter' is repeating a mantra: a short, positive phrase that reminds you of your goal, your motivation, or your technique.
This can help at times when you're tired and need your brain to override the voice in your head telling you to quit.
Maryka Sennema, the 2015 national hill-climb champion, says she uses mantras for climbing and time trials:
"I find a repeated mantra lends itself to the rhythmic nature of pedalling in short intense hill-climbs. Somewhere around halfway, I generally have to invoke them. 'Nearly there!' is one; 'push, push, push' is another; or simply 'one-two-three-four' if things are really dire."
7. Think aloud
A further version of self-talk is thinking aloud, a much newer form but one that researchers are finding very effective.
Dr Amy Whitehead, principal lecturer in Psychology at Liverpool John Moore University, teaches this technique and asks her athletes to state out loud during training everything running through their head.
It reveals to the coach and psychologist exactly where the athlete's focus is, and allows the athlete to become more aware of their own thoughts.
"By understanding our own thought processes, you are able to see where potential negative or distracting thoughts may be hindering our performance."
Some cyclists use this practice to reaffirm goals, others to regulate their pace better.
8. Visualise the race
While you can use mantras in racing, off the bike you can use visualisation, imagining what you want to happen in your race.
You can do this either to increase your motivation — imagining achieving goals, performing really well, enjoying your race — or to beef up your cognitive skills — focusing on your motor skills or race strategies.
When imagining what we want to happen, our neurons structurally modify themselves, becoming more effective and supplementing our physical practice without the additional risk of injury or fatigue.
To make this work well, you need to imagine the sights, smells and sounds of the event, and how you will be feeling, making sure the thought are positive ones.
Sennema uses this technique regularly. "Before races, once I have ridden and familiarised myself with the course, I will lie in bed the nights before race day 'pre-racing' it, visualising every part of the race, the start, the landmarks, the halfway point, the final quarter and finish line."
9. Invest in comfort
From both a mental and physical perspective, if you are not comfortable on your bike you can't perform at your best.
Saddle sores are not only physically painful, but the distraction which comes from being in near constant pain will put you off training or pushing hard in a race.
>>> How to prevent saddle sores
Katie Archibald, world record holder and Olympic gold medallist in the team pursuit, spends more time than most on her bike and is convinced that
"by far the best way to get 'bang for your buck' on the bike isn't equipment like disc wheels or ceramic ball bearings, but bike shorts that you love."
She adds:
"The Lycra needs to be tight so the chamois stays in place, and don't tumble-dry or use fabric conditioner so they stay tighter for longer. Regularly cutting a road ride short because of discomfort will not improve your basic endurance and you will put out more power if you can sit still during your turbo efforts."
10. Get a bike-fit
Like your shorts, your bike must fit you perfectly too.
Richard Melik of Freespeed has fitted hundreds of cyclists to their bikes. He says that having a perfect bike position helps your race-day focus.
"Most cyclists are aware of the physical benefits of a bike-fit but an important and often overlooked aspect of a good bike-fit is that it quietens the mind, particularly before a big race.
Doubts and insecurities can play havoc with an athlete's mental preparation, and knowing their position is dialled-in can help a cyclist to focus on the process of performance."
11. Love your kit
While the right shorts keep you comfy, research has found that the right kit can boost your confidence.
Rhian Ravenscroft used this knowledge to set up cycle kit company Threo.
"On event day, with the nerves fluttering and the mind racing, you have enough to be worrying about without facing the prospect of appearing in ill-fitting Lycra.
"Well designed and flattering kit that you feel good in can help give you that little extra boost of confidence when on the start line."
12. Write yourself a letter
Confidence improves performance, and confidence can come from knowing you have prepared properly.
Writing down all you have done in preparation as a reminder of how hard you have worked will help bolster it in your mind and give you something to read through when your nerves are taking over.
Bottrill uses this approach:
"To feel invincible, you need to know you have looked at every area of your set-up, training, bike, position and nutrition. If you and your body are set up, trained and fuelled to perform, then there'll be no stopping you."
13. Learn to cook
Many of us are pushed for time, and as a result our day-to-day fuelling can become sub-optimal.
Watch: Five foods you should never eat before a ride
A great tip from Murchison is to learn to cook so that you not only feel comfortable giving yourself the right fuel but also more likely to eat healthily every day.
"Athletes all too often get caught up with cooking being too difficult, with worries about weight, what to eat when, and also portion sizes. Giving athletes cooking skills means they are more likely to follow a plan."
14. Learn from failure
Like our British highways, cycling doesn't always run smoothly, so when we hit the bumps in the road, we need to accept them and learn from them.
There is a great saying that a failure is only truly a failure if you fail to learn from it.
Bottrill says this mindset has been the key for him.
"I had to learn from failure to allow me to succeed. So if something goes wrong, write it down and then work out how you can improve on this for next time. If you only train your strengths, how are you ever going to improve?"
15. Allow yourself a caffeine hit
Professor Samuele Marcora of the University of Kent is a physiologist who also researches motivational psychology.
He recommends, for optimal performance, 200mg of caffeine (three shots of espresso or four Pro Plus tablets) 45-60 minutes before the most difficult part of a race.
>>> Governing body warns against junior cyclists using caffeine supplements following illnesses
His research has found that
"ingesting a high dose of caffeine reduces the amount of brain activity required to produce a given power output. This higher 'brain efficiency' translates into lower perception of effort and improved endurance performance."
16. Keep the session in perspective
Dowsett, as a previous holder of the world Hour record, is an expert in really tough training sessions. He takes each session one at a time.
"If a session is really tough, I keep reminding myself that there will be an end to it and that I'll feel really good about myself when it comes. Also, the bad feeling of bailing on a session when you knew you could've done it really is a strong motivator."
17. Embrace the hurt
Finally, though it is essential to feel confident and comfortable on the bike, sometimes to do your best you will need to hurt.
Accept it, urges Bottrill:
"Nobody is going to give you the glory, you have to work for it. By pushing beyond your imagined limits, you're going to be able to push your mind forward and handle the suffering that is necessary to get the glory."
Thank you for reading 20 articles this month* Join now for unlimited access
Enjoy your first month for just £1 / $1 / €1
*Read 5 free articles per month without a subscription
Join now for unlimited access
Try first month for just £1 / $1 / €1