'Give us another try': Rouvy launches entirely new dashboard that utilizes AI for personalization
Virtual cycling platform Rouvy is rolling out a significant update today, featuring a revamped UI/UX dashboard and enhancements to the core riding experience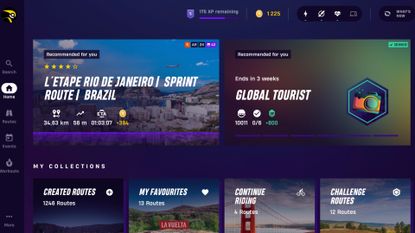 (Image credit: Rouvy)
Since its establishment in 2017, the Czech-based platform has enabled users to ride, race, and train on scenic terrain worldwide, aiming to "Bring the Outdoors Home." Rouvy's extensive collection of over 1,000 AR routes utilizes real-world videos of famous landscapes, iconic climbs, and real-world race courses.
The update marks nine months of preparation for the upcoming winter indoor training season, bringing numerous improvements to the core experience, video playback, and overall technical performance, to keep the platform relevant and up there with the best indoor training apps.
A sleeker, sharper, modern look and a rebranded color scheme signals the app's focus on resource allocation and future advancement.
The new build serves as a reminder to Rouvy's existing and past users, explains Product Director Marek-Martin Matyska, who says: "We've put in significant effort to improve the platform, so give us another try."
Matyska and his team of over fifty developers have leveraged his extensive gaming experience to craft an engaging, efficient, and visually appealing UI for the platform. This dashboard's primary objective is to enhance the user experience by simplifying the exploration of routes, workouts, and overall content.
The app utilizes AI algorithms trained on user trends and preferences. With the update, it can now offer personalized route recommendations to users. Based on their previous activities, the app automatically suggests ideal routes from its extensive library.
What will you see when you open up Rouvy after the update?
"An entirely new dashboard with much more room to work with" is the fundamental change, according to Matyska.
The previous one-page interface with only four boxes of accessible features required multiple mouse clicks and frequently frustrated users.
The revamped Home screen has a streamlined, scrollable list of recommended routes, challenges, events, and training workouts. The Route search screen has been redesigned to be intuitive, organized, and efficient, simplifying the intimidating task of finding the perfect pitch from its lavish library. The personalized Events and Workouts pages provide preferred group rides, races, and cycling training plans.
In the past, technical glitches and video playback issues were too much for Rouvy users to endure, and they sought alternatives.
"It's something we aren't proud of," admits Matyska, "but we've done a lot of work, and the new dashboard symbolizes that plenty has changed."
Rouvy is committed in the short term to refining and improving the current application rather than introducing entirely new features. Their primary focus is understanding user needs and prioritizing key enhancements, ensuring a seamless connection between user actions and personalized recommendations.
Rouvy has plans for another release by the year's end to strengthen this connection further, notes Matyska.
"We already have magical features. They just need to be polished. We are committed to being the best possible personalized training partner for our users during the upcoming cold winter months."
Rouvy offers a 14-day free trial and a limited 15% off on all 12-month plans. The Single plan is $127 (~£105), $10.60 (~£8.75) per month. The Duo plan costs $169 (~£140), $7 (~£5.80) per rider per month. The Group plan (up to five friends or family members) is available for $280 (~£231) - less than $5 (~£4.20) per month for each user.
Thank you for reading 20 articles this month* Join now for unlimited access
Enjoy your first month for just £1 / $1 / €1
*Read 5 free articles per month without a subscription
Join now for unlimited access
Try first month for just £1 / $1 / €1