How to improve your bike-handling
Practising essential bike-handling skills is just as important as increasing your fitness levels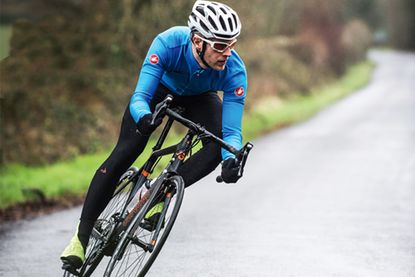 Get The Leadout Newsletter
The latest race content, interviews, features, reviews and expert buying guides, direct to your inbox!
Thank you for signing up to The Pick. You will receive a verification email shortly.
There was a problem. Please refresh the page and try again.
It is sometimes taken for granted that once a cyclist reaches a competent level, their bike-handling skills are good enough. Not true.
No matter how good you think you are on the bike, you can always improve to become both faster and safer.
Chris Booth, coaching and education officer at British Cycling, explains: "Many riders neglect their technical development, focusing instead on physical training.
"Outright performance is often limited by technical ability, and so working on this area can result in as great if not greater gains for riders.
"Having increased control over the bike allows riders to respond quickly yet smoothly to hazards in the road or to work with other riders in a group."
>>> Six tips for off-season training (video)
The off-season is the ideal time to hone these skills, as you have greater flexibility in your training, and the road conditions present all kinds of challenges — if you can cope with winter's worst, summer holds no fear.
The essentials
Your bike-handling skills can always improve, so keep working at them
Becoming a more skilful bike-handler can translate into faster performances — and can be more effective than improving your fitness
Learning crossover skills by taking part in different disciplines during the off-season can yield benefits when you return to the road
"BMX, cyclocross and mountain biking allow riders to practise controlling their points of balance over different types of terrain," says Booth.
"Ironically, track sprinters are masters at keeping control of their bikes when riding slowly."
At the end of the road season, why not dabble in a different discipline to further help develop your skills — off-road or even track?
"Riding track teaches you to adjust your speed and ride smoothly without needing to grab a handful of brakes, which means you can be more efficient," says JLT-Condor's Ed Clancy.
>>> Is this the best kit in the peloton? JLT-Condor reveal 2017 redesign
"If someone elbows you or crashes beside you, good handling helps you to stay upright.
"It also helps you be more efficient and over time you can get low in a more aero position and still put out the power."
Clancy's team-mate Graham Briggs highlights how cyclo-cross complements his winter training: "It helps you see new lines that aren't going to be slippery. Cross also helps you to trust your tyres — when you feel the bike slipping under you, you know not to grab the brakes in a panic."
Doing that means your wheels are more likely to slip out from underneath you.
Learn to use your brakes better
Bike-handling training drills
Using a standard car parking space, attempt to complete a 180-degree turn without going over the lines.
Looking at where you need to go will help you make the turn and once you've completed one direction, swap and attempt the other side.
>>> Bike handling techniques: Improve your cornering
When approaching a red light, try riding as slowly as you can while maintaining your balance. This exercise can be completed during your commute, which provides valuable practise time.
A simple and effective drill is to pick up objects such as a water bottle from the ground without swerving or losing control of the bike.
>>> Unbelievable bike handling on display at the Indoor Cycling World Championships (video)
Shift your weight down towards the ground and out to the side. Make sure you are competent on each side before moving on to smaller objects.
It's not too late!
Key points
Do: be patient when developing and learning bike-handling skills, as they can require time and perseverance through regular training in a variety of situations
Don't: forget, when riding in a group, that maintaining awareness of other riders assists your bike-handling, making it easier to avoid sudden braking or hazardous swerves. Ride predictably and smoothly
Do: try to improve your core stability and strength, which will not only make you more physically capable but also advance your bike-handling skills
Thank you for reading 20 articles this month* Join now for unlimited access
Enjoy your first month for just £1 / $1 / €1
*Read 5 free articles per month without a subscription
Join now for unlimited access
Try first month for just £1 / $1 / €1
Get The Leadout Newsletter
The latest race content, interviews, features, reviews and expert buying guides, direct to your inbox!
Paul Knott is a fitness and features writer, who has also presented Cycling Weekly videos as well as contributing to the print magazine as well as online articles. In 2020 he published his first book, The Official Tour de France Road Cycling Training Guide (Welbeck), a guide designed to help readers improve their cycling performance via cherrypicking from the strategies adopted by the pros.