'My skull was cracked from ear to ear, a shard of glass just missed my artery': The journey back to the podium after head-on smash
Bouncing back to the pointy end of racing just three months on from a crash almost too horrific to fully describe, Jesse Ewart's may be the greatest comeback story you have never heard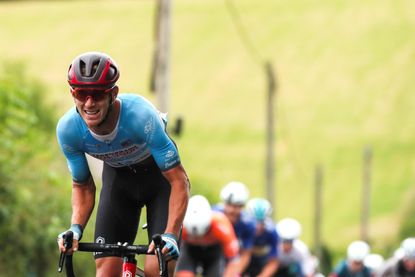 (Image credit: INPHO)
This article was originally published in Cycling Weekly's print edition as part of the long-running MY FITNESS CHALLENGE series.
"A few millimetres the other way," says Jesse Ewart, pointing to a long, pink scar on his neck, "and it could have been a lot worse." We are standing in the shade of a palm tree at February's Tour of Oman, and while chatting idly about the week of racing ahead he has casually mentioned an accident he had last year. It's the first I've heard of it – and I can't help but press for more details.
The 28-year-old explains that the accident happened on 1 July 2022, in Romania, on what should have been his last training ride before the Sibiu Tour. He tells me what he knows about the crash, which is just the basic facts. "A car doing 80kph in a 30kph zone hit me head-on. I honestly can't remember anything." Ewart slammed into the car's windscreen; the impact knocked him unconscious and the smashed glass sliced through his face and neck. "Team-mates have told me I was losing a lot of blood," he continues. "The glass really cut me up, and one shard just missed the main artery."
His chin was slashed, his lip torn apart, seven of his teeth were knocked out, with further deep cuts across his torso – and then there were the more serious injuries: "I cracked my skull from ear to ear, broke my nose," Ewart lists the mangled bone and flesh. "I also fractured five vertebrae. I was coming in and out of consciousness and was punch drunk."
Ewart now rides for Malaysian Continental team Terengganu Polygon CT, but at the time he was riding for German team Bike Aid, and had started the season impressively with third on GC at the Tour of Rwanda. The week before the accident he had finished sixth at the Irish National Road Championships – he was born in Australia but spent part of his childhood in Ireland, and in January 2020 claimed Irish citizenship through his grandfather. In the immediate aftermath of the crash, no one could be certain he would ever race again.
After 24 hours in a local hospital in Romania, he was flown to Frankfurt, Germany, where surgeons set about repairing him – or, as Ewart puts it, "stitching my face back together piece by piece." Within a few days, he had undergone several operations and remained in intensive care for a week. "Because I took such a hit to my head," he says, "the concussion was quite severe and I had a brain injury – I was pretty out of it for two weeks. In a way, it was a blessing that I couldn't grasp the severity of what had happened."
Just three weeks later, Ewart was discharged. "For a little while, I didn't know if I was going to live a normal life, let alone race again." Normal daily tasks were difficult. "I was sleeping 20 hours some days. Each basic task was a major milestone: my first shower unaided, cooking my own food, even just managing to chew solid food." Mentally, times were tough. "It was a s**t period, for sure, and there were low moments."
Back in the saddle
He resolved not to press charges against the driver, a local man in his 40s. "The driver was really shaken up and he stayed on the scene," he says without bitterness. "It wasn't a hit-and-run. I don't look at him in anger."
After five weeks of operations and rehab, Ewart was able to get on his indoor trainer again. "It was 30 minutes, just ticking over," he winces at the memory. "It hurt to hold the handlebars." But it gave him the motivation to think about racing once more, and, incredibly, nine weeks on from the crash, he returned to racing – and to Romania. His first race back was the Turul Romaniei, just 350km north of where he almost lost his life.
"I'd only ridden a few weeks before racing again and I felt rough in the race. Just totally unfit," he says. Next up for Ewart was October's Tour of Iran, where on the three-month anniversary of the accident he clinched third on stage three. "They were both hard races, as I'd missed two months of training, but I wanted to get back in the deep end."
Any regrets about such a rapid return to competition? "I had the recommended amount of time off the bike to let the broken bones heal. If I'd had a slower return, I would have suffered a hell of a lot more." Some of the damage would take much longer to heal, and his dental surgery wasn't completed until this June. "I had a lot of migraines for a couple of months," he says, "and there was so much rehab."
This year, Ewart has competed in seven countries, and his best result so far is third on a stage of the Tour of Japan. When I catch up with him, five months on from our conversation in Oman, he admits it has been a long road to full recovery. "It took months for my back and the muscles around my bones to completely heal," he says, "and I rode my bike quite stiffly for a few months, but I am fully pain-free now. I feel like myself again."
How does he reflect on the past year, being in the thick of it again so soon after a massive trauma? "I'm so thankful and grateful. I'm lucky to be able to speak, to be able to go for a beer with mates – not to mention being able to race my bike. All things considered, life is pretty good."
The full version of this article was published in the 10 August 2023 print edition of Cycling Weekly magazine. Subscribe online and get the magazine delivered to your door every week.
Thank you for reading 20 articles this month* Join now for unlimited access
Enjoy your first month for just £1 / $1 / €1
*Read 5 free articles per month without a subscription
Join now for unlimited access
Try first month for just £1 / $1 / €1