Turbo together: How group sessions can help you train harder
CW investigates the growing popularity of indoor group training sessions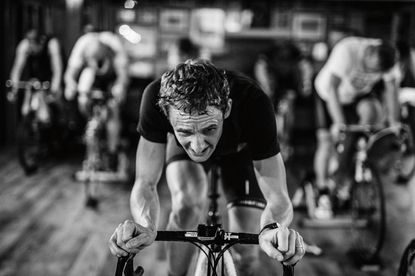 (Image credit: Russ Ellis)
Very occasionally cycling in splendid isolation is exactly what you need, but most of the time we are better together.
Ride regularly in a group and it'll pay dividends in fitness gains — not to mention the craic and banter of social riding.
Traditionally, we have thought of group riding as an outdoor-only pursuit, but that is steadily changing as clubs and training groups cotton on to the potency of training together indoors too. I have visited several such sessions to witness first-hand the sweaty spectacle and assess the fitness merits; I am, for the purposes of this feature, the cycling spy who came in from the cold.
>>> Zwift: Everything you need to know
Until recently, putting the best bike away for winter heralded a return to solitary confinement. Turbo-training used to be solo and lonely. Not anymore. The club-organised group turbo session in a church hall or the like is a well established, though often underrated, phenomenon.
Indoor group riding is moving on, too, using the latest in smart-trainers and technology to optimise training; some groups are even booking altitude chamber sessions.
Eyewitness account
The air is, to put it politely, scented; the condensation is running down the windows; and the music is pumping out. The turbos are spinning and whistling.
It's the weekly group session at Otley Rugby Club, run by local training company In-Gear Coaching.
Ex-second-cat racer Jonathan Farnaby is now in his second winter season running these sessions and is in no doubt about their value.
Watch: Dos and don'ts of winter training
"It's the best training hour I do all year," he says. "I come out of winter at my fittest, ready for the racing season."
There is certainly a lot of under-the-hood expertise in these sessions — and plenty of on-the-night individual attention too. Farnaby designed the series of six-week programmes with input from a brains trust of local racers, including Nathan Edmondson, brother of pro rider Josh, and Tom Barras, a hugely experienced domestic pro who spent last season as DS to the NTFO team (now sadly no more).
Tonight Edmondson is prowling among the riders, glancing down at the Garmins and keeping a close eye on people's HR readings and form.
"It's a bit more than your average turbo session — we look at individual riders, offering verbal feedback on everything from pedalling technique and gear selection to position on the bike," says Farnaby.
Riders take their cues from a big screen mounted up front displaying a series of intervals, based on heart rate.
"It's surprising how many people, even people who've been racing for years, turn up with an HRM and don't know how to use it. We teach them how to get the best from it," says Farnaby.
The sessions are all aimed at one ambition: to build sustainable power.
"You should see a significant improvement over six weeks in the area of sustaining Zone 4 — that's what this whole programme is about.
"Every six weeks we start a new programme, so it's cumulative over the winter but we can differentiate for newcomers who join part way through."
There's a mixed bag in tonight with some of the dozen or so riders clearly no slouches on the bike; others are here to build fitness from a lower base. Rob Dickinson, 40, is in the latter camp. "You just go harder when you're surrounded by other people," he says. "There's definitely a social element to it as well. But more than anything, it's increased my fitness. I really enjoy it."
Farnaby agrees that the communal aspect feeds into the training effect: "People tell us they just can't sit on the bike at home and do the same thing."
Having fun with a group of regulars is all very well, but one veteran of the sessions, who has attended every single one since they started, is certain they work. "I'm in my sixth decade, that's all I'm saying," says Tim Garwell, who rides with a well-known and hard riding Saturday morning group of cafe racers.
"I try to stay with them and most of the time I can, and I'm old enough to be the grandfather of some of them. And I'm sure it's because of the tremendous benefit I get from these sessions.
"I used to do a lot of turbo when I was time trialling a few years ago and I could hurt myself then. But I think as you get older you need people around you. Training as a group is far better — when you see other people sweating, it makes you put the work in. It's something I really look forward to every week."
It's not just a boys' club. Caron Rolph, 48, is among the indoor converts. "I love the social aspect and we extend it to outside because we arrange group rides as a result of these sessions," she says. "But it's not just the social side — I definitely get better and one thing I've noticed is that my cadence has improved.
"I feel a real sense of achievement completing the sessions. I feel it helps me year round."
The session ends with a warm-down, before the riders unhook themselves from their machines and towel themselves down. Then there's cake.
"One of the nice things about these sessions is that one of the riders' wives always makes some cake for afterwards. It's healthy of course. Tonight it's banana cake," says Farnaby.
Smart-trainers for hire
The smart-trainer revolution, coupled with innovative and engaging software such as Zwift and Trainer Road, has transformed the turbo experience. But there are two significant barriers: the hardware is expensive, and the software can be bamboozling for newbies.
Many cyclists who have heard of the smart-trainer, tech-driven revolution and would like to jump on board, find the barriers too high.
The market is responding, and around the country smart-trainer studios are springing up. The deal is simple: somebody else worries about the tech and the cost, and you just rock up and pay a small per-session sum to use the equipment.
Paul Vousden is an entrepreneur who has taken the plunge and set up what he believes to be the UK's first indoor smart-training studio, in Kendal, in the Lake District.
It's kitted out with 12 top-of-the-range Tacx Neo smart-trainers and three 50-inch TV screens. The tech-fest is proving a big draw for local cyclists, with more than 300 regular riders on the books.
"It's bring your-own-bike, which people like because they're in their ideal position, and the software links everything together so you can train as a group but with all those additional benefits of a smart-trainer, like power readings and loads of other data," he says.
"You get all the data on a screen in front of you but it's also recorded and analysed. We can upload it straight to your Strava or Training Peaks account, or even to your coach."
Daytimes tend to cater more for the solo rider who would like to get a taste of the social riding environment offered by Zwift, without the hassle of a complicated set-up at home, whereas the evenings appeal to local clubs or groups of friends. Recently Vousden ran a virtual race between all the competitors in the same room.
The 300-member-strong Kendal CC is on the studio's doorstep and competition secretary Helen Jackson says the facility has proved popular with members, and she's noticed an interesting trend: "We've got a real mix of members, like most clubs. What I have found is that the newer members just expect this kind of data and tech. They have probably never done what older members have done in winter, which is get on a creaky old turbo and stare at the garage wall.
"For the newer members, to be sitting on a smart-trainer in front of a load of data is normal — it's what they expect."
The more traditional members have also taken to the opportunities the studio provides: "I'm not saying we've had no negativity. And, to be honest, I would rather be riding my bike outside. But take the other night — we had 50mph winds and it was dark and cold — and it just made sense to do something inside."
The idea of suffering together has wide appeal, adds Jackson: "People do like to come with a friend or a group. And when the studio is full it really is a great atmosphere."
Going hypoxic
A hypoxic, or hypobaric, altitude chamber reduces pressure and sucks some oxygen out of the air to simulate the conditions you might get at the top of Mount Teide or the Tourmalet. Add in some Wattbikes, a few club-mates and you have the makings of a truly alternative turbo session.
"It's a right laugh," says 27-year-old club rider Tom Whale. "There were six of us and it's just good fun watching each other suffer. There's quite a lot of grunting and some screaming at random intervals and then you fall off your bikes and pedal home exhausted at about seven miles per hour."
Whale, a member of Leeds-based Alba Rosa CC, is lucky enough to live near the OTE Performance Centre in his home city. It's got a fully rigged sports lab, including the chamber, and it's available for rent.
The chamber has six Wattbikes and staff provide coached sessions for riders who book it out for a block of six weekly sessions. "The Wattbikes are really sturdy and solid. I think I recorded my highest ever sprint power during one session and although I didn't make full use of it, they record a huge amount of data that you could download and study to your heart's content," says Whale.
The chamber in Leeds can simulate altitude of up to 2,500m above sea level, at which 'height' the effects of going hard are felt immediately, explains Whale: "We did one reverse pyramid session starting out with a one-minute interval at 150 per cent of FTP. That was really hard — you feel the effects immediately, much, much quicker than doing something like that under normal conditions. Your lungs start to burn much sooner than you'd expect. You feel much worse, much more quickly."
Throw in short recoveries between intervals and the session quickly becomes a "pretty horrible experience". But does it work?
"To be honest, I did start going well after them, but I have no idea whether the sessions did that," says Whale, an atmospheric scientist who takes a keen interest in sports science.
Indeed, the jury is out on whether short-term exposure to hypobaric conditions can bring gains. The benefits of longer-term exposure are well understood, which is why pro riders spend extended periods training at altitude.
The thinner, less oxygen-rich air stimulates the production of natural erythropoietin (EPO), boosting the production of oxygen-carrying red blood cells. Shorter-term exposure to altitude may not have the same benefits, partly because, as Whale notes, perceived exertion is increased and you may think you're going hard when in fact the exertion is only moderate.
Perhaps the most important element is the novelty of such sessions. "It's great fun — I would definitely recommend it," concludes Whale.
Training in groups: why does it work?
The morale-boosting effects of coming together with like-minded people, in the same space, with the same ambitions to work hard, are well known. But is there any evidence that it's effective?
The area is surprisingly little studied, but one study, reported in Psychology Today, threw a little light on the area. Researchers had 136 cyclists work out for 30 minutes on stationary bikes, alone and then all together. They were asked to fill in questionnaires afterwards, rating feelings of stress reduction and energy.
The social sessions were found to be more effective, and left participants more tired than the solitary sessions, suggesting they had worked harder.
The researchers concluded: "Exercising with others may increase tiredness due to increased competition or workload."
Which group session is for me?
The best group session for you depends on your fitness aims and budget.
Club turbo session
Expect to pay: £3-£6
Where: Usually a church hall or school gym.
Kit: BYOB (Bring your own bike) and own turbo.
Tuition: Many of the better sessions incorporate structured sessions and a programme.
Pros: Usually run by someone who knows what they're doing.
Cons: Unlikely to give you the chance to sample the very latest smart kit.
Contact: Your local club.
Spin class
Expect to pay: £5-£25
Where: Usually in a purpose-designed city centre space or gym.
Kit: Often on 'spin bikes' — fixed gear with a lever to alter resistance.
Tuition: Often shouty! May not be roadie-specific. Sessions tend to focus on ill-defined 'aerobic' or 'strength' categories.
Pros: Can be good fun.
Cons: Lacks specificity for a competitive cyclist's training programme.
Contact: Via internet search.
Specialist
Expect to pay: £7-£15
Where: Hyperbaric chamber or hi-tech studio.
Kit: All bells and whistles — often with smart-trainers or Wattbikes.
Tuition: If there isn't any, be wary.
Pros: Novelty. Chance to try thebig-money kit.
Cons: Effectiveness uncertain.
Contact: Local knowledge — ask around.
Thank you for reading 20 articles this month* Join now for unlimited access
Enjoy your first month for just £1 / $1 / €1
*Read 5 free articles per month without a subscription
Join now for unlimited access
Try first month for just £1 / $1 / €1