Should you buy a smart turbo trainer?
We investigate whether a smart turbo trainer is really worth the money over a conventional one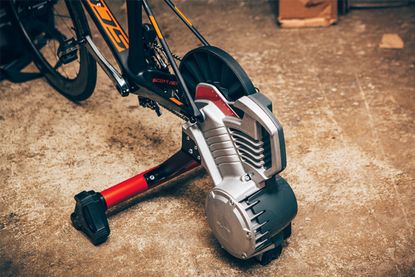 Get The Leadout Newsletter
The latest race content, interviews, features, reviews and expert buying guides, direct to your inbox!
Thank you for signing up to The Pick. You will receive a verification email shortly.
There was a problem. Please refresh the page and try again.
If you are in the market for a turbo trainer, should you buy a regular unit or a 'smart' one? Smart turbo trainers feature computer control and either Bluetooth or ANT+ connectivity.
This allows you to pair devices such as phones, tablets, and accessories such as speed and cadence sensors.
The resistance can be fluid, direct drive or magnetic like a regular turbo but will feature some degree of power measurement so you can quantify your workout.
>>> Eight ways to make your turbo sessions more enjoyable
Smart turbo trainers cost around £270 for a basic unit and as much as £1,200 for the most sophisticated. For comparison, a basic non-smart turbo typically costs less than £100.
What does the extra outlay get you?
Units such as the Tacx Neo and Wahoo KICKR use built-in power meters that take a direct measurement. They often offer a very quiet and more realistic ride feel.
Cheaper smart trainer options like Tacx's Satori Smart (£259) have fewer features, are noisier and offer algorithmic power, meaning your power output is estimated using computer software.
As assistant manager at JLT-Condor and a coach with TrainSharp, Dean Downing is no stranger to turbo trainers: "I hate turbo trainers, but I did train a lot on a Wattbike during my racing career.
"Working as a coach, many of my clients work full-time and have families so they don't want to go out at 8pm in the dark and cold."
Find a turbo for you
Personal preference
Downing adds that a turbo can be beneficial "if you need to do a structured quality training session and have limited time."
Asked if he would recommend the athletes he coaches purchase a smart turbo, Downing replies: "It ultimately comes down to personal preference. One of my clients uses a Wahoo KICKR and Zwift, while another trains with a Stages power meter on a standard turbo. It's about breaking the boredom down."
Designed to make the most of apps such as Zwift and TrainerRoad, smart trainers have the potential to challenge the tedium that's often associated with conventional turbos.
>>> How to dress for wet weather cycling
Zwift allows you to ride virtual reality courses in a multiplayer environment. Top end units such as the Neo can adjust the resistance you feel, to recreate the sensation of both ascents and descents in these virtual worlds.
Professional rider Alex Dowsett told us: "Zwift set up the full shebang in my garage."
But he added: "I'll always pick rain over indoor training. However just recently I've had a knee problem, so was advised to train on the turbo because I could stop quickly if I was in pain and the warm was better than the cold for my injury."
Learn to ride in the rain
Dowsett admits the social aspect of apps like Zwift should not be overlooked.
"Riding with people online does make time pass more quickly and you get goaded into upping the effort to be competitive.
"So if you can't ride outside then it's a very, very good substitute and it does provide something different."
Many smart trainers also allow you to create your own courses and ride simulations of real climbs and roads. If you are riding a gran fondo in the Alps, you can replicate the efforts of the climbs and descents in your own home — handy if you live somewhere flat.
Read more on turbo training
The Zwift turbo trainer game has taken cycling by storm, but if you're not up to speed here's our complete
Winter is coming so you will soon be reacquainted with your turbo trainer: here are the top ten no nos
As the weather and riding conditions take a turn for the worst, I won't be tempted to dust down the
The boredom of the turbo-trainer is the cyclist's annual test of motivation: here's how to both enjoy indoor training and
Our take
Despite being seen by many as modern day torture devices, turbos are great for getting in short but high-quality structured training sessions around your other daily commitments.
>>> How to ride with a power meter
A smart turbo can make time pass more quickly and these sessions are less dull if you struggle with motivation. In addition, power data, including that from algorithms, provides feedback that can really improve the structure of your workouts.
If your lifestyle dictates that most of your training is turbo-based this can help justify the added expense of a smart trainer.
>>> Race warm-up: How to do it and why it's important (video)
However, if you want to take your turbo to races for warming up, factor in that many smart trainers require a plug socket.
Should you buy a smart turbo trainer?
Yes: Kurt Bogaerts, manager of An Post-Chain Reaction
"If you can make training more interesting with virtual reality environments, then it can make it more fun than just doing exercise.
"By relating training to something in reality, such as a climb in the Tour, you can get much more motivation. It allows you to do really good quality training but with a better feeling than just being on a turbo because the problem is that it is really boring.
"A lot of An Post riders train regularly on turbos because the countries they are from have bad weather."
No: Alex Dowsett, Movistar rider
"It's about actually having your own plan for training properly on a turbo or out on the road. I think our cycling world is heading increasingly towards just racing all the time with apps like Strava and Zwift.
"They are fun, don't get me wrong, but racing doesn't necessarily make you fit. To improve your racing you really need a structured training programme and then you'll see the benefits tenfold and be getting KOMs, QOMs and winning races for days."
Thank you for reading 20 articles this month* Join now for unlimited access
Enjoy your first month for just £1 / $1 / €1
*Read 5 free articles per month without a subscription
Join now for unlimited access
Try first month for just £1 / $1 / €1
Get The Leadout Newsletter
The latest race content, interviews, features, reviews and expert buying guides, direct to your inbox!
Oliver Bridgewood - no, Doctor Oliver Bridgewood - is a PhD Chemist who discovered a love of cycling. He enjoys racing time trials, hill climbs, road races and criteriums. During his time at Cycling Weekly, he worked predominantly within the tech team, also utilising his science background to produce insightful fitness articles, before moving to an entirely video-focused role heading up the Cycling Weekly YouTube channel, where his feature-length documentary 'Project 49' was his crowning glory.