How they used to train: How Sean Yates lost weight and re-booted his career
The British rider took his career up a level with a strict diet and training regime after his move to the South of France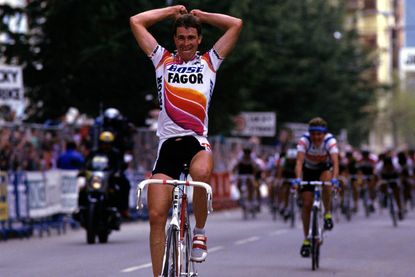 Sean Yates turned professional for the iconic Peugeot team in France in 1982. He was a big powerful unit, a very big powerful unit due to lots of miles, lots of press-ups and sit ups, 200 of each in one go, and an ability to make a pack of Mars Bars disappear during the short walk home from the supermarket.
Yates was great on the flat, and he got better, winning the prologue time trial of the 1984 Four Days of Dunkirk.
But despite trimming down a bit and becoming a little more disciplined with what he ate, he wasn't doing well on the climbs, and Peugeot, which was a pretty disorganised team then anyway, began to lose interest.
>>> Sean Yates: 'I don't think I'll be on a WorldTour team in 2017′
Things changed in 1986 with a new team and a new start. Yates signed for the Spanish sponsored French team Fagor, and he moved to the South of France.
There, not knowing many people and with good weather, lots of wonderful roads and plenty of hills, he had little else to do but ride. Plus, living on his own he decided not to have any food in his apartment at all.
Read more about former pro-riders' training regimes
How they used to train: Eddy Merckx's chain gang

How they used to train: Frans Verbeeck's power intervals

How they used to train: Jacques Anquetil's time trial training

How they used to train: Eddy Merckx's pre-1969 Tour de France week

His former teammate at Peugeot Allan Peiper wrote in his 2005 autobiography, A Peiper's Tale, "I can remember visiting him in the flat he had down there and opening the cupboards in the kitchen, and all there was in there was a packet of coffee, nothing else. Nothing. No salt, no pepper, no foodstuffs at all, just one packet of coffee."
Yates put himself through a regime. He'd get up, have a cup of coffee, ride into town to buy a couple of croissants and a couple of cakes then ride for six hours in the hills of the Alpe Maritimes.
Don't let age slow you down
After that he'd go home, shower and change and spend the afternoon on the beach resting, or occasionally windsurfing. On his way home he picked up a pizza and eat that.
Yates went from 83 kilos to 75 kilos in short order, and in 1987 he won the GP de Cannes and a stage of the Tour of Ireland.
>>> Hayley Simmonds: How losing 45kg helped her realise her time trial potential
Then in 1988 he won the prologue of Paris-Nice, a time trial stage of the Tour de France and a road stage in the Vuelta a Espana, while being a brilliant teammate and cementing a reputation as one of the best team riders in the business.
It was a reputation that saw his services in high demand for the next eight years, and a highly respected career.
Thank you for reading 10 articles this month* Join now for unlimited access
Enjoy your first month for just £1 / $1 / €1
*Read 5 free articles per month without a subscription
Join now for unlimited access
Try first month for just £1 / $1 / €1
Freelance Journalist & Author
Chris has written thousands of articles for magazines, newspapers and websites throughout the world. He's written 25 books about all aspects of cycling in multiple editions and translations into at least 25
different languages. He's currently building his own publishing business with Cycling Legends Books, Cycling Legends Events, cyclinglegends.co.uk, and the Cycling Legends Podcast