Maximise the benefit of your commute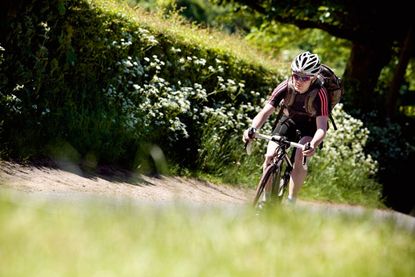 Get The Leadout Newsletter
The latest race content, interviews, features, reviews and expert buying guides, direct to your inbox!
Thank you for signing up to The Pick. You will receive a verification email shortly.
There was a problem. Please refresh the page and try again.
Many people see their commute to work as 'dead miles'. However, with the evenings getting longer and lighter, it's time to start putting those commuting miles to optimal use. You can turn your commute into a specific session that will help your riding.
>>> The best hybrid bikes reviewed
Now that summer is on its way and the racing and sportive season is in full swing, it's time to step your riding up a notch. You can now ditch the turbo sessions and make your commuting miles really work for you. A leisurely commute to work by bike is a great way to save money on train fares or petrol, and with a busy lifestyle, it is often the only chance for cycling. Commuting by bike means you arrive at work feeling alert and ready for the day - and it's an effective way to unwind after a tough day.
Better still, if you are committed to improving your fitness, commuting presents an opportunity to get some proper training done; your miles to and from work don't have to be 'junk'; you can make them count.
The key thing about turning your commute into serious training is having an aim: making it a constructive session, not just riding. As your commute will always be the same distance, you don't get much variety from it. However, now the evenings are longer, you can look into finding an extra loop to add on top of your ride home.
Commuting can be used to great effect to improve specific aspects of your fitness, as long as it's done correctly. You'll need to stop thinking of it as a journey and instead see it as specific training session. Before long, you'll be taking it more seriously and gaining more benefit from it. As with all training, it is important to be clear about the purpose of your ride and have the self-restraint to stick to it. We all know the dangers and excitement of the 'commuter race'. Don't get drawn in; stick to your guns, focusing on what you aim to get from each session.
>>> Benefits of cycling: reasons to get on your bike
Planning ahead
When you decide to turn your commute into training, it's important to plan ahead, taking into account all the other stresses of your day. Through the week, aim to do a mix of easy/recovery rides, longer endurance rides and shorter but harder rides.
This gives you the flexibility to work around your schedule and family life. Commuter training is a time-efficient way of combining getting to work and getting fit. It needs to suit you and not feel like a burden or be stressful.
Alternating what you do each day often helps with logistics and ensures you don't overdo it. If you have an easy day where you ride in steady and get public transport home, follow it with a harder day, riding home a longer route and putting in some specific efforts. This keeps your training varied and removes the boredom factor of doing the same thing each day.
You have to be well-organised, carrying extra kit and work clothes with you and planning ahead - but it is worth it. You'll get extra time on the bike without eating into your other commitments.
Being prepared
Often when commuting, there's a lot more traffic on the road, and everyone is thinking about one thing: getting to work or getting home. Drivers may not be as focused on the road as they are usually, so vigilance when riding is even more important than usual.
Whatever your training goals, safety remains paramount and you may have to adapt your ride at times. It's not worth taking silly risks to finish the last 10 seconds of your effort. Don't watch your heart-rate monitor so closely that you stop being aware of traffic around you. Be willing to cut an effort short; you can make up for it in the next one.
As well as being prepared and alert while riding, having the correct kit and equipment with you is vital. Just because it's warm and sunny when you leave for work in the morning doesn't mean it'll still be the same when you come to ride home.
Always be prepared with an extra layer or two, as there's nothing worse than being caught out and getting cold. If your commute is longer than an hour, pack some energy drink or gels so you can top up your bottle for your evening ride. And remember to carry spares and a multi-tool, as the last thing you want is a mechanical problem without a solution, making you late to work or late home.
Fuelling your commute
If you have to leave home early, you might not have time for a full breakfast. Riding to work on a full stomach can slow you down. Even so, not eating anything at all can seriously impair your ability to train. Grabbing just a glass of juice and a banana or bar to eat on the go will fuel you until you get to work, whereas skipping breakfast and riding hard will leave you feeling hungry once at your desk.
If you are allowed to eat while working, post-ride snacks are an option. Porridge pots - just add boiling water - or a bagel with peanut butter or jam are quick and easy sustenance to prevent you from crashing come mid-morning.
If you are planning a ride home, especially if it's an extended route, you really need to think about what you are eating during your working day so you don't bonk mid-ride. Lunch may not be enough to get you through till the end of a post-work ride. An extra afternoon snack one to two hours before you leave work is ideal. Something like fig rolls or a bagel and jam, a sandwich or even a banana will help perk you up. Avoid vending machine chocolate or sweets, as your energy levels will rise rapidly but you'll be back in a slump by the time you are on your bike.
If you are planning a long or hard session, you may also need to prepare a carbohydrate drink or take some bars or gels with you. On any commute, however long, always carry an emergency gel - better to carry one and never use it than blow up miles from home.
Specific commutes
Ensuring you're training in the correct zone for your commute is vital. Determining the right zone hinges on the purpose of the session. Many riders do their hard efforts too easy and their easy efforts too hard. Using a heart-rate monitor or power meter is a great way to ensure you don't get sucked into the commuter races or overdo it.
Do not let other riders, or Strava segments, distract you from your goal. Monitoring your effort ensures you work in the correct zone for specific efforts. Everyone's training plan can be incorporated into their commutes; it's about being adaptable. Here are some specific sessions you can include into your commute to keep it varied and to improve your fitness:
Traffic light sprints
Most urban commutes involve several sets of traffic lights. Instead of moaning at every red light, use them to aid your training. Sprinting away when the light changes to green is a great way to practise clipping-in quickly and getting up to speed quickly from stationary. This will help improve your jump for attacking and sprinting.
These sprints can vary in length from super-short, 10-second bursts to longer, 30-second efforts. The key thing in this session is to give yourself plenty of recovery between each one - three minutes minimum, so as to get the most out of each effort. Before jumping straight into the sprints, ensure you're thoroughly warmed up.
This session does not have to be done as you set off from traffic lights; if you are lucky enough to have a countryside commute, the key thing is going from a slowish pace to working really hard, getting up to speed, as quickly as possible.
Extended efforts
These efforts can vary in length. Use different parts of your commute to do different length of efforts, anything from two minutes up to 10 minutes. These should be done at your threshold, around 80-90 per cent of your maximum heart rate and should hurt. Find a stretch of road where there aren't many traffic lights for these efforts.
Longer efforts at this intensity are great to add in to you ride if you've extended your commute. Throwing a couple of these into a two-hour ride is a great way to increase your threshold. If your commute is shorter, completing five efforts of two minutes in length makes your commute more interesting and helps improve your threshold too. A recovery of around the same length as the effort will ensure you get the most out of the session.
Recovery ride
Commuting is a great way to get in an easy spin as a means of active recovery after a hard ride or race. Active recovery is much more effective than passive recovery, ie doing nothing, as it helps pump any residual toxins out of the muscles and loosens up the legs.
Even just a 20 to 30-minute spin can help relieve the legs after a hard day or two of riding. The key thing to remember during this session is not to race other riders on the road and not to sprint away from traffic lights; just spin a nice low gear.
Commuter cuisine
Pre-ride: water, juice and banana
Work snack: bagel or instant porridge
Lunch: chicken/rice salad
Afternoon snack: fruit and a handful of mixed nuts
Ride home: carb drink
Dinner: Baked sweet potato with roasted vegetables and poached fish
Commuter training week
If you're confused about how to structure your week of training using your commutes, here's a brief outline of a week's worth of sessions you can do during the summer when you're racing or riding hard at the weekend. Replicate this plan to add a training component to your working day.
Swipe to scroll horizontally
Monday
Rest day: use alternative transport, bring any extra kit or clothes needed for the rest of the week
Tuesday
Ride with sprints
Alternative transport
Wednesday
Alternative transport
Extended ride with 2x10-minute efforts
Thursday
Recovery ride
Ride with 4x2-minute efforts
Friday
Recovery ride
Steady ride
This article was first published in the June 13 issue of Cycling Weekly. Read Cycling Weekly magazine on the day of release where ever you are in the world International digital edition, UK digital edition. And if you like us, rate us!
Thank you for reading 20 articles this month* Join now for unlimited access
Enjoy your first month for just £1 / $1 / €1
*Read 5 free articles per month without a subscription
Join now for unlimited access
Try first month for just £1 / $1 / €1
Get The Leadout Newsletter
The latest race content, interviews, features, reviews and expert buying guides, direct to your inbox!
Michelle Arthurs-Brennan is a traditional journalist by trade, having begun her career working for a local newspaper, where highlights included interviewing a very irate Freddie Star (and an even more irate theatre owner), as well as 'the one about the stolen chickens'.
Previous to joining the Cycling Weekly team, Michelle was Editor at Total Women's Cycling. She joined CW as an 'SEO Analyst', but couldn't keep her nose out of journalism and in the spreadsheets, eventually taking on the role of Tech Editor before her latest appointment as Digital Editor.
Michelle is a road racer who also enjoys track riding and the occasional time trial, though dabbles in off-road riding too (either on a mountain bike, or a 'gravel bike'). She is passionate about supporting grassroots women's racing and founded the women's road race team 1904rt.