Nine reasons to try track cycling this winter
Not into the muddy school playing fields of cyclocross? There is another way... and it doesn't require monthly mech hanger replacements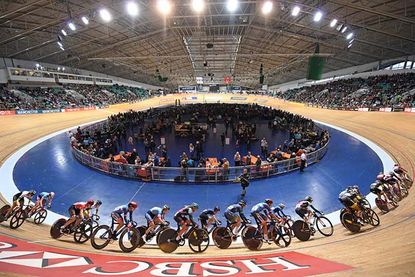 'Cross is coming' seems to be a regular motto for racing cyclists once winter rolls around, but for those that would rather not spend a Saturday afternoon knee deep in Muc-Off and scouring local bike shops for the correct replacement mech hanger, track cycling is another excellent option.
The key detractor from track cycling is usually the travel time required to get to a velodrome, but converts will tell you that the fitness and technique dividends are so great that an hour on the track can be easily equal to two hours on the road so the time investment is worthwhile.
Most velodromes require accreditation - but the sessions leading up to gaining your velodrome equivalent of a driving license will be intense enough to provide a full workout. That, and the skills learned are both crucial on the track and transferrable elsewhere (you'll never forget to look over your shoulder before turning your trolley across the isle in the supermarket, ever again, for example).
>>> The best track bikes: a buyer's guide
Here's nine reasons to give track a go this winter...
You'll up your cadence
Obviously, it depends what gear you're running (word of warming: everyone will have an opinion on what you should be running), but in an ideal world you'll start off, and train, on a smaller gear inch that will teach you to spin when you want to go faster.
Take this back to the road, and you'll be able to avoid clicking up and grinding when you need an injection of pace. This produces less fatigue and muscle damage, so means - in theory - you can go again and again.
You'll get proper-in-person coaching
You don't generally turn up at a track session and 'just ride'. Theres usually a coach, and set exercises.
This means there's always someone with good knowledge sending you off for efforts and reigning you back for recoveries. People will happily spend £100 a month to have an online coach send them intervals to perform, but this way you have the coach watch every one. And if those efforts include match sprints or short races then you get the added motivation of competition, too.
Your bunch riding skills should improve
Bunch racing can be scary, especially if you've come to it as an adult.
Bunch racing when no one has any brakes can be scarier (though arguably safer).
The difference is that nobody gets plunged straight into track racing, you'll be coached in how to move around the moving mass safely (as will everyone else in the group) and the tips picked up can be no end of help on the road, too.
You're likely to get better at sprinting
There's three elements to good sprinting: fitness and natural talent, positioning, and technique.
The first one is in part down to genetics, but can be trained to an extent. The second two take practice, and there's no better playground than the track since you'll get to try again and again (especially in a points race) and the coaches will be able to give you tips.
There's too much variety to get bored
'So, you go onto the track, turn left, left, left, and left again'?
It could get boring. Except that there's so many varieties: the points race, tempo race, elimination, pursuit, sprint... the list goes on. In training sessions there are tons of (occasionally exhausting) 'games' designed to hone the skills needed for each.
It might all seem like some sort of impenetrable rubix cube of rules and regulations, but you'll pick it up, and since they all require different skills and physiologies, nearly everyone gets to shine at some point.
You'll keep some 'zip' in your legs over winter
Well, obviously track cycling will inject some intensity to jazz up your winter base miles in the same way that cyclocross does for those that like getting muddy.
It's sociable
No one can go full-gas, all the time. There will be breaks between sessions and time spent rolling around 'on the blue' in pairs.
If you don't know anyone, just ask a bona fide trackie about what gear they're running - that'll get them started.
There's loads of fun new tools to invest in
Because haven't you always secretly wanted a leather embossed case with one of every chainring and sprocket size imaginable laid out nicely inside?
It's warm (inside)
Caveat: not all velodromes are inside, and actually they're not all warm. But they nearly all have a cafe that serves really good coffee.
Thank you for reading 20 articles this month* Join now for unlimited access
Enjoy your first month for just £1 / $1 / €1
*Read 5 free articles per month without a subscription
Join now for unlimited access
Try first month for just £1 / $1 / €1