Should you ride your bike on Christmas Day?
Dedicated or selfish? We look at both sides of the Christmas Day training debate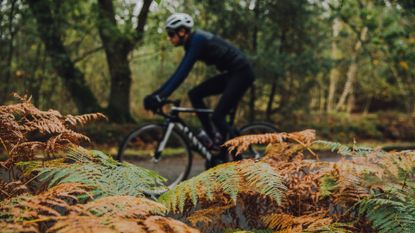 (Image credit: Future)
This year, I will ride my bike on Christmas Day for the first time ever. Well, only if it's not raining, sleeting or icy. And there's no way in hell I'm touching the turbo or rollers.
The reason? Simply, the way the Christmas Day dice rolled this year means that I'll be at home rather than using the festive period to patrol up and down the motorways of England (and Wales).
I don't believe for a minute an easy spin on December 25 will in any way impact my race results in the next year. I'm an amateur rider, marginal gains are not us. But I really like riding my bike, so it would be nice to do it on a rare day off, when the roads are almost empty but for smiling walkers and perhaps the remnants of sleigh and reindeer tracks.
A lot is made of kitting up and riding on Christmas Day however. Is it dedication? Is it selfish? Somewhat pointless?
A recovery day can simply be moved to conveniently plop into the space on the calendar that marks Quality Street and Queen's Speech day, and yet there's a certain smugness to getting out whilst the world is falling asleep on the sofa.
We asked the pros what they do, and got advice from a coach on the best approach to take...
What do the best riders do?
Pro cyclists spend a huge amount of time riding bikes - and yet the vast majority don't feel the need to 'take a day off work' at Christmas.
Canyon-SRAM's Tiffany Cromwell told us in 2019 that she'd be doing an easy spin, to recover from an epic the day before.
"Christmas Day this year my coach has been nice and had just put in a one hour recovery ride. Which will be needed," the Aussie rider said.
"I'm in Adelaide and we have a Christmas Eve epic ride that has become tradition - 200km ride from the city to the south coast and back again.
"After that it's nice to have an easy ride the next day in the morning. Often a couple of the the cafes are open at the beach so it's a perfect way to start the day. Then normally I just have a Christmas lunch with my family. Nothing too crazy. I just enjoy the festivities."
British rider Alice Barnes comes from a cycling centric family, and would usually be out - she said: "Traditionally if I'm at home, then yes I like to ride."
Former British pro, Yanto Barker doesn't let up either, not even in retirement.
"I always trained on Christmas Day. Usually between 1h30 and 2h30. A few presents first then out for a few hours then back for lunch, I still do it now to be honest if I can get away with it. It really helps me enjoy my Christmas lunch by helping me feel like I've earned it," he said.
"It was never an issue before, everyone knew my training came first back when I was a pro, I didn't have a kids then, so it's different now. I have to work hard to negotiate a ride, but I am pretty good at negotiating so it still happens."
It's not just pros, either. Amateur riders are at it, too - though for those shorter on time there's a notable focus on intensity.
Cameron Fraser of Nuun-Sigma Sports-London Race Team told us, speaking in 2019: "On Christmas day myself and several of my teammates will be either heading out on the road or jumping on Zwift across the country in order to stay sharp for the winter track league which runs throughout the road off-season."
Of course, the team boasts a roster that includes a former UCI Continental rider, British Land Speed Record Holder and National Masters Champion - but they're still all full-time workers alongside cycling.
"There are obvious reasons for keeping some intensity over the festive period as well as building up a good appetite before Christmas Dinner, but its also a great time to hop on the bike and keep the head fresh. The roads are often pretty empty too," Fraser said.
What do coaches say?
So that's what the riders think, but many are puppets to the training plan - what about the ones pulling the strings?
British Cycling qualified coach Ian Watson (coachwatto.com) says a Christmas Day ride is "not a bad thing to do", but emphasis that we should feel comfortable taking a day off, too.
"Going out for an early spin to get out of the house and earn your Christmas dinner is OK and not a bad thing to do. There can definitely be a mental boost to going out training when you think others are not - it can give you a feeling of being a step ahead of the game."
"However, it's only one day, and the [road] season is still a decent way away. There's lots of time to get some quality training in and you won't hinder anything for not training.
"As cyclists we dedicate a lot of time to our sport regardless of the level we ride, sometimes at the sacrifice of our family and friend's time. This is a day where you can give back some time to them."
If you can't get out without upsetting family or friends, he'd suggest moving your plan around to incorporate a rest day.
"Any training program is changeable. That is the idea of having a coach to analyse and change your sessions, days and weeks around depending on schedules, work loads, injury, illness. So the one or two days around Christmas shouldn't be a problem to do so.
"If you don't have a coach, it is still a day when you can have a day off or easy day and work your other training around that."
At this time of the year, he'd suggest mixing long endurance rides with some more intense sessions, but warns against getting over-excited if you've got time off over the 'silly season' between Christmas Eve and New Year's Day.
"If you are training for the road season, you are more than likely still in the base period of your year. As many are off work over the festive period, it is a great time to capitalise on the extra time that you have and do some longer base rides that you would't normally do with work commitments.
"There could be a tendency to go out long every day as you have the time. But make sure you are still getting your recovery in there, and mix it up with some shorter sharper turbo sessions, which can be very time conducive and be good to add a little intensity to your training."
Thank you for reading 20 articles this month* Join now for unlimited access
Enjoy your first month for just £1 / $1 / €1
*Read 5 free articles per month without a subscription
Join now for unlimited access
Try first month for just £1 / $1 / €1