'We're cyclists but we do a lot of jumping!': Sprinter Emma Finucane on making progress by leaps and bounds
The four-time national champion tells us how she's become Britain's leading light in the sprint events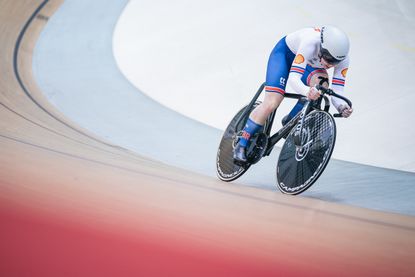 (Image credit: SWpix.com)
For each article in this long-running WATT WORKS FOR ME series from Cycling Weekly's print edition, we ask a pro rider about their favourite things in training: what has helped them most in getting to where they are today. The aim is to get to the heart of the beliefs and preferences they hold dear when it comes to building form, maximising fitness and ultimately achieving results. For this edition, we speak to Emma Finucane.
Briefly, what's your cycling story?
I started cycling aged eight, riding cyclo-cross and road, then aged 10 I took up track at the Geraint Thomas Velodrome. I was an endurance rider – I loved bunch sprints – but the GC academy coach Matt Crampton recommended that I apply for the sprint academy aged 16 and I was accepted. I won the junior Euros 500m TT in my first year, realised I was good at sprinting, and this last year has gone a bit crazy. I've got confidence ahead of the Worlds later in the year.
To what do you credit your recent success?
Consistency. I've been able to train regularly, had no injuries, not missed any sessions, and been able to manage everything demanded of me. Our new coach Kaarle McCulloch has been amazing for the squad, too. She's made me approach racing differently: I am now more process- and less outcome-driven; I now look at the tactics and how I want to win.
That different outlook to training has been really key. What does a typical week look like?
Two hard gym sessions based on heavy lifting to gain muscle, four track sessions, one turbo session and a road ride. We've just finished a 12-week block of general preparation that was to build fitness and volume, and now we're in the specific prep phase. I am position three in the team sprint, so I need more speed-endurance, as well as peak power.
How do you improve your sprinting?
I want to improve my peak power [currently 1,480W] to become a faster athlete, as it's maybe a weakness of mine at present. So I do a lot of gym work, moving static objects like a track bar really quick and fast, and on the track I ride behind a motorbike and use different gears. In the gym, we focus more on velocity than weight, which I feel is essential to improve peak power.
Any exercises you can do at home to improve peak power?
Yes, we do a lot of jumps. There are so many variations: onto a box, over hurdles, single-leg jumps, jumps from sitting down. The gym coaches are really keen on using different tools to help us find that peak power, and we've figured out that jumping onto things helps us to improve our own force production. We are cyclists but we jump a lot.
What's the hardest training session you do?
The one I did before this interview! Kaarle is really intrigued by how we can improve and adapt training, and she set us a ramp test to find out our VO2 max. It was savage, and though I don't know the result yet, I feel I've improved a lot in the past six months. Even though I am a sprint athlete, it's important to train endurance as well to be able to withstand training better, allowing us to train harder. We've been doing lots of turbo and endurance training, and it means I can hopefully progress on to ever quicker times.
What are you trying to improve?
The first 30 to 90 metres is all about peak power production, and I am trying to work on my rate of power through the pedals. Kaarle has set me big gears and it's to help me to produce my own force from a standing or seated position.
Rider profile: Emma Finucane
Age: 20
Height: 5ft 7in
Peak power: 1,480W
Hometown: Carmarthen, Wales
Lives: Manchester
Rides for: GB women's academy sprint team
Best results: 1st – 500m time trial, sprint, keirin and team sprint, National Track Championships (2023); 2nd – keirin and team sprint, European Track Championships (2023); 3rd – team sprint, World Track Championships (2022)
Twitter: @emmafinucane123
Instagram: @emmafinucane_
How to love hard training?
I tell myself to enjoy every training session and race. It is my job, but whatever happens my family and friends will still love me. I enjoy being in a team environment, as it's such a buzz carrying each other. Team rolling efforts are my current favourite thing.
How to cope with the pain?
Sprinting is short-lasting: I am riding for 45 seconds at most. It can be hard to mentally get my head around that, to psyche myself up for such a short time, but I just have to give everything for those 45 seconds. It's also hard not seeing my boyfriend [Dutchman Casper van Uden, Team DSM rider] and family, but other than that it's cool to be a full-time athlete.
The full version of this article was published in the 13 April 2023 print edition of Cycling Weekly magazine. Subscribe online and get the magazine delivered to your door every week.
Thank you for reading 20 articles this month* Join now for unlimited access
Enjoy your first month for just £1 / $1 / €1
*Read 5 free articles per month without a subscription
Join now for unlimited access
Try first month for just £1 / $1 / €1