What's the hardest discipline in cycling? Six current World Champions share their perspectives
Each one of them is the world's best in their discipline, but how do the demands of winning gold compare across road, mtb, BMX and all the rest?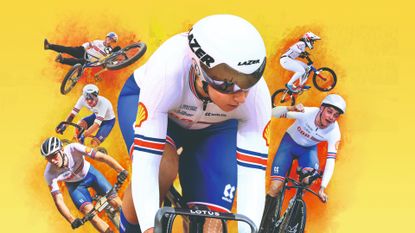 (Image credit: Getty Images - various)
The Cycling World Championships in Glasgow – the so-called 'Super Worlds' – felt like a mini-Olympics dedicated to everything on two wheels. Across 10 days at the start of August, every form of bike competition imaginable took place. Hardcore road racing fans found themselves fawning over the intricacies of artistic cycling, while mountain bikers were drawn into the thrills and spills of BMX. But what were the differences in demands between the 13 disciplines on display? From the raw power of the team sprint, to the technical ability to win freestyle BMX, what does it take to win the rainbow bands – and how do the pathways to success compare? Which is the hardest, which the scariest?
Here, we speak to gold medal winners across six different disciplines to find out what it takes to become a world champion in their particular cycling specialism.
Kieran Reilly: freestyle BMX
Age: 22
Height: 5ft 3in
Weekly training volume: 10-15hr on bike, 6-10hr off bike
Raised: Gateshead, Tyne and Wear
Lives: Corby, Northamptonshire
Rides for: Red Bull; GB
Career highlights: Gold – Freestyle BMX, World Championships (2023)
Instagram: kieranbmxreilly
Growing up next to a skatepark in Gateshead, Kieran Reilly landed his first 720 – double 360º spins mid-air – aged 11. Just over a decade later he is a full-time, Red Bull-sponsored athlete and the newly crowned freestyle BMX world champion.
How did you get started?
When I was young, it was all about getting a bike for Christmas. Where we lived [in Gateshead], our house looked out over a football field and a skatepark. As my friends gravitated towards football, I stayed at the skatepark watching other lads doing tricks, and they took me under their wing. I spent all my time there.
Is starting young important?
There is less fear when you're young but also it's more difficult to throw around the bike. The progression to bigger tricks skyrockets between the ages of 11 and 13 as you get stronger. That said, more kids are starting younger, so it will matter more in the future. When did you decide to pursue the sport as a career? In the last couple of years of school, I hoped to find a sponsor and be a professional rider straight away, but that didn't happen. I did an apprenticeship [in joinery] after school, and that made me more motivated – I didn't like the job and it was taking time away from riding my bike. That lit a fire.
The need for skill is obvious, but you must have to be very fit too?
I ignored it for a long time, but after I turned pro and started putting more time into fitness, it directly correlated with the best results I've ever had. We do a 60-second run [of tricks], but that 60 seconds feels like a lifetime, as it's so intense. We have to be athletes on and off the bike. The aerial skills are trained solely on the bike, so we work on fitness on the static bike in the gym, and I do a lot of CrossFit, which I've found works perfectly for me.
When you're trying a new trick, how do you pluck up the courage?
A lot of it is thinking of the feeling of victory that will come – you've been there before, you know that feeling. It's almost addictive, not just adrenaline but that feeling of fulfilment, achieving something you've worked for. If the trick takes a long time to learn, in a way that's good – it's a stronger feeling when you land it.
I did the Project Red Bull two years ago, completing the first triple flair [triple back-flip plus twist], and that mental block was like nothing I'd ever experienced, so any time now I'm scared of a trick I'm learning, I think back to that.
You must sustain a lot of injuries?
These things will happen. I've had a broken wrist, broken all my fingers, many sprains, torn the ligaments in my left ankle, broke my right ankle – it's always hard coming back but you always want to come back as quickly as possible because you can see all your competitors still training. The fear doesn't linger, it leaves you the second you get back on your bike.
Which other cycling disciplines do you think are especially tough?
Every discipline has its own special challenges. A big part of downhill mountain biking is dealing with fear. In road cycling, it's the preparation. I've just watched Tour de France: Unchained on Netflix, and the commitment and mental toughness that road cyclists have is so different, but something we can take from. In a similar way, we train 365 days for one minute of competition.
Will Tidball: scratch race
Age: 23
Height: 5ft 11in
Weekly training volume: 20hr on bike, 2hr off bike
Raised: Exmouth, Devon
Lives: Cheshire
Rides for: Saint Piran
Career highlights: Gold – scratch race, World Championships (2023); Gold – scratch race, European Championships (2022); 1st – stage 3, Ronde L'Oise (2023)
Twitter: @willtidball1066
Instagram: willtidball1066
Coming into the final three laps of the men's scratch race, it seemed as if the group had miscalculated and that Switzerland's Alex Vogel would win solo. With half a lap to go, the bunch caught him, and by the finish line Tidball was a whole bike length ahead. The 23-year-old started out in cycle speedway, but after watching London 2012, he moved to track and road.
What goes into winning rainbow in the scratch race?
I'd looked back at a lot of footage with my coach to work out the best way for me to win. We gambled on the likelihood of a sprint going early because it's the Worlds and everyone wants a medal. I knew that if I picked up a good wheel, I could win. The risk played out perfectly.
What was your hardest session pre-Worlds?
A session on the track that simulated the hardest race situation possible. It actually made the race seem easier. Track is a lot faster pace. It's high cadence and getting used to low torque, so it is much more demanding on the heart and lungs. My heart rate hit 206bpm for the last three minutes at the Worlds.
You race for Saint Piran on the road and GB on the track. How do you mix the two?
Mixing disciplines can complement and play against each other. People like Ethan Hayter [Ineos Grenadiers] make it look a lot easier than it is. There's a lot of risk when racing on the road, which is why I took some time off road racing [preWorlds]. I'm fortunate that Saint Piran facilitates what I do on the track and allows me to choose a calendar to complement it. The main sacrifice I make is racing in winter, when most cyclists take some time off.
Neah Evans: Madison
Age: 33
Height: 5ft 3in
Weekly training volume: 18-20hr on bike, 2hr off bike
Raised: Cuminestown, Aberdeenshire
Lives: Manchester
Rides for: GB
Career highlights: Silver – team pursuit, Olympic Games (2020); Gold – Madison, World Championships (2023)
Twitter: @neahevans
Instagram: neah.evans
For Neah Evans, born in Langbank, just a stone's throw from Glasgow, this was a true home Worlds. The Sir Chris Hoy Velodrome was where she first learned to ride on the track. It wasn't until the age of 27 that she became a full-time athlete, combining racing with her work as a veterinary surgeon.
Winning gold on the velodrome you learned to ride on – surely it doesn't get any better?
It's one of those iconic memories. You obviously dream of becoming a world champion, but to do it on the velodrome where I learned to ride… the stars aligned that day!
How does a veterinary surgeon win gold?
It has been a fair transition! When I set out as a vet, I'd just discovered track cycling as a fun hobby, I was very much full-time as a vet. It started to get a little more serious, so I went part-time as a vet in 2016 and then the offer came to go full time cycling in 2017. It just escalated. I still feel like I'm winging it but I'm loving it. My first experience of racing was on the track. I did my accreditation, competed in BUCS for Glasgow University and fell in with a group of trackies. I think I was really fortunate to be in the right place at the right time, having really good support to help me make the transition.
Will it change you?
I'd love to say it would, but ultimately it won't. I realised that after the Olympics, it both changed my world and didn't change much. You get to race in the bands and people look at you differently, but it's not a life-changing thing. I think the world of cycling, especially on the track, is relatively niche.
How did you celebrate?
After the Worlds, a group of us went out. It's always fun to see lots of cyclists in a nightclub – not their natural environment. I was reliving my student days.
In your opinion, what's the hardest discipline in cycling?
I'd be inclined to say Madison. It's gruelling, it's demanding. You have to have eyes in the back of your head to try and understand the carnage. Away from the track, I'm not sure. From a spectator perspective, you've got to take your hat off to the mountain bikers – it's just savage with very little let-up. If I could be world champion in one other discipline, it'd be downhill mtb, it just looks so cool.
Fin Graham: C3 Para Road Race
Age: 23
Height: 5ft 8in
Weekly training volume: 20hr on bike, 2hr off bike
Raised: Strathpeffer, Scottish Highlands
Lives: Manchester
Rides for: GB
Career highlights: 2x Gold – Paralympic Games (2020); Gold – individual pursuit C3, World Championships (2023); Gold – road race C3, World Championships (2023) Twitter: @FinGparacyclist
Instagram: @fi n_graham22
Two golds and four silvers: Fin Graham had quite the Worlds. A C3 para-athlete, Graham was born with bilateral feet which leaves him with no calf muscle and little to no movement in his ankles. He grew up near Glentress, in the Scottish Borders, and started racing as a child, first mtb, then as a para-athlete from 2016.
Describe your average day
It varies quite a lot depending which block I am in. Currently it's quite simple. I usually wake up at 9am and I'm on the bike for 10am. Training is around three hours, sometimes the rides include specific efforts like 20/40 over-unders or 30-second sprints; other days, it's 20 minutes at threshold. Lunchtime is 2pm: two slices of toast with avocado, baked beans with spinach and scrambled eggs with chorizo topped with cheese. Sometimes I do a second session, in the afternoon, such as going to the gym to lift weights or maybe even a session on track. Evening is quite often spent feeling sorry for myself and complaining that my legs hurt, or filling the time with playing XBox.
What's your best and worst session?
This very much depends on if I am going well or not. I do enjoy the longer rolling efforts on track, as when you're riding round hearing rapid lap splits, morale goes through the roof. My least favourite sessions are the short maximal sprint efforts such as 30sec on, 30sec off – your legs hurt from the moment the effort starts!
What was it like to win in Glasgow?
It was a dream come true to race in Scotland in front of a home crowd, and to be able to do that at the Super Worlds made it even more special. Usually as para-riders we don't get many people coming to watch our races, so to be fighting for a world title in a sold-out velodrome really was something I will never forget.
What is the hardest discipline in cycling?
Each cycling discipline is very tough in its own way, but I would have to say cyclo-cross, as it is full-gas for an hour. From a technical aspect, though, it's probably artistic cycling. I saw clips of that from the Worlds and it blew my mind! If I could win any other world title, it would have to be XC.
Beth Shriever: BMX
Age: 24
Height: Not supplied
Training volume: Not supplied
Raised: Essex
Rides for: GB
Career highlights: Gold – Olympic Games (2020); Gold – World Champs (2023)
Twitter: @bethanyshriever
Instagram: bethanyshriever
Already the reigning Olympic champion and a former world champion, Beth Shriever was the favourite at the Glasgow BMX centre. She qualified first in both the quarter and semi-finals and led into the first jump in the final, taking the rainbow jersey in dominant style.
What was it like to win the gold medal in Glasgow, in front of home crowds?
It was super special. My family and friends rarely get to see me race, so when an opportunity like this comes about, it can't be missed. Rain or shine, result or no result, everyone would have just had an amazing time nonetheless.
What did you focus on leading up to the Worlds?
I did a lot of stuff with my psychologist, practising things, and this has been the perfect lead-in to Paris [Olympics 2024]. I've trained hard, I've trained well, and I was in perfect condition. I just trusted myself and my process, and it worked – it's unreal!
Describe a typical week of training.
At the moment, I'm in the gym twice a week and riding two or three times a week. It changes depending on where we are in the season, and training gets way more intense after the race season. While racing, it's about maintaining and freshening up at the right time leading into a race.
What do you think is the hardest discipline in cycling?
I think the hardest discipline is cyclo-cross. It's basically a mountain bike race on every type of terrain for long periods of time. Those guys have my utmost respect.
Charlie Aldridge: U23 XC
Age: 22
Height: 6ft 4in
Training volume: 15-30hr on bike
Raised: Perth, Scotland
Lives: Creiff, Scotland
Rides for: Cannondale Factory Racing; GB
Career highlights: Gold – U23 XC, World Championships (2023)
Instagram: charlie_aldridge1
Charlie Aldridge from Perth, Scotland, already the national XC and short track champion, added the world under-23 XC title to his 2023 palmares. Already a world champion from his junior days, the 22-year-old pulled away from the group with two others and then, on the final lap, attacked hard and got away solo.
How did you go about winning the world title?
I'd been dreaming about this race, knowing it was in my last year as an U23 and I thought I had a real chance. I stepped up to the elite category for the World Cups this season, and then peaked for the Worlds. The race itself went perfectly; I pressed on at the start, waited and watched the other boys, then went all-out on the last lap.
When did you start cycling?
I used to do a lot of bike racing with my parents and loved doing jumps and riding off-road. I got into racing through Strathern Bike Club and doing the primary school Scottish XC race series. Later I went to British races, and then stepped up to European level. I got onto the GB pathway as a junior and here I am racing for Cannondale.
Describe your regular training schedule.
I do a lot of travelling, so I don't have much of a schedule. My training just depends on the characteristics of the next race coming up. I usually ride the mountain bike and do a mix of sprints, longer efforts, trail rides and then some longer road rides too.
The first version of this article was published in the print edition of Cycling Weekly. Subscribe online and get the magazine delivered direct to your door every week.
Thank you for reading 20 articles this month* Join now for unlimited access
Enjoy your first month for just £1 / $1 / €1
*Read 5 free articles per month without a subscription
Join now for unlimited access
Try first month for just £1 / $1 / €1