Best ebike helmets 2023
Dedicated ebike helmets have additional features, and comply to more vigorous safety regulations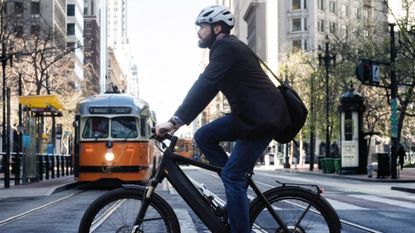 (Image credit: Abus)
This year Black Friday is running from November 24th - 27th. We've rounded up all the best Black Friday bike deals - spanning fully built bikes, components and tech - in our main hub page. You're guaranteed to find a bargain.
The popularity of electric bikes has, in recent years, led to the creation of ebike specific helmets.
At first glance they may look like any other commuter-friendly lid. But on closer inspection the best electric bike helmets have additional features that you won't readily find on your typical cycling helmet.
Many of these design elements focus on improved safety. After all, for many people, the best electric bikes can see them traveling at faster speeds on average than they would aboard a regular bicycle.
A fit-for-purpose ebike helmet should provide a broader coverage of the head than a traditional helmet. This is often delivered alongside added protection against concussion, such as MIPS, that you'll find on many of the best road bike helmets and commuter helmets.
Other safety features you're likely to find include in-built LED lights and bright colourways designed to catch the attention of motorists and pedestrians alike.
While there are a number of helmets on the market that offer extensive coverage of the head, an ebike safety standard for helmets does exist, called NTA-8776. The certification has been created to inform ebike users that the helmet "protects against higher impact speeds and covers a larger part of the head."
Its direct application is for 'speed pedelecs'; bikes that exceed the 25kph assistance limit and by UK and EU law require users to wear a helmet. However, the extended coverage these helmets offer makes them well-suited for all electric bikes. For the purpose of this guide we've selected only helmets that meet this specification.
Of course, there are other important considerations too such as sensible venting that works across a range of temperatures as well as comfort and fit.
To help you narrow down your search for the best ebike helmet we've selected a few models that look to meet the demands of today's ebike users.
The Best Ebike Helmets: Our picks
Bern Hudson MIPS
A lightweight and stylish lid
Specifications
Sizes: S. M, L
Colours: Satin White, Matte Sand, Matte Hyper Green, Matte Mint, Matte Navy
Weight: 350g
Safety features: Rear LED light, MIPS, NTA 8776 approved
Reasons to buy
+
Good range of colours
+
Integrated rear light
+
MIPS liner
+
Light weight and well vented
+
Built-in peak
Bern's Hudson is another stylish lid that should appeal to those looking for a clean, fuss-free design. Its low-profile shape is finished off with an integrated peak that provides a bit of added protection against the sun or the rain. It's available in a good range of colours too, from earthy tones to brighter hues, which adds to its fashionable status.
The Hudson provides plenty of extended coverage around both the temples and the rear of the helmet, helping it to achieve the e-bike NTA 8776 standard. There's also a MIPS liner here too, offering added protection against rotational impacts. Surprisingly this level of crash protection doesn't equate to extra weight; the Hudson weighs just 350 grams, which isn't much heavier than many road bike helmets. It's also lighter than the majority of ebike models featured here.
Safety considerations also extend to an integrated rear LED light. Providing 6.6 lumens of power, it's well-positioned toward the top of the helmet and is a pretty decent size, which should all add up to plenty of visibility. It's also charged via a USB port and is designed to last for 10 hours per charge.
Fit is achieved via Bern's Compass Fit system. It's basically a traditional rotational dial that should be familiar to anyone who's worn a bike helmet before. The chin strap is also a pretty standard affair.
Perhaps unsurprisingly for such a light electric bike helmet the Hudson is well-vented, 13 to be precise. Cleverly, the vents at the rear are designed to fit a u-lock through, enabling you to secure your helmet to your bike when it's not on your head. It's a nice detail and makes the Hudson a good choice if you're regularly locking your bike up during your travels.
Abus Pedelec 2.0
Affordable, lightweight and with all-weather protection
Specifications
Sizes: M (52-57cm), L (56-62cm)
Colours: Glacier blue, Midnight blue, Velvet black, Pearl white, Signal yellow, Silver
Weight: 410g (medium)
Safety features: Rear LED light, extended temple coverage, NTA 6776 certified
Reasons to buy
+
Affordable
+
Integrated LED light with USB port
+
Lightweight, just over 400 grams for a medium
+
Additional extras including rain cover and visor
The Pedelec 2.0 is aimed firmly at the commuter market with plenty of features designed to make your journey to work and back safer and more comfortable. It's competitively priced and among the cheapest of our selected helmets.
With regards to safety the helmet is NTA 8776 certified, meaning it has been tested against higher impact speeds and offers greater coverage when compared to a regular helmet. What this looks like in real terms is an additional 'edge' that extends around the entire helmet, described by Abus as "extended temple coverage". The helmet does forgo a MIPS liner however, which keeps the price down but may not appeal to those used to this additional layer of rotational impact protection in their other helmets.
The Pedelec 2.0 features a large integrated LED light in the rear with a built-in USB for straightforward, battery-free charging. It's placed towards the top of the helmet for improved visibility, which ABUS claims is 180 degrees. There are also reflective details and a fluro yellow colour option, which combined with the tail light, make the Pedelec a good match for those who commute during the winter months when low-light and poor visibility is an increased factor.
Its cold weather credentials are heightened by the inclusion of a built-in rain cover that stores away neatly in a rear compartment when not in use. Combine this with the padded ear warmers that come with the ACE model and you have a helmet that should see you through the worst of the weather in relative comfort.
But the Pedelec 2.0 Isn't just for those living in colder climes. It's well vented via four inlets and nine outlets, complete with fly nets, which should do the trick when the weather warms up. Of course the beauty of an ebike is that you can always opt for additional assistance should you work up too much of a sweat. There's also a large visor to offer further protection against insects and other debris.
A size medium weighs 410 grams. This positions in the middle of the pack among the helmets in this guide, lighter than both the Cratoni Commuter and the Giro Camden MIPS.
Giro Camden MIPS
Modern styling with multiple safety features - but pricey
Specifications
Sizes: M, L
Colours: Matte Black, Matte Titanium
Weight: 690g (medium)
Safety features: MIPS, extended coverage, NTA 8776 approved, integrated rear light
Reasons to buy
+
Integrated glowing light provides impressive visibility
+
MIPS lining
+
Adjustable vents for year-round riding
Reasons to avoid
-
Much heavier than rivals
-
Dark colours only
-
Expensive - over £200
The Camden MIPS is a low-profile offering from Giro that's styled for the city streets. While looks are subjective, the clean, modern shape of the Camden, whose aesthetics sit somewhere between skateboarding and Star Wars, should have broad appeal.
It isn't cheap but it does offer plenty of protection for your money. Like all the helmets in this guide it has been awarded the e-bike NTA 8776 certification. It features what Giro calls its "Multi-Directional Impact Protection System", which is designed to redirect energy after impact, as well as a MIPS liner. Added to the extended coverage the Camden's shape provides and you have a helmet that's fit for purpose should you have an accident.
Other safety features include an integrated LED light that makes the entire rear of the helmet glow, resulting in the Camden being one of the best helmets in this guide for visibility in low-light conditions, despite it only being available in dark colours. All these safety features do add up though, with a size medium tipping the scales at 690 grams. That's 280 grams more than the Abus and a whopping 370 grams over the MET Grancorso, making the Camden the heaviest helmet featured here by some way.
As for comfort and fit, the Camden uses Giro's Roc Loc Air system alongside generous amounts of anti-bacterial padding. Adjustment is made using a rear dial but perhaps the best feature here are the four adjustable vents; keep them open during warmer months and then close them when it starts to get cold. This ensures the Camden is well-suited to year round use and makes it a good fit for dedicated commuters who ride in a range of temperatures.
Met Grancorso
A light weight, rugged helmet
Specifications
Sizes: S, M, L
Colours: Anthracite, Black, Fluro Yellow, Deep Blue, Sand
Weight: 320g (small)
Safety features: NTA 8776 approved, reflective details
Reasons to buy
+
Light - 320g for a medium
+
Large reflective detail provides 360 degree visibility
+
Good range of colours
Reasons to avoid
-
No MIPS liner
-
LED light and visor bought separately
The Grancorso is MET's first NTA-rated ebike helmet. The extra head coverage required to meet this standard is evident here, with MET claiming that it delivers 10% more impact-tested coverage around both the temple and the back of the back of the head. The Grancorso does however eschew the MIPS lining featured in a few of the other helmets featured here.
It's a rugged looking helmet, made with a full-wrap monocoque shell, that follows the 'urban' styling of many ebike lids. The venting is fairly minimal, which is less of an issue for electric bike users, but still points to this being better suited for cool weather riding. However, at just 320 grams for a size medium it's a lot lighter than it looks; in fact it's the lightest helmet featured in this guide and should feel no different to your regular road bike helmet once it's on.
The entire bottom half of the helmet is reflective, which should greatly improve visibility in poor light. This can be enhanced by the addition of a USB LED light that's attached to the adjustment dial at the rear of the helmet. Frustratingly, the light needs to be bought as an add-on at extra cost. This is also true of the clip on 'mag shield'; its large size should provide ample protection against the wind as well as insects and flying debris. It's a shame that both additions don't come as standard, buying both moves the Grancorso from affordable to, well, not so affordable.
It's available in five colours including a highly-visible fluro yellow and comes with a small visor to protect against rain and glare from the sun.
Cratoni Commuter
Well-vented protection
Specifications
Sizes: S-M, M-L
Colours: Grey Matt, White Matt, Black Matt, Blue Matt
Weight: 460g (medium)
Safety features: Rear light, reflective details, NTA 8776 approved
Reasons to buy
+
Plenty of extended coverage around the temples and rear of the head
+
Rear LED light
+
Reflective strips at the rear
+
Transparent visor protects against wind and debris
Reasons to avoid
-
No MIPS liner
-
No bright colours available
-
Fairly heavy
The Cratoni Commuter makes no bones about its intended use. To help it live up to its name it offers plenty of extra coverage in case of an accident; the helmet extends well down the back of the neck as well as the temple areas. Add in the protective visor and it wouldn't look out of place on an Alpine ski slope. Perhaps in order to keep the price down, it does forgo a MIPS liner, but its full coverage should still see it appeal to those who place safety at the top of their list of helmet credentials.
To improve visibility in low light conditions, the Commuter is equipped with a light that's operated by the click of a switch. It's a decent size and well-positioned centrally on the rear of the helmet. There's also some added reflective detail, including luminous tape that are integrated into the rear of the helmet and reflective straps.
The helmet has nine large vents, which point to this being a winner during the summer months. Fortunately Cratoni has added what it describes as 'fly net padding' to ensure the generous vents don't allow insects to enter while you're riding.
Helmets used for commuting need to be robust and Cratoni claims that it's equipped the Commuter with a "special downshell" that's designed to be scratch and dent resistant.
All this adds up to a helmet that weighs 460 grams in a medium. This makes it heavier than all but one of the helmets in this guide; it's lighter than the Giro Camden by 230 grams.
Lazer Anverz NTA MIPS
Road bike styling with plenty of protection
Specifications
Sizes: S, M, L
Colours: Matte Black, Slate Grey, Matt Titanium
Weight: 380g (small)
Safety features: Rear light, MIPS, NTA 8776 approved
Reasons to buy
+
Well vented for warmer conditions
+
MIPS liner
+
Rear LED light
+
Increased protection around ears and rear of head
+
Visor protects again weather and debris
Reasons to avoid
-
Only offered in muted colours
The Belgian brand is renowned for its road bike helmets and it's from here that the Anverz borrows some of its styling. It boasts 23 vents, which gives it something of a peloton-friendly profile. If you're looking for a helmet to match your electric road bike, then the Anverz is worthy of consideration.
However, if you use your e-bike primarily to commute the Anverz has a couple of tricks up its sleeve. It comes with a large screen visor to protect against the wind and the rain, as well insects and other debris. There's also an all-weather shell, which handily covers the vents. Combined they turn the airy Anverz into a winter-ready helmet.
The helmet's dropped profile offers plenty of protection to the key areas around the temples and at the rear of the head, helping it to attain the e-bike NTA 8776 standard. There'a also a MIPS liner for rotational impact protection. Additional safety measures include a rear LED light, which can also be removed and used on other Lazer helmets.
To help attain a good fit the Anverz uses the brand's Advanced Turnfit System. Here the adjustment dial is located at the rear of the helmet and not on the top like on some Lazer models. The system is designed to make incremental adjustments around the entire circumference to help avoid 'hot spots'. The head basket can also be adjusted vertically.
The Anverz weighs in at a competitive 380 grams for a size small. This will obviously increase with the addition of the all-weather shell, but it still makes it lighter than both the Cratoni Commuter and the Giro Camden featured here.
Best Ebike Helmets: A Buyers Guide
Do I need a helmet for an electric bike?
In the UK an electrically assisted pedal cycle (EAPC) is treated like a regular push bike and therefore doesn't require you to wear a helmet by law. An EAPC, according to the gov.uk website "must have a maximum power output of 250 watts and "shouldn't propel the bike when it's travelling more than 15.5mph"
If an electric bike doesn't meet these rules it is classed as a moped and will require, by law, the user to wear a helmet as well as having a driving license, registration and tax.
However, even if you own a EAPC we'd always recommend that you wear a helmet when riding.
You can read more on electric bike laws in the UK here.
In the US it gets a little more complicated. Each state has its own bicycle helmet laws, depending on whether you're riding a Class 1, Class 2 or Class 3 e-bike. It's advisable to check state requirements but as in the UK we'd always suggest wearing a helmet for obvious safety reasons.
What kind of helmet do I need for an electric bike?
Technically you can wear any bicycle helmet when riding an e-bike.
However given that you're likely to be riding in built-up towns and cities and travelling at a higher average speed than a regular bike, additional coverage and safety features are advisable.
Created in the Netherlands, the NTA 8776 certification is awarded to helmets that "protects against higher impact speeds and covers a larger part of the head." It was created with speed pedelecs in mind, electric bikes that assist "the rider with pedalling up to a maximum of 45 km/h" and are popular in the EU. Even if you're not riding one of these e-bikes the additional coverage across the key areas of the temple and the back of the head make them a sensible option for any electric bike user.
A MIPS liner is also worthy of your attention. It stands for Multi-Directional Impact Protection and is designed to better protect you against rotational impact that can lead to concussion and brain damage. It takes the form of a liner or layer that sits on the inside of the helmet.
Integrated lights are also a sensible option for any electric bike helmet. Reflective details and bright colours also help improve your visibility in busy traffic, on quiet country roads and in any low-light conditions.
As with any bike helmet, fit and comfort are vital. It's advisable to try on a helmet to ensure it fits well. It's also worth considering other elements such as vents and visors based on your riding conditions.
With Black Friday coming up on November 24th and running until the 27th, all the major retailers are already starting their discounts. On the tech side of things, we've rounded up the best Black Friday Wahoo deals over here and the best Garmin deals over here.
More generally, we have specific hub pages for power meter deals and bike computer deals. With the nights drawing in, we've also picked out the best bike light deals as well
Beyond that, we've got a hub on the best Black Friday cycle clothing deals, deep winter glove deals and our top picks from Adidas' Black Friday bike kit deals.
And with Christmas coming up, we absolutely have a page on the best kids' bikes deals - from balance bikes to fully equipped gears.
Get The Leadout Newsletter
The latest race content, interviews, features, reviews and expert buying guides, direct to your inbox!
Luke Friend has worked as a writer, editor and copywriter for twenty five years. Across books, magazines and websites, he's covered a broad range of topics for a range of clients including Major League Baseball, the National Trust and the NHS. He has an MA in Professional Writing from Falmouth University and is a qualified bicycle mechanic. He has been a cycling enthusiast from an early age, partly due to watching the Tour de France on TV. He's a keen follower of bike racing to this day as well as a regular road and gravel rider.