10 Great ways to park your bike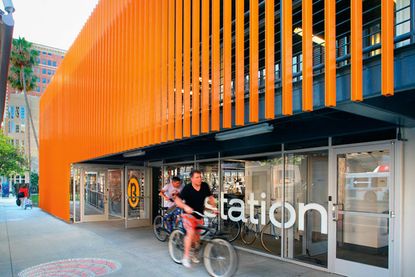 In the UK, it seems we're accustomed to seeing bikes parked absolutely anywhere possible: chained to signposts, lampposts, gates and railings.
Standard bike racks and stands may be common at large train stations or in major city centres, but with more people taking up cycling, there's not always somewhere to park up when you reach your destination.
However, in other countries, especially those where cycling is a primary mode of transport, bike parking has advanced to a completely different level - sometimes literally - with facilities being built to accommodate hundreds of bikes in one place. From innovative to bonkers, we take a look at 10 cutting-edge parking ideas from around the world.

1. The Bikestation - Washington DC, USA
Housing more than 100 bikes, this glass cocoon in the American capital also has lockers, showers, bike rentals and repair services available inside. At 1,600 sq ft in size, the low-lying arched Bikestation is located outside the city's Union station and monitored by staff [bottom left and right]. There are other Bikestations in California, like the orange one at Long Beach, shown below.
The bikestation: a parking place of presidential proportions
2. The underground park - Tokyo, Japan
What's the best way of solving the problem of lack of space on the street for bikes? Move them underground. Cyclists insert their bike into a system called Eco-Cycle and using robotics the bike is mechanically moved into an 11-metre deep underground hole and parked for them. The owner just has to insert their ticket it into the machine to have their bike returned. [below]
If Buck Rogers had a bicycle, this is where he'd park it

3. The bike tower - Hradec Kralove, Czech Republic
The opposite of the underground facility, this is exactly what it says on the tin, a freestanding bike tower located near the train station. Like the facility in Japan, this one is also operated by robotics and mechanics. Cyclists place their bikes onto a conveyer belt, pay their money and can watch as it's transported into one of the 117 spaces inside the glass tower.
4. The Biceberg - across Spain
These underground parking facilities come in different sizes to accommodate 23, 46, 69 or 92 bikes in various locations around the country. Using a microchip and pin number to activate, the cyclist places their bike by the door and in 30 seconds their two-wheeled vehicle has vanished and been securely parked below. Cyclists can also store backpacks, helmets and accessories.
5. The electronic bike lock - Eindhoven, the Netherlands
Another invention from the world's cycling capital is the lock 'n' go bike lock. Instead of carrying your own bike lock around with you, in Eindhoven you can park your bike at the electronic, roadside terminal and secure it with the lock 'n' go. The owner is then the only one able to use a pass to activate and deactivate the lock on their bike whenever they need it.
6. The multi-storey bike park - Cambridge, UK
Set to be Britain's biggest bike-parking facility, the multi-storey structure at Cambridge train station is due to open in December 2014. It will be housed in a huge building which, as well as having space for 2,900 bikes, will have 230 hotel rooms. [below]
The future looks bike: the forthcoming Cambridge facility
7. The bike cage - Victoria, Australia
If you want to feel safe locking up your bike, nothing screams secure like the bike cage. Cyclists pay a refundable deposit to access the cage with an electronic card. They may not be the most discreet structures, but the cages by Parkiteer seem to be working, as there are currently 67 at stations around Victoria alone. [below]
Your bike will be safe in here, mate - fair dinkum
8. The bike apple -Alphen aan den Rijn, the Netherlands
A cycle parking facility inspired by an apple would perhaps be best suited to New York City or outside the headquarters of a well-known computer company, but this one is in the Netherlands. With a green, spherical frame on the outside, the fruity inspiration is not hard to see, while inside, a ramp spirals around a central column taking cyclists to each floor, and means it resembles a peeled apple from in there too. Standing 15.5 metres high, the Fietsappel holds more than 900 bikes free of charge.
9. The timed bike park - Utrecht, the Netherlands
In 2011, a scheme was trialled at Utrecht station that let cyclists see how many spaces were available in the bike park on a screen when they arrived. Not only did this make it easier to find the empty spaces, but it also meant bikes could be monitored, recording how long they had been there. Those that were parked too long - more than 14 days - could then be removed.
10. The bike hanger - Seoul, South Korea
This one hasn't been permanently installed anywhere yet, but has been showcased in South Korea and could signal what the future will look like in densely populated areas. Designed by Manifesto Architecture, the bike hanger is a vertical structure that can fit neatly on the side of a building or stand on the side of the road and hold around 15 bikes. They are hung from a giant rotating wheel that requires someone to pedal on the ground to get it moving. [below]
Hanging around waiting to be picked up
Big wheels keep on turning: the future

This article was first published in the August 15 issue of Cycling Weekly. Read Cycling Weekly magazine on the day of release where ever you are in the world International digital edition, UK digital edition. And if you like us, rate us!
Thank you for reading 20 articles this month* Join now for unlimited access
Enjoy your first month for just £1 / $1 / €1
*Read 5 free articles per month without a subscription
Join now for unlimited access
Try first month for just £1 / $1 / €1