2011 race videos from Cycling Weekly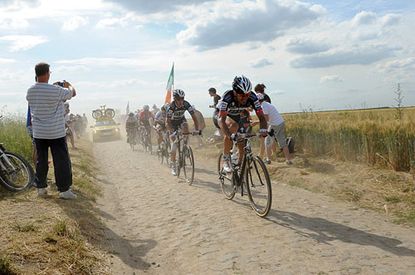 Cycling Weekly will be bringing you free online video highlights of some of the biggest races of the year, including comprehensive daily coverage of the 2011 Tour de France.
We will be presenting highlights of the following cycling events during 2011 (Tour of Qatar and Tour of Oman videos are already online, click the links):
February 6-11: Tour of Qatar>>
February 15-20: Tour of Oman>>
March 6-13: Paris-Nice>>
March 26-27: Criterium International>>
April 10: Paris-Roubaix>>
April 20: Fleche Wallonne>>
April 24: Liege-Bastogne-Liege>>
June 6-12: Criterium du Dauphine>>
July 2-24: Tour de France>>
October 9: Paris-Tours>>
Video coverage of the 2011 Tour de France will include pre-race featurettes, daily highlights for all 21 stages, daily behind-the-scenes clips and 'best of' compilations after the event. It's never been easier to follow the Tour - and it's all completely free.
You'll be able to find the video highlights via the www.cyclingweekly.com homepage and in our dedicated video gallery section.
Related links


Paris-Tours 2011 video highlights
Tour de France video highlights>>
Critérium du Dauphiné video highlights>>
Liege-Bastogne-Liege video highlights>>
Fleche Wallonne video highlights>>
Paris-Roubaix 2011 video highlights>>
Criterium International 2011 video highlights>>
Paris-Nice 2011 video highlights>>
Tour of Oman 2011 video highlights>>
Tour of Qatar 2011 video highlights>>
Cycling Weekly video gallery
Thank you for reading 5 articles this month* Join now for unlimited access
Enjoy your first month for just £1 / $1 / €1
*Read 5 free articles per month without a subscription
Join now for unlimited access
Try first month for just £1 / $1 / €1