2,500 police officers deployed in London for road safety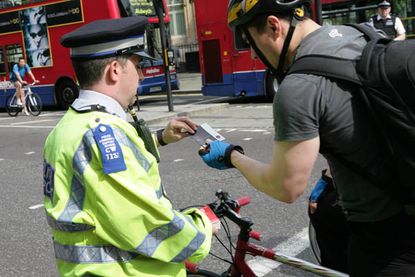 This week 2,500 Metropolitan Police officers will be deployed to London streets in an 'intensive' effort, according to its Safer Transport Command, to 'reduce the appalling number of people who die or are injured on London's roads each year'.
Following a series of cyclist fatalities in London - all involving HGVs, buses or coaches - 650 officers will be posted at busy London junctions dealing with anyone they see breaking the law. Leaflets will be handed out with fixed penalty notices, a mixture of enforcement and education.
It's about time. Anyone who walks or cycles in London (indeed across the UK) will tell you their day to day experience on our roads is made to feel dangerous by the actions of the few who don't seem to care if they hit someone.
Although many drivers behave safely on the roads, some simply do not know how to manoeuvre around cyclists: too many overtake too closely, and, because they don't understand why cyclists ride assertively, attempt to intimidate those who take primary position, interpreting it as arrogance or deliberate obstruction of their vehicles. Some prefer to overtake even when it's not safe to do so.
That's before we get to those breaking the law: those who speed, skip red lights and drive while texting or phoning. According to London's Green Party leader, Jenny Jones, who calls our roads 'lawless', there are an average of 62 hit and runs a week in London, a city where half of drivers with 12 points on their licences are still allowed to drive.
The problem is perhaps one of attitude, not just of individuals but of society as a whole. We see driving as a right, rather than a privilege: we won't even take away drivers' licences when they repeatedly break the law.
Our infrastructure is also weighted in favour of the least vulnerable, the motorist, from the road layout, designed to move as much traffic as possible in a short time, to the fact too few resources are invested in policing those roads.
A long-term downward trend of traffic policing (with an average of 13 per cent policing reduction in five years across Britain) has left us with this situation where one can drive or ride dangerously with virtual impunity. That includes some dangerous cyclists. The mantra for a few is: "those with the most to lose had better get out of the way".
Last week a PCSO told me that even in his hi-viz uniform drivers overtake him too closely at speed, and that he was nearly knocked off by a van driver recently, which sped up when he tried to turn right.
It is not just private cars creating hazards: every day someone is killed or injured by London buses, and, though many have very high safety standards, some lorry operators still don't invest in decent training for their drivers, while allowing them to drive illegally dangerous lorries for illegally long periods of time.
The fact is we are not going to get radical redesign of our roads overnight. While we are waiting for our streets to become cycle friendly we can at least learn how to share those streets as safely as possible, and deal with those who refuse to do so. Now it is time for the rest of the UK to follow suit.
Related links
London cycling in crisis: Now is the time for change
Cyclist dies after incident involving lorry in London
Thank you for reading 5 articles this month* Join now for unlimited access
Enjoy your first month for just £1 / $1 / €1
*Read 5 free articles per month without a subscription
Join now for unlimited access
Try first month for just £1 / $1 / €1