90-year old ex-vicar breaks record for oldest Lands End to John O'Groats ride
Peter Langford took a month to complete the challenge, raising money for two homelessness charities along the way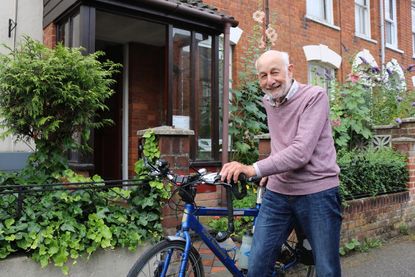 (Image credit: Sunrise Studios)
For a 90-year-old who has just completed a 1,100-mile (1,770km) epic challenge, Peter Langford seems remarkably chipper.
"I'm very well," he tells Cycling Weekly from John O'Groats, having just become the oldest man to cycle there from Lands End. "I'm sitting at a table with a piece of cake and have had two cups of tea. It's beautiful to see the north of Scotland."
The former vicar completed LeJog for the fourth time on Thursday, having set off on August 23, raising money for two homelessness charities in the process. Having ridden the epic route at 75, 80, and 85, it only seemed natural that Langford would be able to finish it at 90. He completed the ride on a Dunx Rocakbilly Royale on his route through England, Wales and Scotland, with GPS help from a Lightbug device.
"My overriding feeling is gratitude to so many people, my family for their huge support and other people, and the God who has seen me through it all," he explains. "And all the generous people I've encountered on the internet and on my way. It's great, but I'm quite glad that I won't have to get up tomorrow morning and put my kit on, and cycle another 40 miles."
Despite breaking the record, he insists there is nothing secret or special about his accomplishment.
"I don't think there's anything secret," he says. "First of all, you have to be lucky to have good health in old age, you have to have the right genes and avoid accidents. Without the National Health Service, I wouldn't be alive, because I had meningitis about 25 years ago and practically died. That's why our previous generations very seldom live this long, of course.
"You have to have a sensible lifestyle, you need to keep exercising, you don't want to eat junk food. You want to keep your brain working, all those things."
Some of the hardest days came at the beginning, as anyone who has cycled LeJog knows, with Cornwall being particular tough. However, the hills did not stop.
"Apart from three rest days on the way I've cycled every day," he explains. "Some of them have been harder than others because as everyone who does it knows, Cornwall is the hardest part. So it's great getting that out of the way.
"People don't realise, they think Scotland must be the hardest part. But actually, the hills in Scotland, although they go high, generally the incline is quite manageable. The only really difficult hills I've encountered in Scotland were right along the north coast, there's some really nasty hills.
"When I look back on some of the hills, oh dear. In Cumbria, I cycled up an extremely steep hill and managed just to get to the top in the lowest possible gear. Then I turned the corner and it was the same again. I knew I couldn't do it. I mean, besides which I was on a slope. I had to push my bike up a long, long, long hill.
"When I got on my bike again on quite a slight hill, I was absolutely, absolutely done in. I said to my son I just can't do this. I took two energy tablets, and within 10 minutes, my blood sugar was up again and I could cycle up a hill."
The highlights for Langford were being able to spend time with people and meeting others along the way, rather than the landscape - this was his fourth time, remember.
"The highlights have been human more than the scenery," he tells CW. "My youngest son came with me the first 10 days. We had lots of time together, my eldest son cycled with me for three days, and my daughter has been within the last three days. Various friends and cousins and other people who cycled with me, the human part has been been the most memorable, actually, more than the cycling."
Having appeared on BBC Breakfast on Thursday morning, Langford managed to get to £30,000 being raised for his two causes, the Salvation Army and the Access Community Trust; however, he is still short of his £50,000 target. Donations can be made on justgiving.
"I am aware of my good fortune in having a home to live in," he explains. "It makes me very aware of those who are homeless and I pray for them almost everyday."
He was very fortunate with weather on the way, on a trip which coincided with the early-September heatwave: "We have had very good weather, we've had some rain, we've had some wind, but not too much. In the middle of the trip it was perhaps a bit too hot, but that's better than headwind with rain."
As for what is next, the 90-year-old is not turning his back on the bike yet, although he does not have any other epic trips planned.
"I mustn't put my feet up," he says. "I did nearly three and a half thousand miles in training, which took an awful lot of time. I went out whatever the weather, because you have to be prepared. I think I will keep up about 50 miles a week, but generally not go out when the weather is bad."
Thank you for reading 20 articles this month* Join now for unlimited access
Enjoy your first month for just £1 / $1 / €1
*Read 5 free articles per month without a subscription
Join now for unlimited access
Try first month for just £1 / $1 / €1