A modern era: E-bikes are replacing horse and buggy for some Amish communities
Although typically non-adopters of new technology, some Amish communities are embracing e-bikes for transportation.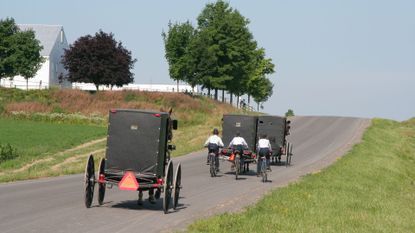 (Image credit: Getty Images)
No cars, no cellphones, no internet — the Amish communities in the U.S. are known for eschewing modern technology. But in recent years. one modern invention is not only accepted, it's being fully embraced: the e-bike.
All Amish churches decide for themselves what modern day technology is acceptable as there is no one Amish governing body that sets rules for all Amish communities.
"As is typical of the Amish, when a new technology comes along, its effect on the church and community is examined. The technology should not be an intrusion into the home, but rather serve the social purposes and goals of the group. With that in mind, the Amish often re-purpose the technology, in a sense, to align with their community beliefs." the Lancaster Tourism Department explained.
And deemed beneficial to the community, e-bikes are steadily gaining traction in Amish communities as an alternative to their horse and buggies.
David Mullet is a member of the Old Order Amish Church and the owner of E-bikes of Holmes County in Ohio, a town with a dense Amish population. He says that e-bikes open a world of possibility for Amish people, saving precious time and daylight when it comes to commuting to work or running errands.
"It's a lot quicker to jump on your [e-bike] and go into town than it is to bring your horse into the barn, harness it to the buggy, and go," says Mullet. "It's a lot quicker [to travel by ebike] and you travel faster, too."
E-bikes are catching on in the Amish world, with one Reddit contributor spotting a nearly-full e-bike charging station in Millersburg, Ohio, which has a large Amish constituency.
The horse and buggy isn't going away anytime soon for Amish folks, but as e-bikes' growing sales have shown, the motorized bicycle is, for many, both a way to enjoy cycling and use a practical, affordable mode of transportation.
"Horse and buggies will probably always be a part of the Amish community," Mullet says. "But bike transportation is becoming more popular than the horse and buggy in the denominations that have allowed it."
Thank you for reading 20 articles this month* Join now for unlimited access
Enjoy your first month for just £1 / $1 / €1
*Read 5 free articles per month without a subscription
Join now for unlimited access
Try first month for just £1 / $1 / €1