E-bike rebates: Are you taking advantage of your city or state programs?
A nation-wide rebate program could be coming soon but here's where to save on an e-bike purchase now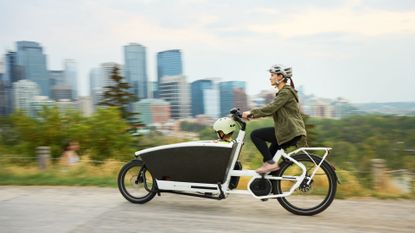 (Image credit: Getty Images)
There are plenty of reasons to switch from a car to an e-bike. E-bikes are eco-friendly, efficient, take up less room than a car, can carry cargo and lower the physical barrier to entry compared to a traditional bike. The biggest downside? The cost. But maybe not for long.
The E-BIKE (Electric Bicycle Incentive Kickstart for the Environment) Act could be a way to fix that. Originally introduced in 2021, it morphed into a smaller part of President Biden's Build Back Better legislation, which became the Inflation Reduction Act, dropping the E-BIKE Act in the process. The bill was reintroduced by four Democratic senators in March, and looks to have a higher, though not guaranteed, chance of being passed this time around.
The bill would give consumers a 30% rebate up to $1,500 on e-bikes that cost less than $8000. The rebate would be adjusted for income: to get the full rebate, you must make less than $150,000 for a single filer, or $300,000 for joint filers. This tax rebate would encourage emission and traffic reductions, reduce noise pollution, bring health benefits and improved mobility due to a lack of parking constraints. While the bill is far from passed, it represents a great opportunity, and a step in the right direction.
In the meantime, ebikes.org surveyed "1,000 Americans who self-identified as major city residents" and came away with some fascinating takeaways.
70% of major city residents support the E-BIKE Act.
71% of respondents said environmental benefits were a key reason for support.
Just below that, 68% said traffic was their next greatest reason.
The biggest reason for opposition with 29% were public safety concerns.
Support for an e-bike incentive was highest in Washington DC, which passed an incentive act on September 19th
6 out of 10 respondents said they would switch to a city that supports e-bike incentives.
Unsurprisingly, the most important factor is cost, with 69% of respondents saying it was an important factor.
The study shows the large degree of support for e-bike rebates, and the growing support for e-bikes nationwide. There are already a number of rebates and e-bike programs nationwide. These are mostly based in large cities, and mostly in Western states, especially California.
If you're interested, it's smart to check your local area for pending or existing legislation. Here's a (non-exhaustive) list to start:
California:
Statewide: The whole state has a $1000 rebate for a regular e-bike, and up to $1750 for cargo e-bikes. This rebate is funded by a grant from the state of California, but is distributed by the California Bicycle Coalition.
Los Angeles: In Los Angeles, you can trade your car for a cleaner alternative, including an e-bike for up to $9,500 through the Replace Your Ride Program.
San Diego: The Pedal Ahead Program is a great pathway to owning an e-bike. The program gives you a bike at the beginning of 2 years, and if you pedal 150 miles per month or 1,800 per year. If you don't meet the mileage requirement, you can still get the bike at a prorated discount.
San Francisco/Bay Area: The Clean Cars for All program gives up to $7500 for low income individuals to turn in an older car and receive an e-bike. This includes all the necessary accessories (lock, helmet, horn, rack), and the $7500 can be used for multiple e-bikes for one family.
Colorado:
Statewide: Low to moderate income families are welcome to apply for an e-bike rebate up to $1,100 (with some extra cash for equipment, e-cargo bikes, and adaptive e-bikes). The rebate is part of Colorado's efforts to promote clean energy statewide.
Boulder: Essential employees can get an e-bike for 2 years, to be used as a main commuting vehicle. The cost is only $250, and after the two years, the bike is yours to keep.
Denver: The City of Denver has a rebate program with $1,200 up for grabs when purchasing an e-bike through a local bike shop. Any resident is eligible for a $500 rebate, and low income residents can get up to $1,200 for a standard e-bike. Denver's program is frequently cited and used as a model by lawmakers in other states and cities looking to create an e-bike rebate program.
Connecticut:
Statewide: The Connecticut Clean Air Act includes $500 for an e-bike that costs $3,000 or less.
Hawaii:
Statewide: There is a 20% rebate, but it only goes up to $500, so the effective cap is a $2500 e-bike or moped.
Massachusetts:
Statewide: The state of Massachusetts began offering $500-$750 for an e-bike purchase, dependent on income.
New York:
Statewide: There is pending legislature which has already passed the state senate for a 50% (up to $1,100) rebate on e-bikes. It still needs to pass the House of Representatives and the Governor, and has not been brought to the HOR since passing in May. There are some existing programs which give small loans in NYC for e-bikes.
Oregon:
Statewide: Oregon has proposed a bill which would give $400 for regular residents, and $1,200 for anyone who makes 80% or less of the median income of the area.
Benton/Corvallis County: Once again, those who earn less than 80% of the median income of the area can get $1,200 for an e-bike purchase.
Texas:
Austin: Austinites can get up to $600 for a $2000+ bike, and up to $1,200 for income assisted individuals.
Vermont:
Statewide: There is a statewide e-bike rebate up to $400 for regular e-bikes, but the amount is set for the year and already almost out. Multiple cities including Burlington and Stowe offer a $200 rebate, and many towns have an "e-bike library" for those looking to try one out.
Washington:
Statewide: In April of 2023, there was a statewide program passed into law. It gives up to $1,200 for rebates on e-bike purchases. There was also $2 million allocated for other e-bike programs like e-bike lending libraries in the state.
Which bike to buy:
If you're looking to make the most of your state's or city's e-bike incentives, here are some useful guides for you.
Thank you for reading 20 articles this month* Join now for unlimited access
Enjoy your first month for just £1 / $1 / €1
*Read 5 free articles per month without a subscription
Join now for unlimited access
Try first month for just £1 / $1 / €1