Buy smartly: these e-bikes meet the internationally recognized safety standards
What to look for when shopping for e-bikes and what to know about lithium-ion e-bike battery safety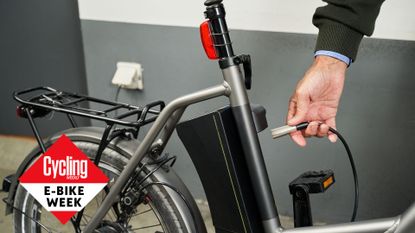 (Image credit: Getty images)
The demand for e-bikes has doubled nearly every year since 2015. Recognized bike brands like Trek and Specialized were quickly joined in the market by smaller brands like Aventon, RadPower and Tern. Established as well as some newer bike brands source parts from suppliers that are vetted for quality and safety, and must meet strict standards for battery charging and overall performance. However, many off-brand e-bikes and e-bike conversion kits found online source low-quality parts and may be produced with low or non-existent quality control.
Cheap electronic batteries and electrical systems may not include safety technologies for preventing thermal runaway — a phenomenon in which the lithium-ion cell enters an uncontrollable, self-heating state — that can result in batteries overheating and causing fires.
After some headline-grabbing fires in New York City that were linked to e-bike batteries, officials moved to legislate for safer battery powered micromobility vehicles. Some of the fires may have started as a result of faulty or low-quality lithium-ion e-bike batteries, and represent a small fraction of the total number of fires in the city.
Battery failures that cause fires constitute a tiny fraction of the total number of e-bike batteries bought by consumers, and an even smaller percentage of the total number of all Li-Ion batteries used in all sorts of applications – automobiles, robotic vacuum cleaners, and laptops.
Safety Standardization
A quick search on Google, Amazon, or AliExpress turns up thousands of motors and batteries—and even completely assembled e-bikes—manufactured abroad that do not appear to meet any safety standards, and offer no documented safety testing.
As of early 2023, there are no federal guidelines, requirements or regulations that address micromobility battery and motor safety in the United States. However, Underwriter Laboratories, an internationally recognized independent organization that tests consumer products maintains safety standards for micromobility electronic systems and power supplies. UL standards for Canada are similar to those in the United States.
The UL Listing for e-bike motor and battery components offers assurances that the products have passed rigorous protocols for thermal runaway, overcharging, discharging, and other safety measures. These standards apply only to the motors, batteries, and charging devices, and not other components, manufacture, or assembly.
Voluntary E-bike Battery Certification
Underwriter Laboratories is an independent organization that performs safety testing and certification for consumer products. The applicable standards for e-bike motors and batteries are:
- UL 2271 Standard for Batteries for Use in Light Electric Vehicle (LEV) Applications
- UL 2849 Standard for Electrical Systems for E-bikes
- UL 2272 Standard for Electrical Systems for Personal E-Mobility Devices
There are other, similar standards issuing bodies for the United Kingdom, the European Union, Australia, and elsewhere which maintain analogous standards. Standards similar to the UL Listed standards for Li-Ion batteries for e-bikes are:
- EN 15194
- UN 38.3
Additionally, lithium-ion batteries receiving the UL Listed certification must also meet minimum standards for transportation and shipping. One battery manufacturer, Tritek, indicates that transportation requirements include labeling the batteries with the proper shipping labels and packing the batteries in approved containers.
Shopping and Servicing E-bike Batteries
When shopping for an e-bike, it's always a safe bet to stick with brands that only source parts that are verified as safe by a third-party independent testing agency. Recognized e-bike brands may initially cost more as they are more expensive to manufacture with higher quality and superior materials, under monitored and approved processes, and which exceed minimum safety standards.
When servicing an e-bike, it's also a good idea to bring the bike to a shop with technicians trained in servicing e-bikes, and that source high-quality replacement parts from trusted suppliers. And, always use the charger supplied with the battery and e-bike, or one specifically certified for compatibility with specific models of bikes and batteries.
"Lithium-ion battery fires are more common when batteries are modified or repaired by untrained technicians," according to Electrek's Micah Toll. "Another factor that has led to some of these fires is the use of third-party and non-compatible aftermarket chargers that can overcharge a battery."
If a battery charger is not rated for outdoor use, don't charge the battery in exposed outdoor conditions. You could ruin the charger, battery, and or other electronics, or cause a fire.
Many e-bike manufacturers use just a few suppliers for sourcing e-bike motors, batteries, control units, and other electrical system components. Not all electrical systems original equipment manufacturers (OEMs) meet UL or other, similar standards. The National Bicycle Dealers Association (NBDA) recognizes the need for standards requirements for e-bike component OEMs, and its website recommends its members request certification from suppliers. "On July 15, 2022, the NBDA advises all retailers to encourage their vendors and suppliers to certify their e-bikes or e-bike systems installed on e-bikes to UL 2849."
The list compiled by Cycling Weekly identifies many bike brands and models meeting Underwriter Laboratories certification standards. The list maintained by UL and by Cycling Weekly is frequently updated, but may not include the most recent updates. If you do not see a bike brand and/or model listed, inquire with the bike manufacturer regarding UL listing. And if you represent a brand that's missing do let us know.
UL and CE Listed e-bike brands as of May 2023
Swipe to scroll horizontally
| Manufacturer | Model |
| --- | --- |
| Row 0 - Cell 0 | Row 0 - Cell 1 |
| 3T Bicycles | Boost |
| Argon18 | Dark Matter, Subito E-Gravel, Subito E-Road |
| Aventon | Abound, Aventure, Level, Pace, Sinch, Soltera |
| Benno | 46er, Boost, Ejoy, Remidemi |
| Bianchi | Aria E-Road, E-Impulsivo Road, E-Arcadex, E-Impulsivo Gravel, E-Omia, E-Omnia, E-Vertic, T-Tronik |
| Blix | Aveny, Dubbel, Packa, Sol, Ultra, Vika+ (CE Listed) |
| BMC | RoadMachine AMP, Fourstroke AMP, 257 AMP |
| Buzz | Cerana, Charter, Charter F, Centris |
| Cannondale | Synapse Neo, Topstone Neo, Moterra Neo, Treadwell Neo, Adventure Neo, Compact Neo, Tesoro Neo |
| Canyon | Grail:ON, Precede:ON, Spectral:ON, Torque:ON |
| Co-op Cycles | Generation, CTY |
| Cycles Devinci | E-Enduro, E-All Mountain, E-Trail, E-Road, E-Urban, E-City |
| Dahon | K-One |
| De Rosa | E--do, E--Bike |
| Diamondback | Union, Response, Current |
| Electra | Loft Go, Townie Go, Townie Path Go, Vale Go, Ghost Rider Go, Ace of Spades Go, Navigator Go, Shibori Go, Cruiser Go, Bali Cruiser Go |
| Focus | Thron, Jam, Focus SAM, Jarifa, Aventura, Planet |
| Fuji | Blackhill EVO, E-Jari, Ambient EVO, Conductor, E-Traverse, Sanibel, E-Crosstown, E-Nevada |
| Giant Bicycles | Fastroad E+, Roam E+, Explore E+, Talon E+, Trance X E+, Stance E+, Reign E+ |
| Gocycle | G4 (CE listed; UL certification pending) |
| Ibis | Oso |
| Jamis | Hudon E2 (CE Listed) |
| Jetson | Bolt, Bolt Pro, Bolt Up, LX10 Folding, Journey, Adventure, Haze Folding, J5, Jetson Axle, J8, Atlas Fat Tire, Arro Folding, |
| Juiced | RipRacer, Rip Current, CrossCurrent, Hyper Scorpion,Hyper Scrambler, City Scrambler |
| Kent | Hybrid, Mountain, Cruiser |
| Kinesis | Lyfe, Lyfe Step-Thru, Range Evation (inc. flat bar) Range Ride 50 (inc flat bar), |
| Kona | Remote, El Kahuna, Libre EL, Dew-E, Ecoco, Rove HD, Dew HD, Coco HD |
| Lectric | XP, XPedition, XPremium, Electric XP Trike (CE Listed) |
| Liv Bicycles | Amity E+, Thrive E+, Rove E+, Embolden E+, Tempt E+, Intrigue E+ |
| Look | E-765 Gravel/Optimum/Gotham |
| Marin | Alpine Trail, Rift Zone, Sausalito, Stinson |
| Mokwheel | Basalt, Scoria |
| Momentum Bikes | Voya+, Pakyak E+, Vida E+, LaFree E+Transcend E+ |
| Murf Electric Bikes | Fat Murf, Alpha Cargo, Alfa Murf, Fat Murf Step-Thru, Higgs, Izzy |
| NEXT | Moscow Plus, C5, NCM Aspen, City Robin, Boogie Cruiser, ET Series, M7, C7, Milano, Cobra, Big Dog, Escape, Zebra, Cruiser, EE-Bike T7S |
| Niner | RIP, e9, WFO e9, RLT e9 RDO |
| Norco | Sight, Fluid, Range, Bigfoot, Charger, Indie, Scene |
| Orbea | Gain, Wild, Rise, Urrun, Kemen, Vibe, Optima |
| Pacific Cycles | Moove, E-Birdy |
| Pedelec | AWDIII, CORE |
| Pinarello | Nytro, Nytro Dust |
| Rad Power Bikes | RadRover, RadExpand, RoadRunner, RadWagon, RadCity, RadExpand, RadTrike |
| Raleigh | Retroglide Royale, Venture |
| Retrospec | Koa Rev+, Koa Rev+ Step-Through, Beaumont Rev Electric City Bike, Beaumont Rev Electric City Bike Step-Through, Valen Rev Electric Fat Tire Bike, Valen Rev Electric Fat Tire Bike Step-Through, Chatham Rev Electric Beach Cruiser Bike, Chatham Rev Electric Beach Cruiser Bike Step-Through, Jax Rev Electric Folding Bike |
| Ride1Up | Core-5, Roadster, Turris, LMT'D, Cafe Cruiser, 700 Series, Rift, Prodigy, Revv1 |
| Scott | Patron, Strike, Contessa, Lumen, Aspect, Solace, Addict, Contessa Addict, Sub Cross, Solace Gravel, Contessa Solace Gravel, Sub Active |
| Specialized | Haul, Turbo Levo, Turbo Tero, Turbo Tero Step-Thru, Tero Como, Turbo Vedo, Turbo Vedo Step-Thru, Turbo Kenovo, Turbo Creo |
| Surly | Skid Loader, Big Easy |
| Tern | Quick Haul, NBD, Vektron, HSD, GSD |
| Trek Bicycles | Fuel, Rail, Domane+, E-Caliber, Fetch+, Powerfly, Allant+, Townie Path Go!, Vale Go!, Verve+, Ghost Rider Go!, Ace of Spades Go!, Navigator Go!, Townie Go! Step-Thru, Townie Go! Step-Over, FX+, Dual Sport+, Loft Go! Step-Thru, Loft Go! Step-Over, Bali Cruiser Go!, Shibori Cruiser Go!, Kakau Cruiser Go!, Cruiser Go! Step-Over, Cruiser Go! Step-Thru |
| VanMoof | S5, A5, S4, X4, S3, V |
| Wilier-Triestina | Ultra Hybrid, Filante Hybrid, Cento1 Hybrid, Triestina Hybrid, Jena Hybrid, 101X Hybrid, 101X Hybrid, E903TRN, E830TRB |
| Wing | Freedom X, Freedom Fatty 2, Freedom 2, Freedom ST |
| Yamaha | CrossCore, CrossConnect, Wabash, UrbanRush, Civante, YDX-Torc, TDX-Moro, |
| Yeti Cycles | 160E |
Thank you for reading 20 articles this month* Join now for unlimited access
Enjoy your first month for just £1 / $1 / €1
*Read 5 free articles per month without a subscription
Join now for unlimited access
Try first month for just £1 / $1 / €1