Aventon Abound E-Cargo Bike review: a reasonably priced, surprisingly fun cargo hauler
Whether carrying children or groceries, Aventon makes a valid car alternative for everyday errands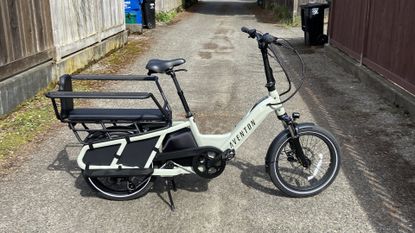 (Image credit: Tyler Boucher)
The Aventon Abound is a surprisingly fun cargo hauler at a very reasonable price. It has multiple options for carrying both children and gear that make it a valid alternative to a car for everyday errands.
Reasons to buy
+

Really fun to ride

+

Great value

+

Lots of cargo options
Reasons to avoid
-

Doesn't perform well with especially heavy loads

-

Could be difficult to assemble for customers

-

Not a good option for small living spaces
You can trust Cycling Weekly. Our team of experts put in hard miles testing cycling tech and will always share honest, unbiased advice to help you choose. Find out more about how we test.
It's been said that e-bikes offer the freedom that car ads promise. Avoiding traffic, getting out in the fresh air, experiencing the sounds and sights around you without being stuck in a metal box—it sounds good, right? I'm happy to report that it is.
Jody Rosen's excellent book, Two Wheels Good, which covers many facets of modern bicycles usage around the world, describes cargo bikes thusly:
In the United States, especially, these cycles make a political statement: to choose a cargo bike as a family vehicle is to signal skepticism about car culture and an inclination toward progressive "European" values. Of course, the bikes are also markers of social class. Cargo cycles are expensive and, with their bulk, a bit ostentatious. They are status symbols, in other words, favored by the kinds of bourgeois bohemians who inhabit gracious urban neighborhoods lined with bike lanes. The history of the cargo cycles is a parable of gentrification: the manual laborer who hauled loads through the industrial city has become a knowledge worker pedaling genteel streets with a storage hold full of kids and kale.
And he's not wrong. Cargo bikes are expensive, and few places in North America have the requisite infrastructure to make getting around as safe as it should be. But this is changing, and bikes like the Aventon Abound are bringing high-quality functionality to more attainable price points. $2,199 is a lot of money for a bicycle for many people, though many of those same people wouldn't balk at spending ten times that much on a car. It's all about perspective.
Aventon Abound:First impressions
My test bike arrived on our doorstep with much grunting and swearing by the delivery driver. The box is heavy. Aventon ships its bikes in eco-friendly recyclable packaging, but I'm not sure it's sturdy enough for this particular model. When it arrived, the box was partially in tatters, with some of the bike poking through. Further, there was no spacer (or else it had fallen out of the box entirely) in the front disc brake, which could cause a real headache if the lever were accidentally deployed.
The build wasn't as straightforward as it could be, either. There are several fiddly little things to tighten up, and some awkward maneuvers. It's fantastic that Aventon ships the bike with assembly tools, but I would not recommend assembling it at home unless you have proper experience working on bikes.
A quick start guide would be a handy addition for when you first open the box. I usually just like to jump in and work things out for myself, but a one-pager with basic assembly and operating instructions would have been nice.
Aventon Abound: the ride
Once I got everything put together, I took it out for a test ride straightaway. This bike is a blast to ride. The throttle option offers a near-instantaneous zoom factor, to the point where if you're not careful, you might embarrassingly run into your neighbor's shrubbery.
I rode it primarily for errands and school drop-offs, and it did these things well. I liked it best when I was the only person on it—I found that with especially heavy loads, the rear cargo area became too unwieldy to comfortably steer from the front. It's probably best suited for only one child at a time. If you're regularly carrying north of 20 kilograms or two children, I would recommend looking into a bucket-style cargo hauler.
For lighter loads, however, the Abound performed admirably. It's easy to get going and very stable at high speeds. The battery range is good as well. And I'm glad to see a front thru-axle specced here for peace of mind.
There's a lot to like about this bike: The brakes are great. Hydraulic brakes are a necessity on a bike this big and heavy, and these do their job well. The handlebar rise and sweep is spot on, too—it's comfortable from the get-go.
The torque-based sensor that engages the motor is flawless. Most other bikes at this price point use a cadence-based sensor, but this doesn't allow for the same degree of pedaling control and nuance. The controls are relatively intuitive and easy to use, and the turn signals and brake lights are advanced features that aren't often included on e-bikes at any price point.
The tires are adequate—they look very similar to Schwalbe's Marathon though are a replica and don't provide quite as much traction, but I didn't have any issues.
Aventon sells its bikes both directly to consumers (DTC) and via a dealer network. I think the dealer network is valuable as it allows you to speak with knowledgeable people about the bikes before you buy them, and have a place to go if any issues arise. A failing of some DTC brands is that it can be hard to get the bikes serviced at other shops, and remote customer service can be less than effective if you run into major issues.
One additional thing to make note of as well: Aventon's bikes meet the UL 2849 standard, which provides fire safety certification by examining the electrical drive train, battery, and charger system combinations in e-bikes. Not all e-bikes are designed to meet these standards, which can mean they are more likely to have catastrophic electrical issues.
Though I primarily have good things to say about this bike, there are refinements I would like to see going forward.
I would have preferred the Abound to come with a bike bell! Indeed, in my opinion every e-bike should have one, but especially a cargo bike intended to haul stuff around town.
The cables and hydraulic lines that go from the handlebars to the frame are, by necessity, long. This allows for a wide range of handlebar height adjustability, but means that they can easily get caught/snagged on things. They could use some containment. In addition, the lowest setting on the bars is high. It would be useful to have a few more inches of adjustability on the low end.
The pedals are a low point in terms of quality. I'm sure this was a decision to keep costs down, but I would recommend replacing them for something that has more grip and a more supportive platform. The cranks are also overly wide. The bottom bracket width is good, but the axle width is enormous and the cranks splay out even wider. I think this was done on purpose, to allow for more cargo storage above the bottom bracket, but I found it uncomfortably wide.
The charging port on the battery is a bit finicky—it's tiny, and requires precise orientation to work. This can be difficult if the bike is parked in a garage or basement without good lighting. Storage is also tough with a bike this size. It doesn't stand on end, so it needs a significant amount of floor space to keep it. And it's too heavy to bring up and down steps.
Finally, I would have liked to see some kind of integrated or basic cafe lock to allow for quick park-and-lock situations like the post office or similar where a heavy duty separate chain lock is overkill.
In the general scheme of things though, these are all pretty minor issues. With a little bit of refinement, I would happily give it 5 out of 5 stars.
Aventon Abound: Value and conclusion
Image 1 of 15
The Aventon Abound is a great entry-level cargo e-bike. It doesn't compete with higher-end options like Tern, but against the RadWagon and similar e-bikes, the Aventon offers a great deal of refinement for the price.
I suspect that Aventon used the Tern GSD as its blueprint for this bike. Side by side the two bikes are visually similar and though the Tern has a more sophisticated Bosch crank-based motor and Enviolo stepless shifting, in addition to other more refined features, the performance and handling of the two bikes on the road is eerily similar. In terms of price, the Aventon costs half as much: $2,199 vs. $5,399.
In order to maximize the functionality of the Abound, you do need to spend a bit extra. The front rack and rear child containment system are add-ons that can be purchased a la carte, but in order to get the most out of the bike they are necessary. This seems to be the norm with most other cargo bikes too, though.
The bottom line is, everything works as intended, and it's both fun and functional. There are things that could be further improved, but they're minor. The Abound offers great value for the money.
Aventon Abound - Specs
Price: $2,199
Colors: Polaris, Sage
Sizes: One size (claimed to fit adults 4'11"-6'3")
Weight: 36.7 kg
Website: www.aventon.com
Thank you for reading 20 articl