Best budget electric bikes 2023
Although previously quite expensive, the best budget electric bikes are now more affordable than ever. We round up some on the market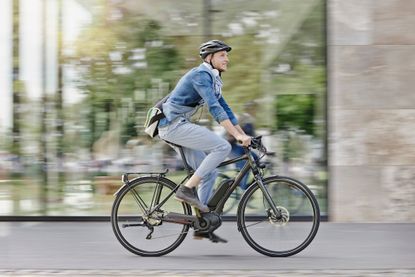 The best budget electric bikes are more affordable than ever as e-bikes continue to surge in popularity, seeing prices drop as stores and brands seek to be as competitive as possible.
The benefits of electric bikes are wide ranging. They open up cycling to a whole range of people who, whether from injury, illness, or age, would not be able to get out on a bike without some form of pedal assistance. For those with more cargo to carry, the added power can keep you out on your bike, rather than having to resort to a car.
An e-bike also benefits commuters who have too long a journey to be manageable on a conventional bike. Even with a shorter commute, being able to cycle in without the need for a shower at the other end is a game changer for many.
To learn more about how e-bikes work, check out our guide to the best electric bikes. We've also got posts on the Best women's e-bikes and Best electric scooters or another economy option might be to electrify a normal bike using one of the best electric bike conversion kits.
Our pick of the best budget electric bikes
You can trust Cycling Weekly. Our team of experts put in hard miles testing cycling tech and will always share honest, unbiased advice to help you choose. Find out more about how we test.
Here at Cycling Weekly we've grouped together some of the best budget electric bikes on the market to make you more informed about which cheap e-bike is best to purchase.
Clean lines and fixie style with added vim
Specifications
Motor placement: Rear hub
Power: 350 watts, 40Nm torque
Battery capacity: 250Wh
Range: 20-30 miles claimed
Gears: 1
Sizes: 52cm, 58cm
Weight: 15.0kg / 33lb
Reasons to buy
+
Pared down design
+
Low maintenance belt drive
+
Quiet operation
Reasons to avoid
-
Single speed only
-
Only sold in North America
The Ride1Up Roadster has the neat look of a fixie, with its upright ride position, flat bars and its battery fully integrated into the frame, so there's no bulky battery box on show - a rarity on a cheap e-bike.
It's driven via a single speed belt drive, adding to the clean looks. That means that there's little maintenance although you do need to use the highest of the five levels of assistance to help get you up hills. We found that this drained the battery quickly, dropping the range we achieved.
We really found riding the Roadster addictive and found that we were extending our journeys to the store just to take in a bit more of a ride, while the superman feel of speeding up a hill whilst still seated and the quiet operation even on the highest level of assistance were just great.
The Roadster is sold direct by San Diego, California based Ride1Up and not currently available outside North America. There's a new gravel spec with a lower gear ratio and wider tyres as well as the road configuration that we tested.
Check out our full review of the Ride1Up Roadster V2 for more.
2. Carrera Crosscity Electric Bike
Low priced folding option
Specifications
Motor placement: Rear hub
Power: 250 watts
Battery capacity: 313Wh
Range: Up to 30 miles claimed
Gears: 8
Sizes: 1
Weight: 18.0kg / 40lb
Reasons to buy
+
Folding frame
+
Comes with rack and mudguards
Reasons to avoid
-
Limited range
-
Quite heavy
This electric folding bike is a practical choice for commuters who take multiple forms of transport. Those who are tight on space, but need some e-assistance, would also benefit from the compact size the Crosscity folds down to.
Kitted with mudguards and a pannier rack, the practical points are certainly ticked. The range provided by the 313Wh battery is a maximum of 50km and the whole bike tips the scales at 18kg, which will make the e-bike heavy to move around folded if you're taking it on public transport or need to get it up stairs, although that's less of an issue for storage. It is worth bearing in mind that the rider weight limit is 85kg plus 15kg of luggage.
Sold via Halfords, it's easy to get support and service if you need it.
3. B'Twin Tilt 500E Folding Electric Bike
A budget folder from Decathlon
Specifications
Motor placement: Rear hub
Power: 250 watts, 26Nm
Battery capacity: 187Wh
Range: Up to 35km claimed
Gears: 6
Sizes: 1
Weight: 18.6kg / 41lb
Reasons to buy
+
Good fit for shorter riders
+
Adequate range
Reasons to avoid
-
On the heavy side for carrying
Another budget electric folder, this time from Decathlon's B'Twin brand, the Tilt 500E runs on 20 inch wheels and, says Decathlon, folds in 15 seconds. It's got a smaller capacity battery than the Carrera but still manages a claimed 35km range, enough that it should do several days' commute between charges.
There's a rear hub motor that delivers 26Nm of torque, which should be enough for flatter city riding and the B'Twin Tilt 500E comes complete with a kickstand, lights and mudguards, so it's well kitted out for city riding whatever the weather. With a rider height range from 1.45m to 1.85m, the Tilt 500E is a good option for shorter riders. It is still quite heavy though.
4. Elops 920E Low Frame Electric Bike
Classic looks with a powerful motor
Specifications
Motor placement: MId-mounted
Power: 350 watts, 70Nm torque
Battery capacity: 417Wh
Range: 90km claimed
Gears: 7
Sizes: S/M, L/XL
Weight: 25.2kg / 56lb
Reasons to buy
+
Comfortable upright ride position
+
Mid-mount motor placement
+
Comes with lights, mudguards, a rack and a kickstand
Drawing heavily from the design cues of traditional Dutch bikes, this cheap e-bike from Decathlon presents a comfortable and composed option as a town bike. The battery is 417Wh and the range is claimed to be up to 90km.
Fitted with mudguards, a pannier rack, a kickstand and integrated lights, there are seven hub gears that make up the transmission, while mechanical disc brake up front and rim at the rear to offer consistent stopping power.
Coming in at over 25kg, we won't file this one in our lightweight section. The added weight won't present much of an issue when riding, particularly on the flat, and there's plenty f battery capacity but the bike's heft might make carrying and storage more difficult. The maximum weight for user and luggage is set at 125kg.
5. Eskute Wayfarer Electric Bike
Well equipped budget e-bike
Specifications
Motor placement: Rear hub
Power: 250 watts
Battery capacity: 360Wh
Range: 40 miles claimed
Gears: 7
Sizes: 1
Weight: 25kg / 55lb
Reasons to buy
+
Quality components for a budget option
+
Comes kitted out with lights and a rack
Reasons to avoid
-
Quite heavy
-
Recommended rider height starts at 160cm
The Eskute Wayfarer electric bike is another step-through frame option that's kitted out with a rear rack, lights and mudguards and also includes a suspension fork, adding up to an all-condition ride.
It's powered by a rear hub motor and a 360Wh battery that gives a claimed range of up to 40 miles. The battery is removeable to make carrying that bit easier and let you charge it up indoors rather than needing to get a power supply to the bike.
The Wayfarer comes in one size, which Eskute says will fit riders from 160 to 200cm, so it may not suit shorter riders who may find it difficult to get comfortable.
6. Assist Step-thru hybrid
A budget choice from Halfords
Specifications
Motor placement: Front hub
Power: 350 watts, 70Nm torque
Battery capacity: 207Wh
Range: 20 miles claimed
Gears: 1
Sizes: S/M, L/XL
Weight: 23kg / 51lb
Reasons to avoid
-
Short range
-
Single speed only
The Assist Step-Thru is a budget electric bike option from Halfords.
At 20 miles, the range provided by the removeable 207Wh battery should be enough for most commutes, but might limit you if you're looking to use the bike for weekend leisure jaunts.
Power is provided through a 250 watt front hub motor and there's a single speed drivetrain that's enclosed to help keep chain oil off your clothes. The Assist bike has rim brakes for stopping and comes kitted out with mudguards.
Best budget electric bikes: what to consider when buying
How much should you spend on the best budget electric bikes?
Previously, e-bikes that were below $/£1,000 were few and far between, but now there's an ever-growing number falling below that pivotal threshold. Like most things in life, e-bikes are subject to the law of diminishing returns: doubling the price does not double the performance.
Recently, there's been poor availability of all bikes and significant inflation in bike prices and that has spilled over into cheap e-bikes too. That means that it may be difficult to find an e-bike below the magic £1,000 mark, so be prepared to spend a little more if you're looking for the best budget electric bikes.
What more do I get if I spend more on a budget electric bike?
The step-up in performance from spending $/£2,000, as opposed to $/£1,000, is more significant than any other increase in price. You can expect higher tier groupsets, providing more gears and — on many models — even hydraulic disc brakes.
It's also likely that you'll get a name brand motor from makes like Shimano or Bosch on a higher priced e-bike, whereas a budget electric bike will often have a no-name power unit.
Batteries are expensive and a more expensive e-bike may have higher battery capacity and longer range, while electric components may be more robust and more easily serviceable and have been designed to give you smoother power assistance with extras like a torque sensor that may be absent on the cheapest bikes.
The total weight of a higher priced e-bike can see stark reductions, with some only a handful of kilos heavier than a non-powered bike. And, in terms of aesthetics, some models have such cleanly integrated batteries and motors, that on first glance you might not realise they are e-bikes, whereas the cheapest electric bikes often have a bulky battery pack clamped to the down tube or sitting under a rear rack.
For the best electric bike options in the sub £2,000 bracket, check out our best e-bikes page.
What type of frame does a budget electric bike have?
The frame determines the style of riding the bike is suited for: whether a bike is more road- and speed-oriented, whether it has the mounting points for a rack and panniers, or whether it folds.
These are all design elements that are intrinsic to the frame. On more aesthetic grounds, the frame will dictate whether the battery nicely integrates with the downtube, or whether it protrudes noticeably. Downtube integration is a design point that is regularly included on higher-end bikes.
Many budget electric bikes are hybrids with sturdy aluminium alloy frames and an upright riding position.
What sort of brakes do budget electric bikes use?
Budget bikes have to make compromises. One way brands save a significant amount of money is by going for rim brakes over disc brakes.
Although these don't have the power or modulation of disc brakes - especially hydraulic disc brakes - they are still reliable stoppers. If the price is your main concern, being open to rim brakes will expand your choices.
The alternative fitted to many budget electric bikes is mechanical disc brakes. They don't have quite the stopping power of the more expensive hydraulic disc brakes, but they are usually more effective than rim brakes, particularly in the wet.
How are the best budget electric bikes powered?
On lower-end models, you can expect to see the motor integrated into the front or rear hub as this reduces manufacturing costs. Some higher-end models also chose rear hub motors as these can be more discrete.
In higher-end models, motors tend to be mid-drive, with the motor situated at the bottom bracket. This keeps the weight low and centred in the bike and has minimal impact on its handling, although the extra power transmitted through the bike's drivetrain can increase wear.
What range will the best budget electric bikes have?
Put simply: the greater the battery capacity, the further you'll be able to cycle, although the caveat to that is that the bike will be heavier. This is a particular consequence for electric folding bikes, which often need to be carried. Greater compromises on range and weight are likely to be made in these cases.
Since batteries are expensive, it's somewhere where lower priced e-bikes are likely to be compromised, with smaller capacity batteries fitted. That's fine if you're just planning short rides around town or to commute and can plug the e-bike into a charger regularly, but if you want to go for longer weekend excursions or live somewhere hilly you don't want to run out of support mid-ride.
How much range you'll get will depend on factors like how much assistance you use, as you can dial down the assistance level if you're able to ride without it on flatter ground and increase it once you get to a hill. Fitness and weight are likely to be the main influencers on how much range you can eke out of your battery.
What accessories should I look for in a budget electric bike?
Perhaps you know that you will be using mudguards and a pannier rack, in which case it can be cheaper and less of a hassle to buy a bike which already has these fitted.
Some budget electric bikes come fitted with lights too. Even if you're not expecting to ride at night, daytime running lights can up your visibility to other road users.
Likewise, if you don't think you'll be needing those accessories, then it is likely you would be able to get a better deal on a bike without them. Careful consideration of the intended use is beneficial before committing to a model.
What are the alternatives to buying a budget electric bike?
If having electric assistance at the lowest possible cost is the priority—and you already have a bike—an electric bike conversion kit represents the best value to power up your ride. These can be no more complicated than replacing the front wheel and fitting a cadence sensor, so should be within reach for the home mechanic.
Get The Leadout Newsletter
The latest race content, interviews, features, reviews and expert buying guides, direct to your inbox!